Dancing barefoot gets a bad rap.
"Oh, you must be the weird modern dancer who dances in her bare feet all day long!"
I don't think it's weird at all, but maybe that's just because I like to dance and teach in my bare feet. I can relate to the parents and students who look at me like I'm from another planet when I tell them we are dancing in bare feet. I grew up dancing in shoes. Ballet shoes, jazz shoes, tap shoes, pointe shoes, if there are any others, I danced in them. Understandably, my students LOVE to wear ballet shoes to class. Boys or girls, they are ballet shoe lovers! It's… well, you know part of the dance "experience."
Since my students are so young, I actually think it's a better experience when they don't wear shoes to dance in. Here is how I make the case: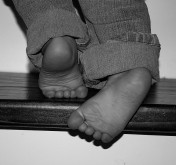 Shoes Always Fall Off Or Need To Be Tied Every Five Seconds
One year I went completely crazy tying shoes. I was tying shoes a total of 15 minutes of a 45-minute class. Not cool. When I asked a friend for advice, she told me to tie a knot and then cut off the strings then tuck them into the shoe. Genius! That solved my problem of tying shoes over and over again.
Still, in almost every class, a student takes off their shoes or tells me they are bothering them. Once one dancer takes off their shoes, they all want to. If they don't have their names in them, they get all mixed up and it's up to me to remember who put their shoes where. Ugh! Then, I find myself negotiating over shoes. You too?
What to do? [Read more…] about Making The Case For Barefoot Preschool Dance