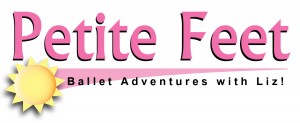 Petite Feet is a 26-minute DVD that uses engaging and imaginative exercises, games and stories to introduce children to basic ballet positions and vocabulary, as well as general dance and musical concepts.
Liz, a Theatre Studies graduate of Yale and Yaledancers alum, is an early childhood educator who taught ballet, yoga and theater for over nine years in New York City and is now offering classes in LA. She is a strong believer in arts education and in promoting physical well-being and opportunities for artistic expression to people of all backgrounds.
"For years parents have been asking me to put my dance classes on a DVD because their children want to practice every day," Liz says. So she decided to draw from her experience as a trained actor, as well as a dancer and teacher, to create Petite Feet.
Focusing on the creative potential of dance and its storytelling possibilities, Petite Feet encourages children between the ages of 2-5 to learn fundamental and age-appropriate ballet steps, to build confidence and coordination, and, of course, to have fun.
"Not only does my 3-year-old enjoy this video, it is quite possibly her favorite thing EVER." – Ariana Smart Truman, mother to George

"It's a totally relaxed approach to ballet with heavy emphasis on storytelling and imagination — making it a great introduction for little ones." – Nicole Caccavo Kear, Creator of A Mom Amok
The Giveaway
Liz would like to give away a Petite Feet DVD to THREE Dance Advantage readers.
The DVD (which Dance Advantage reviewed here) incorporates activities, grounded in Laban Movement Analysis, that playfully connect movement education to everyday learning. It offers a gender neutral ballet experience that, like Liz's classes, is enjoyed by girls and boys alike.
Featuring original music by Doran Danoff and a colorful set, along with the Story of the Dancing Dolls (written by Liz) and some help from Waldo the Walrus, Petite Feet offers an active alternative to the DVDs in any child's collection as well as to the programs on children's television.
This DVD retails for $20. Watch the trailer below:
The Petite Feet giveaway is open worldwide (non-expedited) to those 18 and up and closes at Midnight EST on Thursday, February 16.
How To Enter
This giveaway is closed but discover more about this developmentally appropriate and imaginative DVD for young children at www.petitefeetdance.com!
Sign-in with the Rafflecopter form below using Facebook or your name and email. The widget will reveal multiple ways to earn entries.
The first, commenting on this post, is mandatory for entry (as always).
In this case, you'll be asked to comment answering the question:
What do you look for in a dance class for your child?
Sign in, and click on Do It and you'll see.
Upon entering, optional tasks for earning up to 10 additional entries will be revealed.
Complete as many as you like. You can Tweet once every day of the Petite Feet giveaway.
Just make sure you let us know you DID IT in the Rafflecopter form (don't worry, it'll save your other entries).
If you're having trouble seeing the form, I suggest updating or trying another browser.
Winners will be announced within days of the giveaway's close and will be contacted directly.
Please read our Giveaway Policy.
Tomorrow's Giveaway:
Put your best foot forward and show you're socially aware at the same time when you win the Cynthia King Cruelty-Free Package.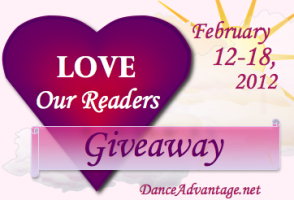 Kindly follow, like or share:
Nichelle Suzanne is a writer specializing in dance and online content. She is also a dance instructor with over 20 years experience teaching in dance studios, community programs, and colleges. She began Dance Advantage in 2008, equipped with a passion for movement education and an intuitive sense that a blog could bring dancers together. As a Houston-based dance writer, Nichelle covers dance performance for Dance Source Houston, Arts+Culture Texas, and other publications. She is a leader in social media within the dance community and has presented on blogging for dance organizations, including Dance/USA. Nichelle provides web consulting and writing services for dancers, dance schools and studios, and those beyond the dance world. Read Nichelle's posts.