Dance Advantage is the spot dancers, dance teachers, and parents turn to online because we offer reliable, practical, and professional solutions for dancers at all stages of their dance life. 
Reliable • Practical • Professional
You don't learn how to dance staring at a screen. You don't grow as a teacher sitting at a desk. Yet, online technologies and networks have made it possible to experience and explore dance in new and exciting ways.
It's not about teaching yourself to dance.
It's not about grand, unrealistic promises.
And it's not about guarantees for quick fixes, instant improvements, or cookie-cutter formulas.
Dance Advantage is a dance website where professionals share their expertise with real dancers, dance educators, dance parents, and professionals like you, who want to learn and grow.
No matter where you live, there's no need to feel isolated from the rest of the dance world.
Advice, Resources, Tips, Inspiration, and Motivation That Helps You Be Your Best
Dance Advantage offers solutions for all stages of your dance life with articles and resources designed to keep you on your toes and at the head of your dance class.
Dance teachers get help dealing with behavior or technical issues in class or at their school, tools and information to enhance their methods for training, and access to support materials for dance on the web.
Students receive guidance for refining technique and navigating the dance world, solidify the concepts they're learning in class, and find dance resources, dancewear, and a community of dancers online.
Parents get recommendations for finding quality dance instruction, learn the best ways to help their children or teens get the most from their dance experience, and direction in purchasing or selecting dance-related gear and gifts.
Whatever your role in dance education, Dance Advantage provides quality content for those focused on the study and training of concert forms like ballet, jazz, tap, and contemporary dance.
Join hundreds of other dance lovers who get free and fresh Dance Advantage knowledge as soon as it's published:
We will never share, trade, sell, deliver, reveal, publicize, or market your email address in any way, shape, or form. Period.
We value you and what you do.
The Internet is a crowded place and it can be difficult to find trustworthy sources on dance training and teaching.
Dance Advantage believes in honesty of relationship, opinion, and identity, and strive always for excellence and accuracy in the content we provide.
Dance Advantage has been known as a quality, balanced, and smart resource in the dance world since 2008.
Though Dance Advantage provides intense amounts of great content, we don't know it all or pretend to have answers to all your questions. We help you connect and benefit from the vast resource of knowledge online via our cultivated network of trusted sources. We openly share and acknowledge the good work of others and point you toward what you need.
So go ahead… sign up for free updates today and join founder Nichelle Suzanne, her team of regular contributors, and our community of dance specialists and devotees as we explore the expansive world of dance training and education through this online medium.
Who Started Dance Advantage?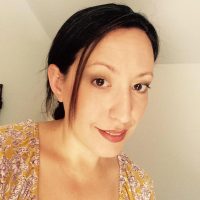 Hi! I'm Nichelle, Founder, Writer, and Editor

Dance has been near or at the core of my life for as long as I can remember. My constant. As a career path, dance has been like a diamond into which I just keep cutting new facets.
I've been pursuing dance (actually, sometimes I think it's pursued me) for almost 30 years. At age 10, I began assisting and observing my dance teachers, leading to a teaching career of over 17 years. I hold a bachelor's degree in Dance from Slippery Rock University and have performed with contemporary dance companies in my home state of Pennsylvania and my home for the last decade, Texas. I currently reside in Houston where I teach and periodically perform while caring for my two young children.
Writer has been the most recent cut in the gem. In addition to everything I do at Dance Advantage, I am a freelance writer for other dance sites such as Rockettes.com. My stories on dance and performance have appeared in Dance Source Houston's danceDISH, CultureMap, and Arts+Culture Texas magazine. You can find some of my other work at nichellesuzanne.com.
In June 2012 I presented the whats, hows, and whys of blogging on a panel at the annual conference for Dance/USA, the national service organization for professional dance, to better equip artists and companies for engaging their audience and new readers through online communications and content, and have served as Marketing Committee Chair for the National Dance Week Foundation.
I've poured out my experience and passion for dance in private studios, community programs, at a public university, and I continue to do so as the founder and editor of DanceAdvantage.net. Read about WHY I do it and WHAT others have had to say about it.
Have you subscribed yet?