Dancing barefoot gets a bad rap.
"Oh, you must be the weird modern dancer who dances in her bare feet all day long!"
I don't think it's weird at all, but maybe that's just because I like to dance and teach in my bare feet. I can relate to the parents and students who look at me like I'm from another planet when I tell them we are dancing in bare feet. I grew up dancing in shoes. Ballet shoes, jazz shoes, tap shoes, pointe shoes, if there are any others, I danced in them. Understandably, my students LOVE to wear ballet shoes to class. Boys or girls, they are ballet shoe lovers! It's… well, you know part of the dance "experience."
Since my students are so young, I actually think it's a better experience when they don't wear shoes to dance in. Here is how I make the case: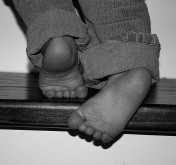 Shoes Always Fall Off Or Need To Be Tied Every Five Seconds
One year I went completely crazy tying shoes. I was tying shoes a total of 15 minutes of a 45-minute class. Not cool. When I asked a friend for advice, she told me to tie a knot and then cut off the strings then tuck them into the shoe. Genius! That solved my problem of tying shoes over and over again.
Still, in almost every class, a student takes off their shoes or tells me they are bothering them. Once one dancer takes off their shoes, they all want to. If they don't have their names in them, they get all mixed up and it's up to me to remember who put their shoes where. Ugh! Then, I find myself negotiating over shoes. You too?
What to do? I usually just say, "If you take them off, you have to leave them off for the rest of the class. We are not taking them off and putting them back on." That gives them the choice and they have to deal with the decision they have made.
But the best solution I've found is bare feet!
Sensation and the Floor
A lot of creative dance is imagining the feeling of something particular. I excessively use the phrase, "Did you get mud (juice, spaghetti) between your toes?" or "Put some glue on the bottom of your feet." If children are wearing shoes, they can't imagine that something is in between their toes or feel the sensation of rubbing "glue" on their feet.
In bare feet, it's also easier to feel the floor. They don't slip as much or fall to the floor. It's easier to point and flex, it's easier to jump, to slide and turn. All just because you can feel the floor.
Developing The Body and The Mind
Perhaps the most important point in support of dancing barefoot is that it's best for a young dancers development. After doing some research for this post I found many podiatrists making the case too.
Tracy Byrne, a podiatrist specialising in podopaediatrics, believes that wearing shoes at too young an age can hamper a child's walking and cerebral development. "Toddlers keep their heads up more when they are walking barefoot," she says. "The feedback they get from the ground means there is less need to look down, which is what puts them off balance and causes them to fall down." Walking barefoot, she continues, develops the muscles and ligaments of the foot, increases the strength of the foot's arch, improves proprioception (our awareness of where we are in relation to the space around us) and contributes to good posture. – theguardian 
That's a good case, right? Barefootin' is another post making a case for barefoot dancing – I love it.
Put It The Description And Be Prepared To Enforce It
One studio I taught for required students to go barefoot, but still I would have 4 and 5 year olds come in with shoes on. Whenever I said "In this class we dance barefoot" you would've thought I had broken their heart.
Fact: Just because you put it in the description, doesn't mean people will read it, or follow the directions. I always hated to disappoint the little one because most of the time they bought the shoes especially for the class.
What to do? My solution is to let them wear the shoes for the stretching part of the class when we are sitting down. I tell them when we stand up, they have to take them off and put them by the door so they remember them on their way out of class. It seems to work almost all of the time.
Make It Fun! Show Me Your Nail Polish (boys too!)
One of the fun things about dancing bare foot is showing off their nail polish. They point mine out and then they show me theirs. Multiple times, I have had boys with nail polish on their toes. I think it's completely awesome, and even more reason for all of us to dance in our bare feet.
 Barefoot Show
A while back, a reader at my blog commented that even in her recital her students don't wear tights or shoes. Bare feet only! She said she absolutely loves it. How awesome is that? I'm thinking it would be much less hassle for us as teachers, and easy to win the parents over. Just think, they wouldn't have to buy shoes or tights. It's a win, win!
What do you think of asking your preschoolers to dance barefoot? Would they go for it? I would love to hear! 
Kindly follow, like or share:
A passionate advocate for early childhood dance education, Maria Hanley Blakemore specializes in teaching ages 0 months to 6 years. She left NYC, where she designed and implemented programs at Manhattan's Jewish Community Center, Dancewave Center and The Mark Morris Dance Group, to teach dancers in the greater Cleveland area. Maria holds a Master's degree in dance education from New York University (2007) and a Bachelor's degree in dance performance from Slippery Rock University in Pennsylvania (2005). Maria authors the blog Maria's Movers (www.mariasmovers.com) where she shares creative ideas and strategies for teaching young dancers. Maria served on the Dance/NYC Junior Committee for 2 years and presented at the 2012 Dance USA Conference. She also presents at the Dance Teacher Summit in New York City. Read Maria's posts.