The decision of where to attend college for dance should be influenced by what you'd like to do in your dance career.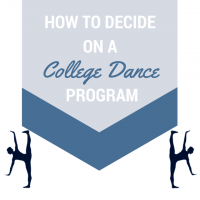 Do you want to be a performer in a modern dance company? On broadway? Do you want to teach?
If your goal is to perform with a professional company and make a living at it, the more rigorous the technique requirements at your school, the better.
If your goal is theatrical in nature, a program with a strong theatre/musical theatre program will be an asset (combined programs will require a smattering of theatre/production classes that will benefit you on this career path).
If you want to be a teacher or own your own studio, look for schools that offer more than one teaching course in the curriculum, or better still, look for one with a teaching/pedagogy track, and look into ways you can incorporate business or marketing classes into your coursework.
The College Dance Degree Code:

BFA: for students intending to pursue professional careers as dancers and choreographers. This tends to best prepare students for MFA study.
BA: for students that wants to perform/choreograph but may prefer to teach and/or double major in another academic subject. This path may lead to MA work in multiple disciplines.
Dance Certification: for those intending to teach dance in the public schools. Without this distinction, you are NOT considered "Highly Qualified" to teach K-12 no matter what type of degree (including Masters!) you hold.
Minor: for students that want to keep their options open, and readily apply their dance education to other subjects. Many dance minors begin as dancers that are not ready to "give it up yet." Or a minor in dance is a compromise with their parents who think they should major in a more sensible area of study.
Specialization: depending on the school, this may be equivalent to a minor or it may not.
If you're unsure which school can get you where you are going, I suggest trying to find out where alumni from the programs have ended up – get actual names if possible and see what they're doing. It is a good indicator of where the program will lead you.
You may also want to read more in our College Dance 101 series.
What If I'm Not Sure Of My Goal?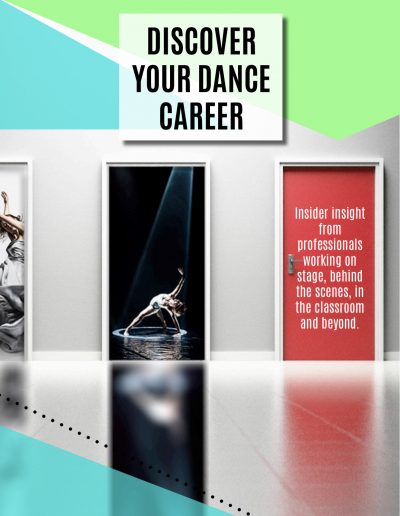 If you're unsure about what you really want to do, don't stress.
Not all dancers begin with clear career goals and it's not uncommon for dancers to shift their focus during college or throughout their dance career. I recommend exploring the many career paths available to dancers by researching and talking with professionals working in related fields. To get you started, some dance friends and I have done the research and interviewing for you in a resource called Discover Your Dance Career.
In the meantime, look for a school that will provide you with solid dance education and training and in which you feel comfortable but challenged. Should you decide that your goals have changed and warrant leaving your school, know that transferring is an option. I myself was a transfer student and succeeded in graduating "on time" regardless.
Making Choices About A College Dance Program
The audition process tells you a lot about what a particular school is looking for in prospective students and what you can expect from the program.
Dance departments that require an audition for program acceptance are usually looking for skillful dancers who will benefit from polishing and perfecting their technique for a professional career in performance or choreography
Those that require only a placement audition, which helps faculty decide in which technique levels you will begin your study provided you meet requirements for general acceptance to the university, or no audition at all expect to have varying levels of ability and experience within their classes. These programs are usually for those hoping to apply their dance education to careers outside of performance, which may or may not be dance-related.
Either way, an college dance audition will typically include an opportunity for you to introduce yourself or interview with faculty and participation in one or more dance classes (usually both modern dance and ballet). Sometimes aspiring dance majors may send an audition video, however, visiting in person is beneficial for you if you can arrange it. Some schools will ask you to select a piece of choreography for an audition (either of your own making or set on you by another), but this is rarer.
Environment Is Key
A school's location, facilities, campus life, and how you feel about these are important to consider.

If you are a small-town kid, the transition to a large, inner-city school can be quite a culture shock, and visa-versa. (Not necessarily a bad thing.)
When visiting campuses, make sure that you are able to see the dance facilities, some classes in progress, and speak with faculty while getting a feel for the campus in general. Talk to other dance students if you can and trust your instincts.
While auditioning for college programs, I experienced both ends of the spectrum. I visited and auditioned at a college where faculty and students were aloof, eying me with a cool distance before auditioning for a school at which I was immediately greeted by a dancer within the department and treated with warmth by faculty members.
Both are excellent schools but School A was not for me. Some thrive in a competitive environment. I knew I needed to be where I felt encouraged and supported in order to succeed.
What if academics aren't my thing?
If you are concerned about high school grades being a problem, it is important to know that you have time to improve. Grades are not all a college looks at for entrance, however, poor grades can result in required remedial classes (taken over the summer).
Right now, you may think that academic work is not as important (or interesting) as the work you do in dance class.
Keep in mind that in the professional world, most dancers are intellectual individuals that could do anything they want but choose dance.
Successful dancers are typically curious and want to learn and grow even in areas outside of dance. High school grades don't always reflect your potential but it won't hurt to, right now, to allow yourself to be curious and practice the kind of dedication, perseverance, and self-discipline that a major (and career) in dance will require of you while you work to bring up those grades!
Making the Transition
Dance in college is different from what most young dancers training in studios have experienced thus far.
Dancers are asked to think about dance academically, begin to see themselves as a dance artist, and explore the art of making/watching dance in the professional arena. Young dancers that come from competitive, sports-like, or (for lack of a better term) recreational environment sometimes have trouble adjusting to this.
I'd like to help dancers prepare and make the adjustment to college and find a rich experience in this new focus on dance in a university dance department.
---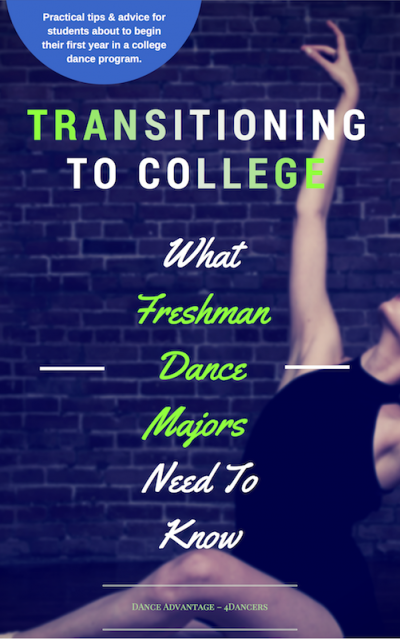 Transitioning To College: What Freshman Dance Majors Need To Know is a college preparation guide for first-year students written specifically for dancers. It provides a snapshot of college life, essential information on what to expect in a dance program of study, and scores of tips and tricks for staying healthy and happy.
The E-book Helps You:
Own Your Education
Study Smarter, Not Harder
Stay Healthy
Manage Stress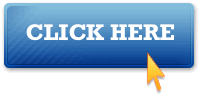 Kindly follow, like or share:
Nichelle Suzanne is a writer specializing in dance and online content. She is also a dance instructor with over 20 years experience teaching in dance studios, community programs, and colleges. She began Dance Advantage in 2008, equipped with a passion for movement education and an intuitive sense that a blog could bring dancers together. As a Houston-based dance writer, Nichelle covers dance performance for Dance Source Houston, Arts+Culture Texas, and other publications. She is a leader in social media within the dance community and has presented on blogging for dance organizations, including Dance/USA. Nichelle provides web consulting and writing services for dancers, dance schools and studios, and those beyond the dance world. Read Nichelle's posts.