College Freshman.
If dance is going to be your major field of study, I'm thrilled for you. It is a wonderful time of dance immersion that is unlike anything that comes before and unlike anything to happen after.
As you plan your next steps toward your future in college dance, get ready for the incredible changes to come. These 15 suggestions will broaden your skills and your mind for a smoother transition to your first year in a university dance program.
The Freshman Fifteen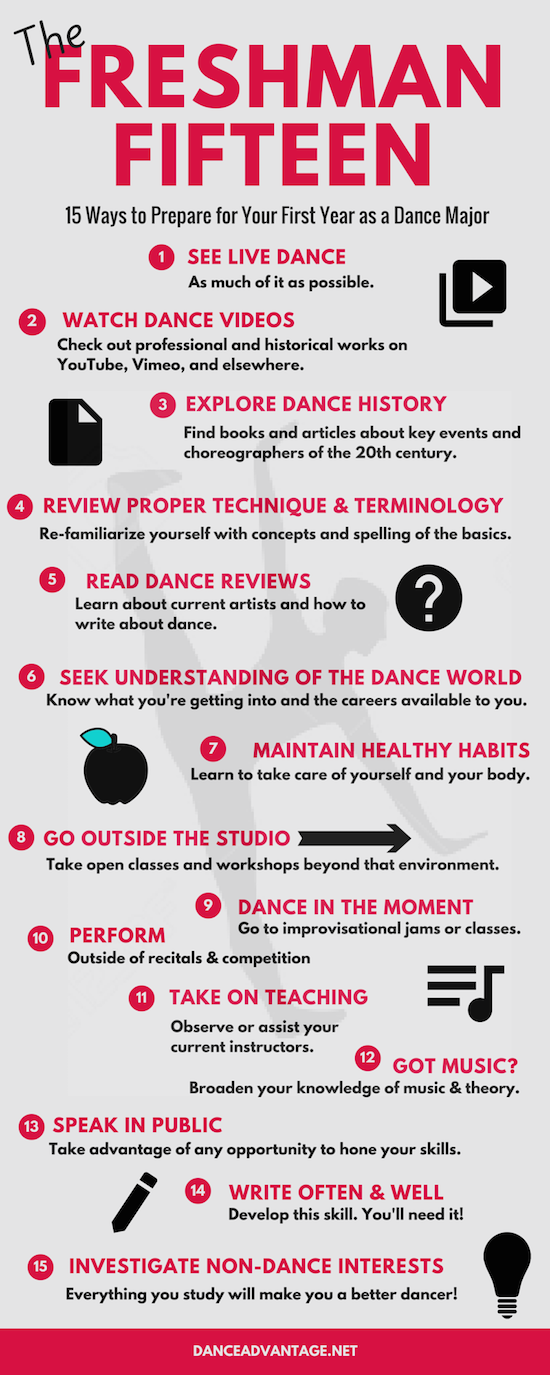 1. See live dance.
If you do nothing else before you become a dance major, see live dance as much as you can. In fact, do it before you even start planning your steps toward a career in dance. This is easier in some locations than others but make the effort. While The Nutcracker is great, seeing the same one year after year still counts as just ONE. See companies of different types and sizes. Go to things that challenge your understanding of dance and dare not to compare them to everything else you've seen or danced. Just take them in.
2. Watch videos.
The next best thing to live dancing are performances preserved by camera. Maybe you've lost hours at a time hopping between competition videos on YouTube. Now try the skip and jump to videos by professional artists or featuring historical works. Have you seen the Jacob's Pillow Dance Interactive library? A-MA-ZING. Also stay on the lookout for local cinema screenings and check dance title listings on Netflix, iTunes, Hulu, Amazon, and good old PBS!
3. Explore dance history.
There are some fantastic books available for those wanting to read a little bit about the history of dance. While looking into any era of dance is beneficial, try working backward by starting with influential choreographers of the 20th century.
Dance Advantage has articles on dance history and historical figures you may find informative. These books (available at Amazon) provide an overview of Western dance history:
4. Review proper technique and terminology.
Reading up on the how-to and what-is of dance is just as beneficial as tripping through its history. We've got articles on dance technique and terminology of dance for you. Plus, here are some useful book recommendations:
5. Read dance reviews
This is an excellent way to learn about current artists and to see how others analyze, write, and talk about dance–all things you'll be doing in a college dance program.
6. Seek understanding of the dance world.
The five to-dos above will all tell you something about the dance world but you should also ask thoughtful questions of mentors, the professionals you know or to whom you have access via teachers or even social media, and investigate the variety of careers available to and pursued by degreed dancers.
7. Maintain healthy habits.
Learn how to take responsibility for your body–how you fuel it, how you treat it, and how you take care of it. Start doing it ASAP.
8. Go outside the studio.
Occasionally teachers and studio owners get nervous about students taking class from someone else but, at some point, you must take the reigns when it comes to your dance education. There's no time like the present. If you have established good training and habits at a home studio,start looking for classes entirely outside of the studio environment, not because studios aren't a good environment but because expanding your sphere of knowledge and connections is valuable to your dancing and for your future career. Look for open classes when you travel and check local universities or academies for open master classes, intensives, workshops.
9. Dance in the moment.
As you look for opportunities to dance and learn in new environments, you may run across the chance to try an improvisational dance jam or contact improv class. Just do it. (Here are some improv tips) Fellow improvisers are usually pretty welcoming, making these a safe place to hone your skill.
10. Perform.
You may feel you perform enough, especially if you're in a studio company or on a competitive team but seek out alternative performance opps in dance or other disciplines like theatre, music, color guard, poetry readings.  You can learn a lot about the art of performing in any creative outlet your interests and talents may lead you.
11. Take on teaching.
Observe or assist your dance teachers whenever possible and take on leadership positions in other activities. Even if you aren't planning to open a studio one day or are not convinced you'll make a good teacher, you WILL use these skills someday.
12. Got music?
Speaking of gaining skills you will use as a professional dancer or pro-in-training, develop your understanding of music and musical theory. Do you know the basics like note values and rhythm, meter or time signature? Have you been exposed to music from a variety of genres and cultures? Make time to listen to music of all kinds.
13. Speak in public.
Take advantage of public speaking opportunities. Acting classes, scripture readings at church, club/class officer speeches, running a study group, even thanking your teachers or presenting a gift at your dance recital are all possibilities.
14. Write often and well.
Develop your writing skills in and outside of school. Practice writing every day–blogging, journaling, or creative writing are great ways to do that. Keep a dance journal.
15. Investigate non-dance interests.
If you're still in high school, take it seriously. If you're no longer in school, explore topics and interests that have nothing to do with dance. Everything you study will help you become a better dancer!
Entering a college dance program soon?

If you found the insight and advice above valuable, let me provide even more help as you actually make your transition to college with the e-book, What Freshman Dance Majors Need To Know.

Your final year of high school or secondary education is a perfect time to really start thinking about how you'll manage the significant changes you'll experience during the semesters ahead and get answers to the questions you may not even know you have about what dance is like at the college level.

This resource covers everything, from what to expect to how to stay healthy, and more. Give as a graduation gift or get it for yourself – you'll be glad you did!

Kindly follow, like or share:
Nichelle Suzanne is a writer specializing in dance and online content. She is also a dance instructor with over 20 years experience teaching in dance studios, community programs, and colleges. She began Dance Advantage in 2008, equipped with a passion for movement education and an intuitive sense that a blog could bring dancers together. As a Houston-based dance writer, Nichelle covers dance performance for Dance Source Houston, Arts+Culture Texas, and other publications. She is a leader in social media within the dance community and has presented on blogging for dance organizations, including Dance/USA. Nichelle provides web consulting and writing services for dancers, dance schools and studios, and those beyond the dance world. Read Nichelle's posts.