Being a university dance alum myself, it is my desire to help new and future college students with their transition to studying dance in a university setting. I have already posted topics on this subject, however, if you are new to the blog you may not know about them so I thought I'd do a little re-post compiling the articles. Also, I'd like to provide you with resources for further investigation. Check out the links at the bottom of this article on Dance as a Career, Scholarships for Dancers, and more.
Answers To Your Questions About College Dance /College Dance 101
Topics Included:
What are your goals? (see also setting goals in dance)

The audition process.

Location, facilities, and campus life.
If you are concerned about grades…
Making the transition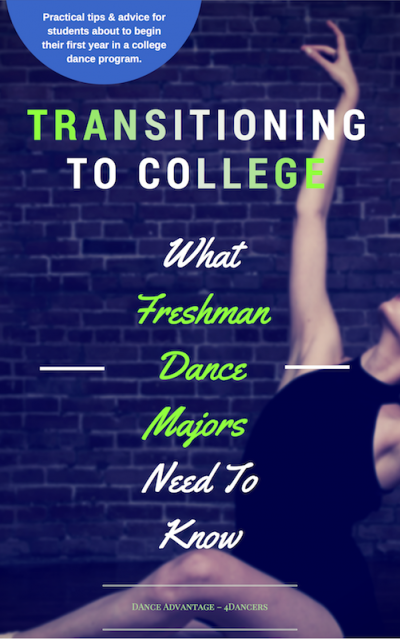 Transitioning To College: What Freshman Dance Majors Need To Know is a college preparation guide for first-year students written specifically for dancers. It provides a snapshot of college life, essential information on what to expect in a dance program of study, and scores of tips and tricks for staying healthy and happy.
The E-book Helps You:
Own Your Education What college freshman can expect to encounter freshman year in terms of dance technique and training, as well as overall scholastics.

Study Smarter, Not Harder
Stay Healthy
Manage Stress
Dance as a Career
Scholarships and Financial Aid
Find a Match
The Fast and Dirty College Dance Degree Code:

BFA: for students intending to pursue professional careers as dancers and choreographers. This tends to best prepare students for MFA study.
BA: for students that may intent to perform/choreograph but may prefer to teach and/or double major in another academic subject. This path may lead to MA work in multiple disciplines.
Dance Certification: for those intending to teach dance in the public schools. Without this distinction, you are NOT considered "Highly Qualified" to teach K-12 no matter what type of degree (including Masters!) you hold.
Minor: for students that want to keep their options open, and readily apply their dance education to other subjects. Many dance minors begin as dancers that are not ready to "give it up yet." Or a minor in dance is a compromise with their parents who think they should major in a more sensible area of study.
Specialization: depending on the school, this may be equivalent to a minor or it may not.
If you would like to suggest additional resources for dance in higher education (particularly for areas outside the U.S., please post links or information in the comments.
Kindly follow, like or share:
Nichelle Suzanne is a writer specializing in dance and online content. She is also a dance instructor with over 20 years experience teaching in dance studios, community programs, and colleges. She began Dance Advantage in 2008, equipped with a passion for movement education and an intuitive sense that a blog could bring dancers together. As a Houston-based dance writer, Nichelle covers dance performance for Dance Source Houston, Arts+Culture Texas, and other publications. She is a leader in social media within the dance community and has presented on blogging for dance organizations, including Dance/USA. Nichelle provides web consulting and writing services for dancers, dance schools and studios, and those beyond the dance world. Read Nichelle's posts.