Of the hundreds of college dance programs available, no two are completely alike.
The atmosphere and curriculum at each school vary based on the faculty, location, administration, and the student body (that is, the dance majors).
These differences can be seen in the "real" world too; one will often see entire dance companies established by and composed of alums from the same college dance program.
So, while it's really hard to generalize whether or not college dance prepares the choreographers of the future,
I'm going to take a stab at it anyway.
After our recent chat about my upcoming show, Nichelle asked me to get a little more personal about my alter ego as a dancemaker.
How majoring in dance prepared me for a career as a freelance choreographer.
Honestly, when I entered college I had zero experience with choreography aside from the masterpieces I created alone in my bedroom.
We were required to take Composition classes every semester, and at first I found this to be frustrating, but ultimately hugely beneficial. In learning how to make dances, these classes were often a place of equally balanced structure and play. We were unabashedly improvising in the dark in one moment, and learning the hard and fast rules of canon, theme and variations, and ABA structure in the next.
Come to think of it, the most successful of dances replicate this environment – perfect in both their control and their chaos.
But college does not always a choreographer make…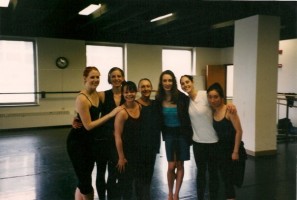 I had the fortunate experience of attending two very different (yet equally excellent) college dance programs.
One prepared me more as a dancer; the other prepared me as a choreographer.
Neither prepared me for four years of working in a coffee shop.
Perhaps the best part of both programs was how intensely focused they were. However, college can be an insular place, where 90% of your concentration is dedicated to learning and developing your artistic process.
I'm in no way trying to minimize the importance of this journey, but real life can hit you like a brick wall when you've spent four years in an artistic bubble where dance is the only thing that matters.
Ideals and What's Real
A wise teacher once told me to never agree to work for free. She explained that it can become easy to develop a reputation for working without pay.
I came out of college believing in this advice, because I didn't want to develop a reputation that it's ok to not get paid.
I also gained a sense of responsibility toward my work — I would refuse to create anything that wasn't meaningful to me (whatever that means).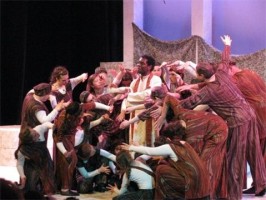 Upon graduation, however, there were bills, and student loan payments, and apartments to worry about. There was the job hunt and the networking, the auditions and the grant proposals. There was the harsh reality that you can't always make a living on just dance, and the harsher reality that public transportation was no longer free.
Four years later I was working full-time at a coffee shop and commuting an hour each way to choreograph musicals for pre-teens.
In the business world, there are entry level jobs for new grads at the bottom of the corporate ladder.
Now, in my old age and infinite wisdom (insert snicker here), I see new grads coming out of school just like I was: on top of their game, full of confidence and ideas and big dreams.
It is sometimes hard to cope with the realities of a career in dance given the time and energy you spend in school cultivating your artistic voice.
In spite of what my teachers said, the best advice I can offer to budding choreographers is to approach your professional career with the humility that you approached your freshman year in college.
If you're offered an internship or apprenticeship, and you've got nothing else planned, take it! There are many opportunities out there to present your work and though you might not be getting paid cash, many programs and companies offer resources such as marketing, production, and the all-important networking to emerging choreographers. As a result, these "unpaid" experiences can lead directly to paid experiences.
Think of it this way: would you be making dances at all if you weren't doing it for free? In the dance world, you start at Mediterranean Avenue and don't get to Park Place without passing Go a few times (most often sans $200).
Even the most notorious choreographers are also teachers, writers, administrators, and SYTYCD judges.
Among my acquaintance are dancemaking lawyers, scientists, therapists, and stage managers.
Whether you're a college student or a recent grad, get out there and talk to people. Gather as many personal stories, experiences, and anecdotes as you can, and then forge a path that is uniquely yours.
My path has included musical theatre, arts administration, production stage management, painting houses, nursing school, graduate school, cat-sitting, and lots and lots of lattes before coming to the point that I could self-present work I truly believe in.
While we'd all love to live in a world that could support full-time choreographers, that world just doesn't exist (yet).
As many have testified on Sydney Skybetter's Facebook wall, careers in dance are non-linear, convoluted, and often confusing.
Be prepared to do lots of things and mold a multi-disciplinary career, and dancemaking might just make its way into the fold.
Describe YOUR career path for us in the comments!
As Sydney asked on his wall, What do soon-to-be-graduates need to know these days before entering the real world?
What do you wish someone told you before you graduated?
Kindly follow, like or share:
Lauren Warnecke is a freelance writer and editor, focused on dance and cultural criticism in Chicago and across the Midwest. Lauren is the dance critic for the Chicago Tribune, editor of See Chicago Dance, and founder/editor of Art Intercepts, with bylines in Chicago Magazine, Milwaukee Magazine, St. Louis Magazine and Dance Media publications, among others. Holding degrees in dance and kinesiology, Lauren is an instructor of dance and exercise science at Loyola University Chicago. Read Lauren's posts.