To be a leader requires one thing.
Followers!
– Simon Sinek
When author and thought-leader, Simon Sinek, gave his keynote at the Dance/USA Annual Conference in San Francisco, he was addressing professional dance artists, organizations, and administrators in attendance but, the way he addresses leadership is far more universal and can apply to you as an individual.
If you are a studio owner, a teacher, a choreographer, or if you want to be…
You are a leader! Questions are…
What does it take to be a leader that inspires action or influences behavior?
How do you build a following or group that is loyal and enthusiastic?
How do you make the right decisions or choose next-steps for your organization or business?
How will you know when things go off the rails?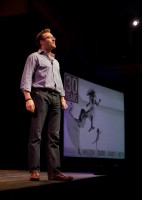 Sinek has solutions that I'll share with you.
Inspire Action and Influence Behavior
According to Sinek, leaders who inspire are set apart by their ability to communicate from the inside-out.
Using his "golden circle" visual, he illustrates that many organizations can and already do communicate HOW and WHAT they do. Fewer communicate WHY they do it, making it difficult to inspire people to "buy".
"People don't buy WHAT you do. They buy WHY you do it."
Interestingly, he also notes that the part of our brain that controls emotion, feeling, and behavior does not control language. This is why it's difficult to put IT into words.
Correspondingly, the part of our brain that is analytical and controls language does not drive behavior.
Therefore, when we find a way to communicate on an emotional level and convey our WHY, we are speaking directly to that inner layer of the brain that controls decision-making.
"MLK gave the I Have A Dream speech, not the I Have A Plan speech."
More on these concepts can be found in Sinek's popular TED talk:
Build Loyalty and Enthusiasm.
Sinek, who frequently works with arts and dance organizations and non-profits, is inspired by people who are willing to sacrifice greatly for the things about which they are passionate. He emphasizes that even these individuals and groups struggle to articulate their passions (their WHY) in everything they do.
By the way, dance is never the WHY, but the product of the WHY!
Communicating your WHY can turn followers into fans, but how do you do it?
Just as important as where you're going, is where you've been.
"Every great organization was born out of personal struggle and opportunity."
Sinek asserts that it is important to celebrate your origin story because it best illustrates your WHY.
At Dance/USA, Sinek made an excellent point; dance is a language that may only translate within dance world. To reach those outside, you must, at the very least, tell your story.
A megaphonic vision
Organizations have a hierarchy with a visionary (or occasionally visionaries of like mind) at the top, clearly pointing the way and communicating the mission, or BELIEFS. This person directs everyone's focus to the WHY.
"We are inspired by the destination. Absent the destination we walk in circles."
Directly in partnership with this visionary, is an individual or individuals in the background whose function is to oversee the building of that vision – the HOW.
Contributors or employees amplify the 'why' with the product or services  – the WHAT.
Leaders draw to themselves people of similar beliefs by clearly communicating their WHY.
"When people believe what you believe they're willing to give back in blood, sweat and tears."
When leaders make their vision clear, they invite individuals who want to live in that world, too. They show up for themselves, not for the fearless leader. They show up because they share a BELIEF.
Leaders encourage self-value.
Sinek shares a study that finds people will not work together until they have confidence in themselves. Only then will they serve the group.
When individuals are encouraged to value the self, they put the group (and the WHY) first – a one-for-all instead of all-for-one.
Leaders focus on what they DO have.
The strength of an organization or a leader depends on that leader's ability to trust others where he/she falls short.
Sinek recognizes a common weakness in arts leadership — the tendency to define ourselves by what we're not (non-profits) or by what's not working (poor economy, lack of funding).
Lead! Make Decisions.
Leaders are consistent in honoring their WHY.
Why? Because it builds TRUST.
Building confidence builds an audience.
To support decision-making, Sinek suggests The Celery Test.
Celery is a metaphor. When selecting for your 'shopping cart' only the items that are healthy for you or your organization, you'd choose the celery. Choosing the Cake may be okay in moderation, but know that you'll have to make up for it later with additional healthy choices.
As a leader or organization or business, your healthiest options always support your WHY. If a piece of advice or course of action is consistent with your WHY, it makes sense to follow it.
Sinek cautions that too many organizations put everything in their shopping cart.
"No one can see what you believe cause you bought everything." Only buy what supports your why.
In a Dance/USA breakout session called #EverythingIsGoingToBeOK, a panelist, speaking about marketing dance in the digital age, referred to this by another name: Strategic Filtering.
Do we need it (central to your why)?
Do we have the resources?
Does it enhance relationships?
Do we need it now?
May Day, May Day
When WHAT you do becomes disconnected from your WHY, people begin to notice. Sinek calls this The Split.
Things don't feel the same to "old-timers," stress goes up and passion goes down, you start obsessing about what your competition is doing or how they might respond to your actions and decisions.
What's the remedy? It's returning to the WHY. Not a new WHY, the original. This is not always easy, especially if the split is wide, but according to Sinek, it's the cure.
"Say and do what you believe. They're either drawn to you or they're not."
Know Your Why

If I could sum up Sinek's keynote in less than 140 characters…
Oh, wait. I did.
Actually, most of my notes were in Twitter format, using the #DUSAconf hashtag and this one hit a chord with quite a few people:
Don't obsess about the route. Get clear on where you're going. Plus take time to honor and celebrate where you've been!
And remember,"People don't buy what you do, they buy why you do it."
There is discipline in making choices about WHAT you do and HOW you do it based on what you believe (your WHY).
When you are consistent, TRUST emerges.
For extra credit, read these: (Psst!, companies and artists can benefit from these ideas, too!)

…and, if you are inspired by what I've attempted to accurately paraphrase from Simon Sinek's ideas and presentation above, read everything at StartWithWhy.com.
Do you know your WHY?
What kinds of choices have you made lately that speak volumes about your dance organization or business?
Kindly follow, like or share:
Nichelle Suzanne is a writer specializing in dance and online content. She is also a dance instructor with over 20 years experience teaching in dance studios, community programs, and colleges. She began Dance Advantage in 2008, equipped with a passion for movement education and an intuitive sense that a blog could bring dancers together. As a Houston-based dance writer, Nichelle covers dance performance for Dance Source Houston, Arts+Culture Texas, and other publications. She is a leader in social media within the dance community and has presented on blogging for dance organizations, including Dance/USA. Nichelle provides web consulting and writing services for dancers, dance schools and studios, and those beyond the dance world. Read Nichelle's posts.