A Grand Jeté is a type of of leap.
The term comes from classical ballet. However, many dance forms utilize or have adapted this movement. The grand jeté is just one of an entire family of movements in which the working leg is "thrown."
In grand jeté the initiating leg is thrown to 90º and is immediately followed by a similar throwing of the supporting leg, creating the image of an arabesque or attitude suspended in mid-air. Many dancers strive to achieve a full split in mid-air, however, I believe this is a modification of the classical ballet movement.
The grand jeté is always preceded by a preparatory movement like glissade or couru (running) the dancer is propelled upward and typically forward, although grand jeté can also be executed backward.
But is this a Grand Jeté?
https://www.youtube.com/watch?v=OPmxg79B6BY
I was taught (and usually teach) that grand jeté looks like this:
A leap in which the leg unfolds in a développé (example 1), is perhaps most commonly called a saut de chat. However, there is variation in the naming of this movement. According to the Technical Manual and Dictionary of Classical Ballet, grand jeté pas de chat, is the term applied by the Russian School.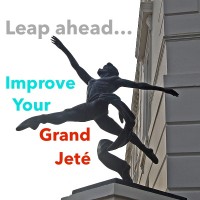 Most of the tips below work for grand jeté in either form, but the straight, brushed leap is the example on which I've based the advice below.
How to Improve your Grand Jeté
Prepare for Leaping:
What To Do:
Engage the muscles in your core. I may sound like a broken record, but this is essential for freeing the limbs for movement and safely executing jumps and leaps.
Conserve your energy on the preparatory movement before the jeté, using it only to build a bit of momentum.
The initiating movement in a grand jeté is a grand battement, which begins with a strong brush of the foot. Don't neglect this opportunity to gain power from the floor.
The back leg must follow immediately with a battement, disengaging powerfully from the floor. This is what directs the movement forward in space. Until now, the jump has been primarily upward.
The upper body should be strong but without tension. Having strong core muscles and supporting the arms with the back (and not the shoulders) will facilitate this.
Maintain a sense of lift on the landing of the jeté, rolling through the foot (toe-ball-heel) and descending into a supported plié.
What To Think:
There are many images designed to improve the way you do a grand jeté. Different images work for different people. Here are a few of my favorites:
"Imagine the leading foot sucking in the air, which shoots through the legs to be forcefully expelled through the back foot." – Dance Imagery for Technique and Performance by Eric Franklin
Imagine the body or "pelvis being carried along by a supporting force such as the flying carpet." – Conditioning for Dance
"Imagine every part of the body suspended from strings, like a marionette." – Dance Imagery for Technique and Performance by Eric Franklin
For explosive leaps, imagine being coiled like a spring or a snake with energy stored for a powerful release.
After the first battement, imagine this front leg being pulled by the toe with the back leg streams behind like ribbon on a rhythmic gymnast's baton.
Other Tips:
Be aware of your breath during a grand jeté. Many people find that inhaling as the leap is initiated is beneficial for feeling suspension in the air, however, find what works for you.
Visualize yourself performing the movement. I've found "playing" the movement in slow motion in the mind's eye reinforces many of the concepts found above.
What are some other images which you use to enhance your grand jeté?
What other tips or reminders would you suggest?
With which aspect of a grand jeté do you struggle most?
Photo: "Jeté (1975)" by Monica Arellano-Ongpin is licensed CC BY 2.0/ modified with text, background removal
Kindly follow, like or share:
Nichelle Suzanne is a writer specializing in dance and online content. She is also a dance instructor with over 20 years experience teaching in dance studios, community programs, and colleges. She began Dance Advantage in 2008, equipped with a passion for movement education and an intuitive sense that a blog could bring dancers together. As a Houston-based dance writer, Nichelle covers dance performance for Dance Source Houston, Arts+Culture Texas, and other publications. She is a leader in social media within the dance community and has presented on blogging for dance organizations, including Dance/USA. Nichelle provides web consulting and writing services for dancers, dance schools and studios, and those beyond the dance world. Read Nichelle's posts.