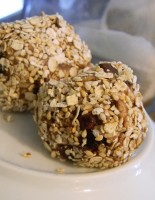 Ball of energy. That is probably is how most of your friends and family describe you.  They can't imagine having the amount of energy that you do in order to make it through your day as a dancer. Little do they know, you are armed with secret dancer, nutritional advice.
Pack these and eat them when you need something that is going to hold you another hour or so until your next meal.  The sugar in the apple juice will give you a quick boost of energy while the combo of complex carbs, fats and proteins will go to work to help stabilize blood sugar, release sustained energy.
Ball-O-Nuts

Prep Time: 10 minutes

Yield: 10-15 balls

Ingredients:

6 dates, soaked
1/2 cup rolled oats, soaked with dates
3/4 cup almonds
1/2 cup sesame seeds
3/4 cup poppy seeds
1/2 cup apple juice
1/2 cup brown rice syrup

Directions:

Soak dates with oats in water for a few hours, then drain excess water.
Add all ingredients except poppy seeds into a blender. Blend until chunks become very small, but are still apparent.
Form little balls with the mixture, then cover in poppy seeds.

Variations: You can also squeeze lemon or ginger juice into the mixture.