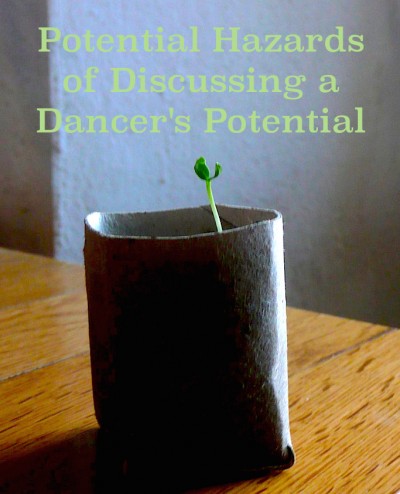 Is an educator obligated to share his/her perspective on whether or not a dancer will "make it" in the professional dance arena?
Recently, I was talking over topic ideas with a friend preparing to moderate a talk with a panel of professional dance artists. Among the topic suggestions, education came up as well as the role of the educator in the preparation of a dancer's career — specifically, the question above.
Ripe for discussion and debate, right?
Here are my two cents:
The Hazards of Potential: When the Future Trips Up the Now
For the young dancer, this is a loaded term and one that I think they equate with landing jobs and securing fame. I did.
As educators, I think we see potential as a culmination of skill, work ethic, and artistry. We may see that this dancer has the same "grit" that was required for the path we took as professionals, or the paths we view as being professional. It will include the skill of the dancer, and the artistry. It might also include the willingness to sacrifice, the tunnel-vision, or the financial backing. It might also include the "right" physicality, the aesthetic, the etiquette.
So much might be implied yet never even considered by the person, or people, hearing the message.
I say people there because it isn't just the main character of that narrative that hears the explicit and implicit dialogue about potential. It is interpreted and acted upon by all the characters of the narrative – those dancers making up the rest of the community within a program. It is somewhat responsible for how the pecking order to established; how the politics are determined.
We must be clear in how we perceive and define potential.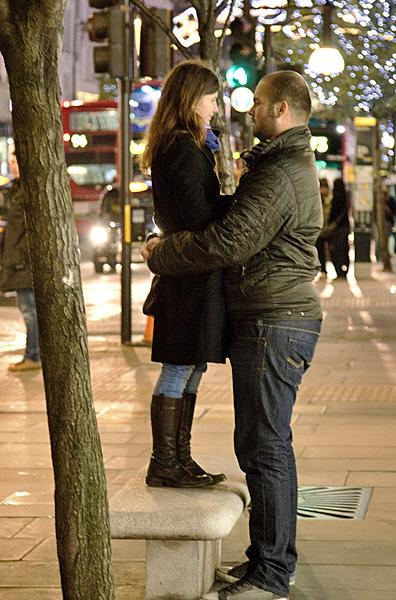 I think we benefit from being honest about how we view the profession of dance as well as professional dance. I think we are obligated to teach all of our students fairly, if not equally.
Proportionally, very few of us are teaching in conservatory feeder schools to major dance institutions where people go to learn how to dance this specific way. Most of us are teaching students that will go on to do a myriad of careers in dance, or nothing, and everything in between. We simply can't predict the future of dance anymore than we can predict the future of a student.
Lack of Potential
When the talk turns to the lack of potential, the emphasis should be on the choices obstructing potential and not the person. The behaviors are what we as educators can address, in the hope to inspire the person to make change. It is not our responsibility to judge the person and condemn them to the thought that they aren't good enough to "make it" in dance.
Some educators, though, treat conversations as anecdotal evidence for the negative message being conveyed about a student. A scenario like this, "I tried to talk to her about how she's late to every rehearsal. I told her that won't cut it in the real world. She didn't even want to talk to me about it. See, she doesn't have what it takes."
Here are some examples of how you can turn your conversation enders into starters. These will only work, however, if you are interested in the dancer as a whole person.
Instead of:
"Your classwork is sloppy and inconsistent. No one will hire you with a work ethic like that."
Try:
"You appear to be making choices that don't support your best work, I am wondering if there is anything I can do to help. Would you like to hear what I mean?"
Instead of:
"You want the fame and the glory but you aren't committed. You can't make it without commitment."
Try:
"I hear you saying you want this, but your actions tell me otherwise. Would you like me to share what I am noticing?"
Instead of:
"You claim you want to want to dance [insert place or company] but you won't fit in."
Try:
"I am wondering if your goals still include this, because if they don't, I would like to adjust the feedback I give you so it is most useful."
Personal Potential
I think it is important that we go back, though, to the perspective of the educator in defining the profession as well as potential — the story of that educator's life and journey in dance, and in professional dance.
Not all educators have engaged in professional dance and not all educators have engaged in the type of professional dance that may speak to that student. (See Nichelle's great article about Defining Dolly Dinkle Dance and the brilliant commentary).
So how are you determining your potential in educating dancers?
"First Sprout" by Cristina is licensed CC BY 2.0
Kindly follow, like or share:
Heather Vaughan-Southard MFA, is a choreographer, dance educator, and performer based in Michigan. She currently directs the dance program at the Everett High School Visual and Performing Arts Magnet in Lansing. With the philosophy of teaching dance as a liberal art, Ms. Vaughan-Southard collaborates with numerous arts and education organizations throughout the state. She has danced professionally in Chicago, Detroit, Los Angeles, and New York and has performed works by Mia Michaels, Lar Lubovitch, Donald McKayle, Billy Siegenfeld, Alexandra Beller, Debra Levasseur-Lottman, and Bob Fosse. As a choreographer, her work has been credited by the Los Angeles Times for "creating heat." She has recently choreographed for the dance programs at Michigan State University, Grand Valley State University, Lansing Community College and is the former dance professor at Albion College. She is a regular guest artist and blogger for Dance in the Annex, an innovative dance community in Grand Rapids. Heather received her MFA in Dance from the University of Michigan, BFA in Dance from Western Michigan University and K-12 certification in Dance from Wayne State University. Read Heather's posts.