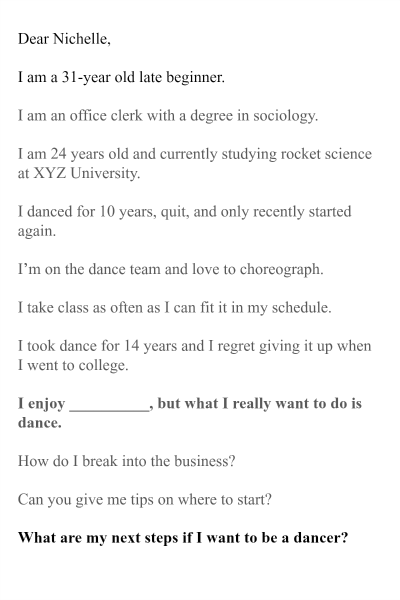 There's one email that I get quite a lot. It goes a little something like this:
"I'm currently doing X, but what I really want to do is dance. Is it possible or will I be wasting my time?"
So, how do I answer?
It usually goes something like this:
Professional dancers spend an extraordinary amount of time focusing on their chosen profession. Though they do have lives outside of dance, the day to day life of someone working toward a professional dance career revolves around dancing.

If you want to dance at a professional level, you need to pursue it at a professional level.
What does it mean to pursue dance at a professional level?
It can mean a lot of things but this covers it in a general way:
Rigorous, daily practice and attention dedicated to your art form.
Continual training and sometimes cross-training to keep you in top physical form.
Constant assessment of where you are in relationship to where you want to be.
Focused seeking of experiences that will extend and improve what you have to offer as a dancer.
Regular quenching of the thirst to see and understand the field and how others approach their art form.
Afraid of commitment?
What's interesting is that in writing to me, you don't often say, "I want to be a professional dancer" or "I want a career in dance." Those that ask, *ahem* dance around it. My guess is that either putting the intention into serious sounding words makes it more real and more scary, or there's just a lot of confusion about working in the dance field.
Everyone has a slightly different story, and I'm not one to say never (particularly since many dancers have started at 15 to 25 years old – considered late in dance) but still my answer is always the same – see above, if you've forgotten.
Inevitably, there are those who respond with a, "Thanks, but…
"…when I said pro, I didn't mean that I'd actually earn a living,"
"…I wasn't talking about a career, I'd like to do a few jobs here and there."
or "…I just want to audition and see where things take me."
A dose of reality
I am a firm believer that people DO have the power to achieve what they set their mind to.
Setting the mind to something is more than just thinking on it, though! And in dance, more than the mind is involved. The body plays a pretty big role and requires frequent tending to remain equipped for high-level dancing. I believe in dreaming big but your dreams will stay dreams without real action propelling them.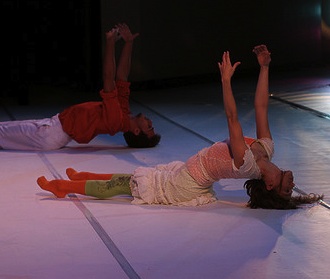 It is not unusual for a professional dancer (one who IS dedicating their full attention to dance) to pursue secondary interests or take on other work in order to earn enough for living expenses. However, when you're talking about auditioning, or breaking in, getting gigs, or dance being the thing you want to do, don't dance around it, you're talking about a professional career.
What About Semi-Professional Performance?
Semi-professional (you have advanced training but live by other means) opportunities for dancers ARE available but it's unlikely you'll be paid much, if at all. The truth is, even professional dancers with companies (full or part-time) aren't guaranteed a salary that will pay all the bills. They work shifts, teach, do arts management/administrative jobs, or (frankly) have spouses to fill in the gaps.
So, please understand that your hours as a semi-pro performer are essentially for fun.
Sometimes, you may actually be putting in more time or money than you are getting in return, but that's what volunteering (versus being a paid professional) is all about. It's rare for work like this to lead directly to bigger and better opportunities, just other semi-professional ones.
If your goal is unpaid performing, there are ways to do this at absolutely every level of talent and experience if you look around.
So honestly, it's never too late, if that's what you're worried about.
To Be a Paid Performer
Now, if you are an amateur or semi-professional wanting to get paid like a professional for something, you must compete with professionals who also want to get paid.
Whether it is just a few jobs, a TV spot, or a music video, you will still be competing with dancers who are pursuing dance with all of their energy. If you are not throwing your body and mind into dance with concentrated effort, what are your chances against the people who are? The field of dance is highly competitive.
It does not matter what kind of dance you are pursuing, either. Ballet may hold some of the more stringent expectations of dancers but in every situation (from hip-hop to Broadway) those hiring are looking for people at the top of their game. They want versatility, superior training and skills, and experience. Most importantly, they want people fully committed to dance!
So, what you really want to do is dance…
Does this mean you should drop out of XYZ University and forget your career in rocket science?
Sorry, but no one can answer that but you. We all make choices in life and successful people often make choices that others have deemed too risky or downright stupid.
On the other hand, risky or stupid decisions are sometimes just that.
I cannot possibly advise if you'll "make it" as a professional dancer. Even your teachers may not be able to advise you (in fact, naysayers are a frequent catalyst and have launched many a career in dance).
Only YOU can make the decision and YOU are the only person that can be held accountable for the outcome.
Get Serious
I can't become a doctor just by dreaming of it, or by taking a few biology classes, or because I played doctor as a child. It doesn't matter how good I might be at it or how much "natural" talent I have. I can't expect to walk into a hospital, operate every once in a while and hope they'll be so impressed they'll offer me a permanent position. It just doesn't work that way.
No matter how often your television tries to fool you into believing that part-time effort can pay off with instantaneous triumph, those that enjoy even just two minutes of fame or success have spent a great deal of time and energy positioning themselves to be "suddenly discovered".
Like it or not, your dreams won't happen without getting serious and setting some serious goals.
There are no exceptions to this rule, no way around it, no shortcuts.
Can you have it all?
There are most definitely people who can take on rocket science and dance at the same time. These high-level achievers wouldn't bother to ask if it's possible, they'd already be eating and breathing it because they are compelled to.
If what you really wanted to do is dance, you'd already be doing it.

Is this supposed to be encouragement?
Every teacher knows that sometimes tough love is required to motivate and educate. The skinny on becoming a professional dancer has been covered in feel-good, but no less accurate articles on this site… here and here and here, for example.
This article may be your kick in the pants.
On the other hand, it may be what you need to hear to realize that rocket science really is your thing and that you are happy to enjoy dancing for the love of it… and for the rest of your life if possible.
Nothing in this post is meant to discourage you from asking questions about how to achieve specific goals. It's meant to point out that the question, "What are my chances?" is irrelevant. Here's the real question:
How are you spending your time?
This is what I MOST want you to get out of this article if you've EVER contemplated dance as a professional pursuit. Frankly, even if you haven't. And, it comes from a source completely unrelated to dance.
"'Just do it' can be excellent advice. If you wonder whether you could write a book or run a marathon, don't waste a minute calculating your chances. Instead, spend an hour a day on your dream. It's how I suddenly found myself on a bridge in London, cameras rolling, wondering what took me so long."
And there it is.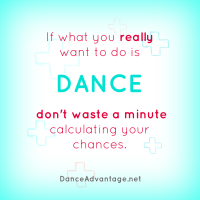 Every moment you waste calculating your chances, asking, or even wondering if it's possible to have a career or live your dance dream is a moment not spent on making it happen. If what you really want to do is dance…
Just Do It!
swoosh

Kindly follow, like or share:
Nichelle Suzanne is a writer specializing in dance and online content. She is also a dance instructor with over 20 years experience teaching in dance studios, community programs, and colleges. She began Dance Advantage in 2008, equipped with a passion for movement education and an intuitive sense that a blog could bring dancers together. As a Houston-based dance writer, Nichelle covers dance performance for Dance Source Houston, Arts+Culture Texas, and other publications. She is a leader in social media within the dance community and has presented on blogging for dance organizations, including Dance/USA. Nichelle provides web consulting and writing services for dancers, dance schools and studios, and those beyond the dance world. Read Nichelle's posts.