Each year, our school offers a "Math Night."
Teachers offer various activities that endorse mathematical thinking mostly through problem-solving experiences. It is fun; the kids have activity cards stamped and after visiting the required number of stations, they can partake in other fun types of games and enjoy pizza or ice cream.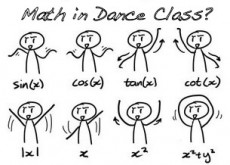 In the last few years, I have used this to introduce my own type of problem-solving that we have continued in the studio in subsequent weeks.
Although some of these activities could lend themselves to the creation of a dance for formal presentation- I warn you: to do so, artistically speaking, would be highly cliche. I offer this note because I have seen it done and heard the ridicule offered. Wear your "material to promote connected learning" vs. "material as a source for dance-making" filter as you continue reading.
Dancing Fractions
Goals:
To physicalize divisions of the body and bring physical thinking to "fractions"
To further examine "isolations", including multiple isolations occurring simultaneously
To provide a strategy for generating movement for composition sketches
Introduction: Dividing into smaller portions of the body, smaller isolations
Start by moving whole body (1)
Divide body into halves and move correlating parts (1/2): Right/Left, Upper/Lower
Divide body into quadrants and move (1/4): Upper Right, Upper Left, Lower Right, Lower Left
Divide further into eighths (1/8): Whole arm is divided at elbow, whole leg is divided at knee
Divide further into sixteenths (1/16): hand, feet (Think smaller portion, not necessary 16 small parts represented specifically)
Divide further into thirty-seconds (1/32): fingers, toes
Activity:
Students receive equations of adding or subtracting fractions, and create ways to "dance" the problem or series of problems to create movement phrases featuring isolation
Further activities:
Fosse Math: Observe an age-appropriate movement excerpt to identify and discuss use of isolation and stylized movement. Assign a dancer to a group of students in the course and have them "do the math" of the isolations in Fosse's choreography.
Budgeting the Show
Goals:
To introduce the extent of decision-making required in concert production
To model logical thinking in problem-solving
To introduce budgeting
Introduction: (there are multiple ways to "play" this game)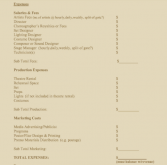 Place cards ($100, $200, $300, choreographer's choice, in-kind….) within categories such as: Number of performers, Music, Costuming, Lighting, Venue
Begin by explaining that everything involved in producing a concert costs money. Depending on the community, some things cost more or less than other places and some things are donated "in-kind".
Concept: Choreographers must make choices about their work, and how they spend their budget, based on the following questions (not a complete list)
Do you want to make a solo or group work?
If you can't afford both, which is a priority: original musical score, originally designed costumes?
Do you have a venue? Is it a union house?
Are you responsible for hiring Stage Manager and crew?
Do you have a lighting designer?
Do you have a set/media designer?
Do you have projection needs that may require rented equipment?
Are you paying dancers a salary, a stipend, or an honorarium?
Will you write grants? When are the deadlines? How does this impact your timeline?
Outcomes:
Many students want the fame and glory of the life of a performer but have little understanding of what is exactly involved.
This exercise can be a great motivator for those that "just want to dance" and need to know that their work in technique class needs a jolt of energy and focus. It is also great for those that want a life in the field and are willing to do anything and everything to have it. Even if they choose not to perform, there are a million other ways they have be involved in the arts.
Wondering if these are samples of arts integration, arts enhancement, or arts infusion? Read Let's Talk Arts Integration.
Otherwise, how are you bringing mathematical thinking out in your teaching?