If you are a power bar junkie, this recipe is for you.
There are many options for nutritional bars on the market, but the bottom line is that most are still processed food. They are also incredibly expensive!
Give your body the whole food nutrition it needs by following this easy protein and fiber rich recipe.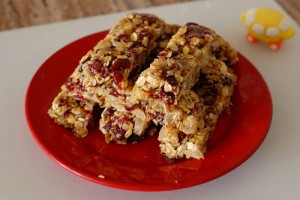 Wheat-Free Sunflower Crunches

Prep Time: 10 minutes

Yield: 10-15 servings

Ingredients:

1 cup sunflower seeds
1/2 cup sesame seeds
1 tablespoon poppy seeds
1/4 cup dried cranberries
1 tablespoon maple syrup
1 1/2 tablespoons olive oil

Directions:

Preheat oven to 375 degrees
Combine sunflower, sesame,  poppy seeds, and cranberries then blend.
Add oil and maple syrup, and blend again.
Roll dough into several long pieces and place them on a lightly oiled baking sheet.
Bake for 15-20 minutes.

Notes: Experiment with different types of your favorite seeds and dried fruits!
---
Editor's note: If you absolutely don't have time in the kitchen, or want the convenience of a ready-made bar, Nichelle recommends you check out Barre, a real food (as in all-natural ingredients you can pronounce) snack developed by professional dancers! Sorry if you missed our giveaway. But here's our review.