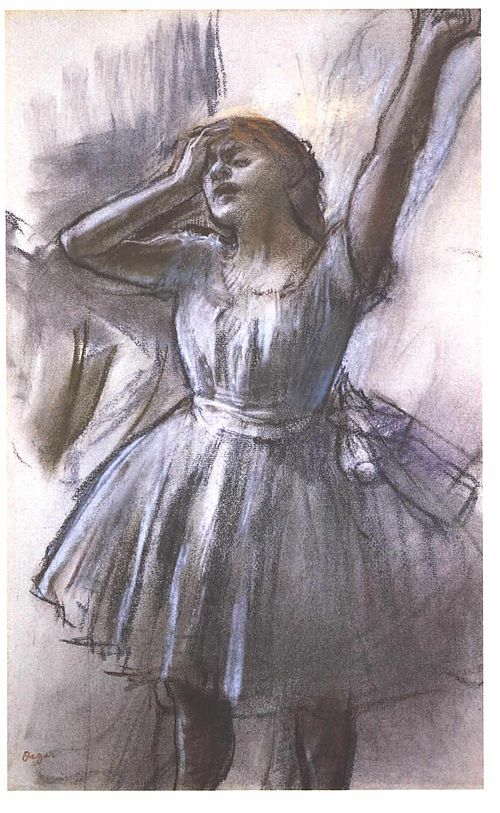 Muscular fatigue is something all dancers will experience from time to time. 
Fatigue is characterized by a decline in the body's ability to produce force in muscular contractions.  In other words, you have to work harder to produce the same results, which further fatigues the muscles.
Fatigue is good.
If you ask an exercise physiologist, fatigue is not only good, it's an essential component to making adaptations to muscle.  The formula for building strength is fairly simple:
Work to the point of fatigue
Rest and recover
Work to the point of fatigue
Rest and recover
… and so on, and so forth.  The idea is that each time you are working it takes a little longer to get to the point of fatigue, giving you increased endurance in whatever activity you are doing.
When fatigue is not so good.
Because of the body's inability to produce as much force during a state of fatigue, each movement is going to require more effort and "oomph", for lack of a better term.
This often creates a situation where you are compromising technique and placement to try and recreate the same level of performance as when you are not fatigued.  As I mentioned in my checklist for knee injury prevention, performing when you're fatigued puts you at a higher risk for incurring an injury.
So You Think You Can Dance fans have been eagerly anticipating the return of Alex Wong to the show as an "All-Star" cast member following his withdrawal from the show due to a ruptured Achilles tendon.
If anything good came out of that situation, it was this tribute rendition of his "Nappy Tabs" hip-hop routine with Twitch and a "genuine dance super-star"….
A couple weeks ago, Executive Producer Nigel Lythgoe announced that Alex would, in fact, not be returning to the show this season due to the fact that he has now ruptured the OTHER Achilles tendon during an audition for a different reality dance show.
Mr. Lythgoe went on to say that "this just goes to show what you have to put your body through in order to be a dancer."
That's where I start to have a problem with this whole situation….
Dancers work long hours.  Depending on your personal level of endurance, you may be put into a situation where a performance or rehearsal comes at a time of the day when your muscles are already at the point of fatigue.
Ask any dancer if s/he feels comfortable telling their director "I'm sorry, I can't perform tonight, because my muscles are at the point of fatigue, placing me at a greater risk for injury."
Yeah… that's not going to happen.
A dancer friend of mine once told me that she was cast in a very exhausting, athletic piece, and was required to perform a dress rehearsal full-out one hour before the performance began.
I would imagine that the reality TV dance craze of SYTYCD, America's Best Dance Crew, Dancing With the Stars, etc. follows approximately the same model, by having rehearsals a short time before taping to save the celebrity guest judges from having to come on two separate days.
My friend said to me, "…it's like asking a football team to play an entire game right before the game starts."  How can we possibly ask dancers to perform at the same level when their bodies are physically exhausted, and not expect them to eventually become injured?
Is this really, truly, what dancers have to put their bodies through in order to be successful?
Make Room For Rest
One possible answer to this conundrum is training dancers to have increased endurance by following the fatigue – rest – fatigue – rest model that I've mentioned above, but this, of course, requires that we actually adhere to the REST.
In dance, the body is our instrument.  Unlike guitar strings, you can't buy Achilles tendons every time they break – you only get two.
It's our responsibility as teachers, choreographers, directors, (and executive producers) to create an environment that respects the rest required to protect our bodies and maximize performance…during performances.
Now it's your turn:
Dancers: How do you monitor signs of fatigue?
Teachers/ Directors/ Choreographers: What advice can you offer dancers about protecting their bodies from fatigue and injury?
Kindly follow, like or share:
Lauren Warnecke is a freelance writer and editor, focused on dance and cultural criticism in Chicago and across the Midwest. Lauren is the dance critic for the Chicago Tribune, editor of See Chicago Dance, and founder/editor of Art Intercepts, with bylines in Chicago Magazine, Milwaukee Magazine, St. Louis Magazine and Dance Media publications, among others. Holding degrees in dance and kinesiology, Lauren is an instructor of dance and exercise science at Loyola University Chicago. Read Lauren's posts.