today's feature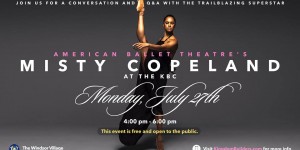 25 years before Misty Copeland became ABT's first African-American principal ballet dancer, Lauren Anderson was the first "brown girl" to be made principal at Houston Ballet. In a special Houston event, the pair came together to answer questions about their lives as dancers and the challenges of being black ballerinas in a still, traditionally white art form.
If your child is asking, investigate the reasons she wants to take a new or additional dance class. Costume style, choreography, musical accompaniment, or maintaining friendships may be no less valid or less important to her than the desire to enhance her skills. Dance should be fun, too! Do not devalue or brush away these motivations, they are part of the equation.
for parents
There are dance studio owners mad and concerned about how Lifetime's reality show, Dance Moms, is affecting their business. They want to boycott it, voice their outcry. But are there other ways to battle this kind of negativity? Learn why the stuff that 'makes us look bad' as an industry can actually be good for business and how to turn negativity into opportunity.
for studio admin
There are a number of codified floor barre techniques that are taught throughout the world. Most of the most well-known methods were developed during the mid-20th Century. Discover resources for adding floor barre to your repertoire.
for dancers
Heather's middle school dance students research limitations in dance by mapping phrases, making observations, and finally working within set limitations.
dance in school