A reader writes:
We all know dancers work hard and sweat. Thing is, I sweat excessively! When I dance, it starts from the very first minutes in class and then gets worse and worse!

That brings many undesired results: a) I smell bad, b) I'm sticky and watery so I guess it's not appealing for my dance partner and I get embarrassed when he touches me, c) my leotard or unitard gets sweaty marks under the armpits, under the breasts, belly, back, waist, groin, buttocks (that means everywhere).

It's so embarrassing! Most of my classmates do not sweat as I do. If you have any advice, ideas, solutions, article or anything else on this, I would really appreciate it!
Dear reader, I know this can be an embarrassing situation.
First, understand sweating during physical activity is normal and healthy.
Heavy sweating (unless it's accompanied by pain, trouble breathing, or underlying health problems) may actually be a sign that you are more physically fit than your non-sweating classmates. At the very least it shows you have an efficient cooling system!
Do put your mind at ease and talk with your doctor to rule out any conditions that may be causing you to sweat excessively.
Second, don't be unnecessarily self-conscious and worried that others see you in a negative light because you sweat heavily.
I would bet no one is as put off by it as you feel they might be. You are dancing with enough energy and intensity to raise your core body temperature, and it shows! Most teachers, choreographers, and performers appreciate this in their fellow dancers.
If someone is put off by it, well, it's really his/her problem, not yours. (I know this may feel hard to accept. But it's true and that person really just needs to get over it.)
Don't be afraid to use humor and make light of the issue. Crawling into a corner, apologizing as excessively as you sweat, or letting someone's rude comment get to you creates tension around the issue. Tension turns small issues into big ones and others may try to break this tension with hurtful jokes or rude comments. There's something to be said for disarming any tension by being the first to acknowledge or crack a joke about your excessive sweating. It really can put everyone at ease to know you know they know, you know?
For Greater Confidence In Class
There are some steps you can take to cut down on wet marks, dampness, and maybe smell (which may not be as bad as you imagine). I would suggest you…
Spend a little extra on leotards and athletic wear made with fabrics designed to whisk away sweat or even dampness. Most companies have a line of cooling dancewear. I can't vouch for which ones work best but other readers may have suggestions.
Stay hydrated. Drink water before and during class (they say one half to one cup for every 15-20 minutes of exercise)
Bring a small towel with you to class and maybe some powder if you are partnering and your arms or hands are slick.
Additional tips for coping with excessive sweating (via WebMD):
Put on a higher-strength deodorant at night and tote it in your dance bag for reapplication during the day
Hold the spicy jalapeno, onions, or garlic which can make sweat smell worse
Choose fabrics that are lightweight, loose-weave, or cotton when possible
Spritz yourself with water. It may seem counterproductive but the spritz can cool you and make sweating less necessary.
Wear darker colors rather than light ones if possible
Wear patterned dance tops (this may not work for all classes/dance forms) as opposed to solid colors. Sweat marks show up less on patterns.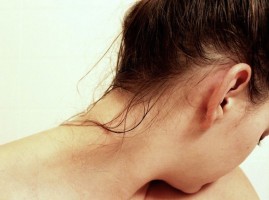 Others have suggested sage as an herbal solution for excessive sweating. The scientific evidence that sage teas or supplements will help with excessive sweating during exercise isn't conclusive but it may be worth investigating.
Have you ever felt self-conscious about sweating in dance?
What tips or recommendations can you offer our reader or others like her?
Kindly follow, like or share:
Nichelle Suzanne is a writer specializing in dance and online content. She is also a dance instructor with over 20 years experience teaching in dance studios, community programs, and colleges. She began Dance Advantage in 2008, equipped with a passion for movement education and an intuitive sense that a blog could bring dancers together. As a Houston-based dance writer, Nichelle covers dance performance for Dance Source Houston, Arts+Culture Texas, and other publications. She is a leader in social media within the dance community and has presented on blogging for dance organizations, including Dance/USA. Nichelle provides web consulting and writing services for dancers, dance schools and studios, and those beyond the dance world. Read Nichelle's posts.