In education, in leadership, and in business the words "want" and "need" come up a lot.
Education: I give you what I think you need.
Business: I give you what you want.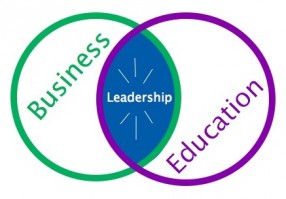 A successful blog and, if I might go further, a successful dance studio, must live in the place where these circles intersect – a junction I'll call
Leadership: I give you what you need.
Today I am celebrating Dance Advantage's second birthday. Yes, April Fools' Day. I'm aware there may exist some irony there. Anyway, initially my goals for this site probably leaned most heavily toward education. Much of the content, though a percentage fills a need, has been what I think you require… what I feel you should know.
If my only goal was marketing to you, I would give you only what you want. You would like it, in fact you would probably eat it up. But that model is more benefit to me than to you and, while it might better support my needs of increasing traffic or revenue for sustaining this website, Dance Advantage was founded with a mission to support you, not sell you.
As I begin my third year of blogging, I recognize that what I really want is to give you what you need. It's a funny thing about leadership, that it demands the willingness of both "followers" and leaders to be led by the other. But I don't really like the word followers. I'm not looking for disciples, devotees, or minions, but compatriots. Fellows not followers.
So how does a fellow figure out what you need?
(S)he asks. Duh!
So, I need you to answer one question for me:
Is there anything you want me to write about?
An easy and anonymous way to do this is to click on the SUGGESTIONS tab on the right side of the webpage. Or, go directly to Skribit and let me know.
If you are an email subscriber, feel free to simply reply to the emails you receive – they come to my address. I'd love to be on a first-name basis if you'll allow me to be. It serves to help me in this mission of addressing needs.
If you are a fan of Dance Advantage on Facebook, I've set up a discussion area just for this purpose. You can find it here on the message board.
If you are on Twitter, tweet or DM me anytime — as long as you can say it in 140 characters 😉
You may choose to stay quiet. Just be warned, I do not have telepathic powers. 🙁
If you aren't getting what you want from Dance Advantage, there's only one way to fix that. Choose participation and most likely, you'll get more of what you need.
What If You Don't Know What You Don't Know?
This is where education comes in. Were I to only ever give you what you know you want, then you'd never know what you are missing.
Many of you reading are teachers. Would this fly in your classroom? What you don't know sometimes CAN hurt you. So, I feel I'd be remiss if I did not sometimes give you what I think you need.
Part of being a good teacher though is determining true need rather than presumed need and this is where goals come in. Knowing a student's goals or aspirations helps me efficiently guide them to the path and then get out of the way so they may travel on it.
In the name of education, and if you are still with me…
What are your goals? For your dancing, for your teaching, for your studio, for your career?
I'd love to help you find your path. You can let me know your goals in pretty much the same ways mentioned above. For anonymous submissions, try this.
I will do my best to answer as many questions in actual blog posts as I can. I may not be able to get to all of them, but I'll try.
Why?
Because it is good education, good business, and good leadership. And because it is part of my renewed commitment to myself and to readers that Dance Advantage stay true to its purpose and be of service to the dance education community.
"We cannot hold a torch to light another's path without brightening our own."
~ Ben Sweetland
You have brightened my path, and to anyone who has read even one sentence of what I have written in the past two years, I thank you. My supreme gratitude for those who support and encourage me each day. I hope to hear from you all soon!

I'd love to know how you blend good education, business, and leadership?
Kindly follow, like or share:
Nichelle Suzanne is a writer specializing in dance and online content. She is also a dance instructor with over 20 years experience teaching in dance studios, community programs, and colleges. She began Dance Advantage in 2008, equipped with a passion for movement education and an intuitive sense that a blog could bring dancers together. As a Houston-based dance writer, Nichelle covers dance performance for Dance Source Houston, Arts+Culture Texas, and other publications. She is a leader in social media within the dance community and has presented on blogging for dance organizations, including Dance/USA. Nichelle provides web consulting and writing services for dancers, dance schools and studios, and those beyond the dance world. Read Nichelle's posts.