Portable snacks are a must for busy dancers. But so are healthy snacks.
Finding something that's grab-and-go yet meets the nutritional needs of a dancer is frequently a challenge.
In fact this was the challenge Pittsburgh Ballet Theatre principal, Julia Erickson set out to conquer in her kitchen in early 2010: To create a better energy bar for herself. One that tasted better and was made from ingredients she could pronounce.
What she whipped up caught the attention of fellow dancers. She made more, selling an early version to PBT's summer students. Recognizing a need in the dance community, she teamed up with friend, partner, and fellow dancer Aaron Ingley and formed a business.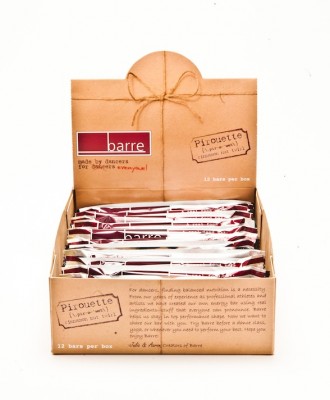 With an aim to raise the barre on nutrition and encourage healthy eating habits in the dance world and beyond, they created Barre, a real food bar made with natural ingredients and superfoods like hemp seed, flax, and dates "by dancers for dancers everyone."
Barre's first flavor, Pirouette: Cinnamon Nut Twirl officially launched on July 5. Not only have Julia and Aaron shared a few samples of their tasty triumph with me but they've agreed to share their story, their mission, and their own tips and ideas for eating healthfully on a dancer's schedule with Dance Advantage readers.
Dance Advantage: I suspect you've tried a lot of nutrition and energy bars, and maybe even depended on them at times while on the go as dancers. What changed your mind about the effectiveness and nutritional value of the majority of bars out on the market?
Aaron Ingley: Nutrition bars have become really big business in the last ten years and there are gazillions on the market.  In the beginning they seemed like a godsend for dancers—easy to eat between rehearsals and, in the beginning, decently healthy.  What has happened since then is that everyone and their brother started making bars to turn a quick profit and the quality of ingredients suffered.
One day I woke up and realized that what was once a great tool for making it through a tough rehearsal day was now no more that a candy bar with a new set of clothes.
Julia Erickson: That, and I just stopped liking the taste of energy bars – it seemed to be moving farther and farther away from real food! Meanwhile, I became much more interested in the politics of food and thus was moving increasingly more toward eating whole foods whenever possible.
I was actually trying to eat a handful of crumbly trail mix in the studio on a five-minute break when I thought to myself: "there has to be another way!" I didn't want to eat bars, but my hand was sticky, there were crumbs all over me and on the floor, and rehearsal was starting! Not a glamorous a-ha moment, but an effective one nonetheless!
DA: What makes raw foods and ingredients better for your body?
Aaron: We believe that raw foods are more natural, being closer to their source than foods that are cooked or mixed/altered with some sort of preservative.  This means that the nutrients in these foods is absorbed and processed by the body more easily than something that comes from a laboratory.
You can compare Barre's first flavor, Pirouette- Cinnamon Nut Twirl, to another bar that claims to have 10 grams of protein in it.  Although this bar probably has 10 grams of protein in it this does NOT mean that your body will absorb all of it.  In fact, your body is more likely to absorb all 6 grams from Barre's natural ingredients thus giving you more protein overall and way more nutritional bang for the buck!
Julia: It's really not about becoming 100% raw for us—neither of us happens to be a raw foodist! However, we're obsessed with advocating for the movement toward healthy eating habits, especially in the dance world. Incorporating more raw ingredients into one's diet and reaping those nutritional benefits is a great way to do just that.
Also, I've always tended toward eating simple, unadulterated foods pre-dance to avoid upsetting my stomach: you need accessible energy but you're about to do some serious exercise—it's a delicate balance. And, if those nutrients are more accessible for absorption they're more likely to help us dance our best!
DA: Why do you think it's so difficult to find foods (particularly in the snack category) that contain real ingredients?
Aaron: Mass produced snack items of the kind that you may find in a superstore are often only profitable by whittling down the cost to produce them, so huge companies may tend toward using inexpensive ingredients. These ingredients, such as corn and its many derivatives, are highly subsidized materials and thus fit the bill. There are many different tastes you can create from a single plant like corn, however the further you go away from the kernel, so to speak, the less integrity the nutrients have.
It's no secret that Americans have by and large, almost without realizing it, moved far away from knowing what's in their food or where it comes from. We want to get people moving back toward awareness about what they consume. Plus, as dancers we know we can't eat empty calories—everything must count—so it's obviously advantageous to get the most nutritional bang for your buck by eating real stuff!
DA: You are self-proclaimed foodies so food and its taste are important to you AND you're dancers (so probably perfectionists). Your first bar recipes were made in your own kitchen. As manufacturing grows in scale, has it been difficult to stay hands on and involved in the process?
Aaron: We are just beginning to get the word out about Barre so at this point we are still very hands on.  There is always a little "loss of control" when scale dictates that you can no longer make Barre in your kitchen, however.  But, the facility that currently makes Barre has been super great about keeping us up date at every step.  We are especially inquisitive about where our ingredients come from.   As we introduce new flavors it is our goal to improve upon the great flavor and nutrition that we have committed to Pirouette.
Julia: Yes, if it were possible I'd be making every single one by hand! While there have been some bumps in the road, we are lucky to work with a small, family run factory with which we have a great working relationship, so it's as close to "by hand" as it can be. And because we are still a small company, we're both involved in every aspect of the business. The taste-perfecting part is hair-splitting at times, but it is totally worth it to get to that great flavor profile. The factory gives us some ingredients that they've sourced to use while we experiment, so we know what we'll be working with. Then they make a small batch of our bar at their factory for us to sample. These steps insure that the taste is up to snuff.
DA: I'm sure there have been many lessons but what is the most enlightening thing you've learned since taking your first steps into business in the food industry.
Julia: My biggest takeaway is to have confidence and be brave while still recognizing there is a ton to learn. We are a tiny David in a sea of food Goliaths. While we are newbies, the dance skill set has given us a great foundation to enter into the business realm. Imagine joining the professional dance world with one year of experience—you simply couldn't do that. With dance under your belt however, anything is conquerable.
Trust yourself but keep your ears open and go in with humility.
DA: Barre is a fantastically convenient snack option for dancers but what are three other snacks you love to pack in your dance bag on long days?
Aaron: Bananas, hard-boiled eggs, PB&J
Julia: I like crackers with cheese or almond butter, yogurt or hard-boiled eggs if there's a fridge available, or my favorite homemade trail-mixture of cereal, granola, nuts and a little dried fruit…provided you have more than five minutes to eat it!
DA: Students and parents have difficulty squeezing in nutritious meals while rehearsing long days or running from one thing to another. Managing a healthy, balanced diet when dance is really the only thing on your mind is tricky. What advice can you share with young dancers eating dinner on the go?
Aaron: First let me say that Barre is not a meal replacement—it is one part to a healthy diet and eating habits for dancers, and for anyone who cares about nutrition.
Portability can be a challenge, but the secret is to plan ahead.  
You can get all of your favorite flavors in filling portable meal—quinoa with walnuts and sautéed mushrooms—healthy, delicious and light.  Just make it the night before and grab it out of the fridge before you leave the house. How about microwaving a bag a broccoli and bringing along your favorite dipping sauce.  A great way to get in your greens!
Julia: I think planning is the key. Scope out where you'll be. If you have to go straight from school to dance, instead of stopping to buy fast food see if there's a fridge at your school/dance school you can use—I'll bet you there is and access to it will be all yours if you explain your circumstance!
Also, make a big batch of a one-dish meal on Sundays; that way it's ready to eat throughout the week. Try chili, soups and stews, pasta dishes, casseroles, anything from a slow cooker. The possibilities are endless! And if you're in a pinch, try crumbling up a Barre into a yogurt—it's so tasty and makes a pretty rounded out small meal or large snack!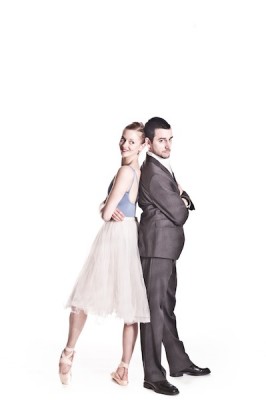 DA: You've both pursued multiple degrees while dancing professionally, not to mention you pursue diverse interests and passions outside of dance. Does balancing it all require a superhuman overachiever gene or do you owe this ability to something else?
Aaron: No, it's just the gene.
Seriously, dancing professionally is as much a job as it is a lifestyle commitment.  Time management with school, and starting a business, is just an extension of the great discipline that ballet training gives you. I've seen a lot of former dancers become wildly successful at other things and many of them attribute their success to their experience in ballet.
Julia: My family always encouraged learning throughout one's lifetime and even when I entered into professional level dance training I always knew I wanted attending college to be part of my plan. It has worked for me because I have added everything incrementally. I established myself as a professional dancer first, and then started taking a university class, then two at a time, then the business, etc. While I sometimes lament my lack of free time, I remind myself that I've chosen this life and I wouldn't have it any other way—it is truly gratifying!
---
As I mentioned, I sampled Pirouette: Cinnamon Nut Twirl, Barre's inaugural flavor and was pleasantly surprised. I've tried a number of energy bars myself and most I find dry, even chalky, and indefinably tasteless. Barre is soft and chewy with only a bit of crunch (there's also a CRUNCH version if you're looking for more). The almost fudgy flavor of dates, cinnamon, and nuts indeed tasted like something you could mix together in your kitchen with food from the market. In fact, the ingredient list on the package is refreshingly non-mysterious.
I'm looking forward to a second flavor which is waiting in the wings for its debut later this year. Reportedly a "dark chocolate and rich nutty blend", what's this one titled? Black Swan, of course!
Currently, you can purchase Barre: Pirouette and Pirouette CRUNCH in boxes of 12 from the website, www.realfoodbarre.com. And if you'd like to partner with Barre, carrying the snack in your store or studio there's contact information there too.
Of course, you can also follow Barre on Facebook and Twitter for updates. And if you'd like to see your local shop or studio carry Barre, Julia and Aaron have created a handy request form [pdf] you can present to store managers, featuring all the relevant details.
Have you or do you think you'll give Pirouette – Cinnamon Nut Twirl a whirl?
What are YOUR favorite packable snacks?
Kindly follow, like or share:
Nichelle Suzanne is a writer specializing in dance and online content. She is also a dance instructor with over 20 years experience teaching in dance studios, community programs, and colleges. She began Dance Advantage in 2008, equipped with a passion for movement education and an intuitive sense that a blog could bring dancers together. As a Houston-based dance writer, Nichelle covers dance performance for Dance Source Houston, Arts+Culture Texas, and other publications. She is a leader in social media within the dance community and has presented on blogging for dance organizations, including Dance/USA. Nichelle provides web consulting and writing services for dancers, dance schools and studios, and those beyond the dance world. Read Nichelle's posts.