"The single biggest problem in communication is the illusion that it has taken place." – George Bernard Shaw
It's true…the more connected we are these days, the less it seems we actually are communicating. You have more options now than ever to send and receive messages: whether it's through email, text, voice mail, social media posts, fax, memos, postal mail, phone calls, or in person. No wonder you're overwhelmed!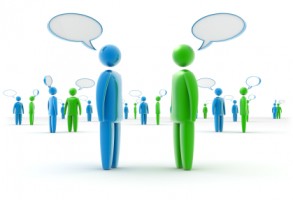 This is a quick true story, perhaps you can relate.  On the Saturday morning of our recital weekend, we received a voice mail from a mom of a young dancer at 7:45 am, she was slightly frantic and upset.  "I didn't know I needed to buy tickets for the recital!", she exclaimed on the voice mail. Her daughter was scheduled to dance in the 11:00 AM performance that day.
Clearly this mom hadn't 'received' the communication about recital tickets that we had been sending for two months leading up to the date. At the studio we had given verbal announcements, posted signs, printed memos and order forms were sent home, all of this, including when and where to pick up tickets, was posted on our website.
The story ends well. Of course we were able to sell her tickets at the door that day, and the mom was relieved, and her family enjoyed the performance.
We have more than enough options to connect and communicate, so how can we be more effective in our communication with our students, parents,  faculty and staff?
Learning Styles: Hear it, see it, touch it
Many of you are teachers, so you already know the importance of the three dominant learning styles: Audio, Visual and Kinesthetic. It's through your learning style that you are able to absorb information, remember and recall it, and ultimately use it.
Just as it is essential to teach to and understand one's learning style to maximize strengths…it's key to deliver vital details to your current and potential students in your dance studio communications this way as well.
Hear it: Auditory learners learn as a result of hearing, verbalizing, listening. Therefore, auditory learners will respond well to verbal announcements in class, live meetings, voice mail, phone calls.
See it: Visual learners do best by processing information through reading, seeing, and watching. Visual learners will respond well to posted notices, bulletin boards, diagrams or maps, demonstrations such as how to make a bun or apply stage makeup.
Touch it: Kinesthetic learners are hands on.  They like to feel, touch, and handle it. Kinesthetic learners will respond well to printed physical documents, forms, brochures, postal mail and printed newsletters or memos.
The key to any important deadline, announcement, or news is to make sure that you have provided opportunities to hear it, see it, and touch it.  This helps to insure that you're covering all of the learning styles. If this seems repetitive or extra work at first remember that you can have fun with your dance studio communications. Once you get used to disseminating information across the three learning styles, you'll increase your odds of reaching everyone more effectively.
Beyond addressing each learning style you'll want to use both technology and traditional methods to your advantage by passing information through another round of testing.
Does it pass the scan-scroll-stroll test?
People are being trained to absorb data in tiny, bite sized chunks.  Think "USA Today" style: catchy headlines, colorful, pictures, and short snippets.
Scan:
The majority of people are reading their email, getting news updates and scanning social media on their smart phones. If you use an email delivery program such as Constant Contact, Aweber, iContact, or Mail Chimp and you're using HTML in your formatting, be sure to test a copy of that email, open and read it on a smart phone to see what it looks like.  Do you have to scroll past a ton of graphics before you get to the facts or announcements?  The fancy HTML may look really pretty on a full screen, but these days many are reading their email on the fly.
Make sure you're not losing people at the subject line or giant header graphic.  Have your email communication, social media posts, and updates be easy to absorb with a quick scan on a smart phone or in 10 seconds or less.
Scroll:
Everything essential should be "above the fold" on your website.  Simply said, if you have a big announcement, headline, or important dates to share with potential and current students, make sure you see these things (like open houses, demo days, guest events, or performance dates) instantly when you land on your website.  It should not require you to hunt around or scroll down the page.
The same goes for printed documents and memos, don't bury deadlines or main points in the middle of the page.  Have them be front, center and easy to find.  Hold your memo out in front of you, scroll down the page and see what jumps out at you.  If you get distracted, edit the page until you can hold that out in front of you and in 10 seconds know what action needs to be taken.
Stroll:
When you post signs and flyers on bulletin boards, and on walls in your studio, and waiting room, can you 'stroll' by and absorb what's being said easily? Use big font, bright colors, arrows, and eye catching pictures. Entries and exits, bathrooms, studio floor entrances, offices and waiting rooms are where people walk by and also stand around. These spots are prime locations to catch attention. Stroll around your studio and see where you might be able to increase your effectiveness with your posted messages and announcements.
Tattoo Ads Perhaps??

There will always be those people who,  despite practically tattooing them with tuition payment policies, audition dates and times, costume order details, and performance instructions, will still miss deadlines and be unaware that you had made every effort to get them what they needed to participate. Don't let them get you down!
What have you done recently to help increase your effectiveness in communicating with your students, parents, faculty and staff?
Kindly follow, like or share:
Suzanne Blake Gerety is not only the very busy mom of two young children but is the owner and co-founder of DanceStudioOwner.com, and the Vice President of Kathy Blake Dance Studios. She is a regularly featured contributor in various pieces for Dance Teacher Magazine including, "Ask the Experts", business articles, and has presented live workshops at Dance Media's Dance Teacher Summit New York City.
Suzanne experiences the ups and downs of studio ownership too, which is what inspires her to help studio owners and teachers keep their passion for dance alive as they grow their business. You can connect with Suzanne on Twitter @SuzanneGerety and at DanceStudioOwner.com.