Nearly every dancer has their pre-performance rituals.
It takes all kinds and below are 15 of them. If you haven't developed your own pre-show routine yet, feel free to mix and match from these dancer-types.
The Early Bird
This dancer arrives super early. He likes to be the first one in the dressing room, usually because he gets to claim his spot first or because he likes the calm and quiet.
The Stage Scoper
She absolutely needs to check out the stage at some point before going on, whether it's to get familiar with the space, practice problem areas, or interface with its energy.
The Recluse
He goes off by himself, rarely speaking unless spoken to. This is just how he gets in the zone, relaxes, and manages nervousness.
The Evacuator
This dancer always has to "go" right before the show!
The Wing Dummy
She's no dummy but she'll 'dummy' (simulate), or mark some or all of the choreography in the wings to prepare herself for the real deal.
The Quaker
Whether jumping, shaking, shimmying, or pacing he'll be on the move until the final bow or exit.
The Audiophiler
She escapes into her headphones, perhaps listening to a particular playlist or song every time. It calms her and helps her get focused, or pumps her up.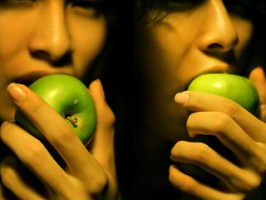 The Nibbler
He may eat certain foods before every performance, or he may just snack to settle his jitters. Either way, you'll find him munching on something.
The Visualizer
She often has her eyes closed because she's imagining herself at her best, going through the entire routine, or mentally practicing crucial parts of her performance.
The Talismaniac
This dancer has something that must be done or worn or kissed. Every. Time. Any item can become a good luck charm. Clothing (washed or unwashed), shoes, trinkets, fabrics, songs, warm-up equipment, even certain actions.
The Prayer Warrior
She prays outwardly or inwardly before every performance to center herself or show gratitude to a higher power.
The Slow Warmer
Extensive or elaborate warm-ups are his M.O. He knows what's good for his body but certain parts of his session are also preparation for his mind.
The Orderly
She executes every bit of her pre-show process in a particular order. It ensures that she won't forget something and gives her peace of mind.
The Accelerator
He gets ready for his entrance like he's revving an engine. His sometimes infectious enthusiasm and energy grows and grows until he hits the stage.
The Deep-Breather
You may hear her patterned inhale and exhale before you see her. She could be calming or releasing energy or she could be 'breathing into' an injury. Focusing on breath is reassuring and good for the body.
The Unifier
He makes sure he shares a word or a touch with everyone in the cast. He gathers others for the energy circle. Connecting to others makes for a positively charged performance.
Do you identify with any of these?
What are your favorite pre-performance rituals?
What about post-performance?

Kindly follow, like or share:
Nichelle Suzanne is a writer specializing in dance and online content. She is also a dance instructor with over 20 years experience teaching in dance studios, community programs, and colleges. She began Dance Advantage in 2008, equipped with a passion for movement education and an intuitive sense that a blog could bring dancers together. As a Houston-based dance writer, Nichelle covers dance performance for Dance Source Houston, Arts+Culture Texas, and other publications. She is a leader in social media within the dance community and has presented on blogging for dance organizations, including Dance/USA. Nichelle provides web consulting and writing services for dancers, dance schools and studios, and those beyond the dance world. Read Nichelle's posts.