A while back my friend Tammy over at Inside Ballet Technique encouraged me to check out a company called Relax Pack. Relax Pack is a "Woman Owned Small Business in Scottsdale, Arizona" that produces organic herbal therapy packs. The owner, Tiffany Buntin, suffers symptoms of chronic pain and fatigue and is diagnosed with Fibromyalgia and Chronic Fatigue Syndrome. The challenges she faces have inspired the creation of her own line of herbal therapy packs which are completely organic. I encourage you to read more of Tiffany's story at the Relax Pack website.
Dancer Therapy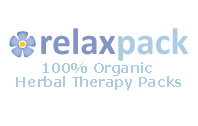 Many dancers utilize hot and cold therapy packs to relieve sore muscles and injury pain, not to mention dancers and teachers who suffer from chronic conditions. So, on Tammy's recommendation, I did a bit of investigation and discovered two more great reasons to share Relax Pack with you.
Support of Small Business and Female Entrepreneurs — I like sharing products by folks who originate and believe in their own products. Tiffany developed Relax Packs to fill a need, she offers personal attention and has created a community of support for others like herself.
Organic Options — I appreciate Earth's ability to provide what is often the best solution for its inhabitants. It just makes sense to me to reduce use of chemicals (particularly in products that come in contact with our skin) whenever possible. Each family and individual does what they can, but I believe in supporting companies' "green" efforts whenever possible. Relax Pack, in addition to producing an organic product, makes an annual contribution to CarbonFund.org to help offset the company's emissions.
So, encouraged by my initial investigation, I approached Tiffany about a possible review of her product on Dance Advantage. She generously offered several products for review and, in addition, has agreed to give away some Relax Packs to readers.
Three Packs, Four Formulas
Relax Pack produces three different packs, including a Neck Wrap, Body Pack, and Eye Pillow. Each of these are manufactured in four formulas: Pain Relief, Relax & Soothe, Revive & Awaken, and All Natural Unscented. I sampled all three of the packs and the three aromatic formulas.
For complete details on the ingredients of each pack and formula, please see the Relax Pack website.
My impressions
Construction – The stitching on each pack is consistent and seems quite durable. It appears to me that one would have to abuse these packs to destroy them, and each is packaged with clear and simple instructions for how to heat and cool the packs. The organic cotton feels soft, yet sturdy and is color-coded in fresh, solid colors according to the ingredient formula inside.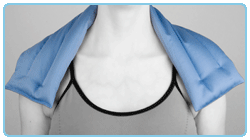 Revive and Awaken – I received a Neck Wrap in this formula. The design rests easily on my shoulders and I've quickly popped it in the microwave for heating on those early mornings when I manage to rise before my little one to get some work done. The aroma really does have an invigorating yet calming affect, and helps me focus my foggy morning brain for writing.
Pain Relief – The peppermint, spearmint, lavender, ginger, and eucalyptus in this formula is a really pleasing combination. I've used heat therapy "beanbags" that cool way too quickly. I tried the heated Body Pack for some soreness after dancing and was pleased to find that the flax seed inside the Relax Pack held the heat for a long time.
Relax and Soothe – I received this formula in both the Body Pack and Eye Pillow. For someone who stares at a computer screen a lot, the Eye Pillow is welcome relief. It is recommended for cold therapy and can be kept between uses inside a resealable plastic bag or container in the freezer. Again, it keeps its cool. This formula contains linden leaf and flower which, according to the handy cards packaged with the order, is said to ease painful cramps. I used the Body Pack on a day that I experienced cramping (of the female variety) and the heated pack did offer relief. The fragrant ingredients are a pleasant and comforting feature.
Cost – Organic does not always mean more expensive. I was pleased to discover that Tiffany's Relax Packs are comparable (and sometimes less expensive) than other heat and cold therapy packs available even at WalMart and other big stores. They would make a great gift for yourself, for a teacher, or anyone else you know with aches, pains, or stress.
The bottom line: I cannot offer any negatives. I am very pleased with the packs and continue to use them regularly.
The Giveaway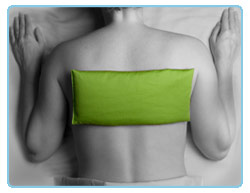 This giveaway is now closed!
Tiffany is offering prizes to three winners on the blog. To enter the contest, all you need to do is comment on this post using the "Speak Your Mind" comment form below this article. Be sure to include the email address at which I can contact you, should you be a winner.
In your comment, tell us which formula you would most like to try (detailed descriptions can be found at Relax Pack) and why.
If you are a Dance Advantage email newsletter subscriber, be sure to write "I'm a subscriber!" in your comment and use the same email address with which you subscribe to the newsletter (they need to match, this is how I verify that you are a subscriber). For this contest, email subscribers (sorry no RSS feed subscribers this time) will receive an extra entry. If you are not already a subscriber, you can sign up before the close of the contest, enter with your comment, and still receive the extra entry.
Winners will be drawn from all entries using random.org. This contest is open only to those in the continental United States, Alaska, Hawaii, and Guam. My apologies to those in other locations.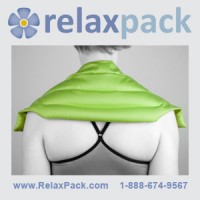 The grand prize, offered to the 1st winner drawn will receive:
– 1 neck wrap
– 1 body pack
– 1 eye pillow (in any combination of formula)
Winner #2 will receive:
– 1 neck wrap (in any formula)
Winner #3 will receive
– 1 eye pillow (in any formula)
Entry comments will be accepted from now until midnight (EST) on Friday, March 19. At that point the contest will close, the drawing will be conducted, and the winners will be contacted via email. Winners will have 48 hours to respond or I will have to move on to the next name drawn. When all winners have been contacted and confirmed, I will update this post with the announcement. Further information can be found in the giveaway policy.
Update!
The awesome thing about reviewing products is that sometimes I find items that I like or use so much that I want to endorse them beyond the review. Occasionally I'm also able to earn a little something in return for my efforts. And so I'm pleased to let you know that now if you navigate to RelaxPack from Dance Advantage, any purchases you make will help support my efforts to keep free content flowing on this blog!
Kindly follow, like or share:
Nichelle Suzanne is a writer specializing in dance and online content. She is also a dance instructor with over 20 years experience teaching in dance studios, community programs, and colleges. She began Dance Advantage in 2008, equipped with a passion for movement education and an intuitive sense that a blog could bring dancers together. As a Houston-based dance writer, Nichelle covers dance performance for Dance Source Houston, Arts+Culture Texas, and other publications. She is a leader in social media within the dance community and has presented on blogging for dance organizations, including Dance/USA. Nichelle provides web consulting and writing services for dancers, dance schools and studios, and those beyond the dance world. Read Nichelle's posts.