As a ballet teacher, I am always very concerned that the dancers keep up their strength and stay injury free during performance season.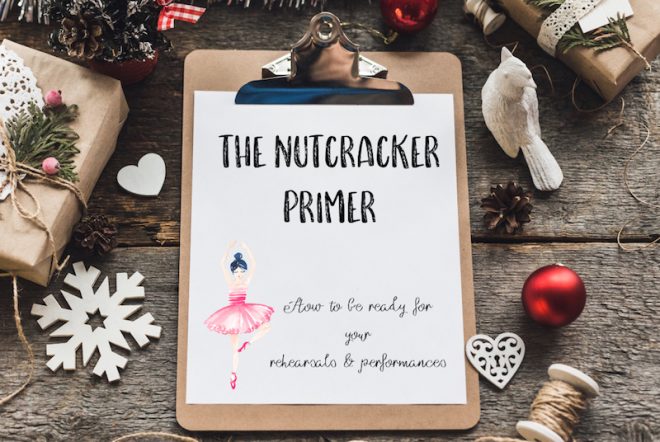 Nutcracker rehearsals are difficult due to down time between pieces. You dance full out, you wait 30 minutes, dance the allegro finale, break, put on your pointe shoes and run a corps de ballet piece.
Break two hours. Warm yourself up again. Repeat and rinse for four hours. Maybe in the middle you are in the Party Scene but it is on flat. Challenging to say the least!
How do you stay in shape, injury free and dance your best in every role? The answer is to prepare and create a fool proof routine.
Rehearsal routine for all the weeks in advance of your performances.
Use your time effectively in order to do your best in rehearsal and injury free.
Do your floor barre or ballet conditioning exercises on the sidelines while awaiting your rehearsals. This will strengthen your technique and prevent overuse injuries.
Check your rehearsal schedule and keep warmed up in time for your next rehearsal. This will prevent injury.
After each rehearsal, put on your booties and warm-up clothes. Do not go outside and get cold air on your muscles. If you have 30+ minute break, have a light snack and stay hydrated.
Don't sit around in big stretches, stand up and just jump back into rehearsal. Stretches do not keep you warm. Better to stretch dynamically (with movement) rather than statically.
Learn other roles— next year or understudy, you might get your chances
Review your roles on the side and perfect the challenging sections.
Review your roles and if you forget a section, ask a friend for help in advance. Don't waste time in rehearsals by asking unnecessary questions.
Bring protein snacks that are easily digestible and keep hydrated.
Eat and sleep well.
Be organized. Make sure you have all your rehearsals and costume fittings on your calendar.
Do not skip class before rehearsal or any time in the weeks leading up to the performances.
Practice your hair style in advance if you have something different than your normal style bun. If possible, try it in rehearsal. Please don't wait until dress rehearsal to experiment!
Your stage kit prepared in advance
Prepare a list for your theater kit and make sure you have purchased all your needs. Pack them ahead of time.
Here are some suggestions:
Makeup kit~ ballet schools may vary as to what makeup you will need. Most schools require foundation, powder, eyeliner, neutral shadows, red lipstick, blush, eyebrow pencil.
Hair supplies~ hair nets, bobby pins, hair pins, fake hair pieces, hair spray and/or gel, extra bobby pins for headdresses— don't rely on the costumers to supply them.
Shoe kit~ prep shoes (color them, trim threads, calamine, strong attachments for ribbon and elastic, necessary padding, baby powder for sweaty feet, rosin if allowed or not supplied, sewing kit, spare elastic and ribbons, enough pointe shoes for the run.
Cosmetic cleansers~ kleenex, makeup wipes, cold cream, toner, clean washcloths. (Keep your skin clean from the heavy makeup and sweat!). Anti-perspirant. Remove nail polish in advance of performances.
Jewelry~ leave expensive jewelry at home, bring your bling stage earrings.
Miscellaneous supplies~ safety pins for emergency, feminine supplies, foot rollers or balls, The Stick, a foam roller, washcloths, anti -perspirant, pad of paper and pen for notes, rehearsal schedules, a small magnifying mirror, clear nail polish for last minute run in tights, tiger balm or any remedy for sore muscles, ibuprofen or aspirin if you take it, blanket for keeping warm or a nap, etc.
Undergarments~ beige camisole for under costume if you have quick changes backstage. An extra pair of tights.
Makeup Tips:

Check makeup kit to make sure your makeup is not contaminated, old or gone.

Practice your stage makeup if this is new to you or if your makeup might be different for a character role— even Arabian can sometimes be more exotic. False eyelashes and eyeliner are worthwhile techniques to practice ahead.
At the theater
Check in on time.
Check call board for any changes to cast, last minute rehearsals, costume fittings.
Create a ritual for your dressing room space
Setup a hand towel for your dressing table. This keeps your space clean, designates your space, put out lucky charm, soothing music to keep focused and not expend extra energy. If you have enough time you can listen to your music on your headphones.
Create a routine for each performance~ write it down so you don't have to recreate it each time!
Get or set your props
Organize your costumes
Get a program for order, tape to mirror
Take the warm-up or a class before the theater call Rewarm-up if necessary
If you use your time effectively by rehearsing and performing well, the best part is that you will be looked upon as reliable and proficient dancer. What does that mean? Perhaps an advancement in roles for next time!
I hope my "Nutcracker Primer" reduces stress and keeps you organized and dancing beautifully!
Whether you are a novice adult student or seasoned professional, I hope you may find this helpful and discover a new tip or two! I would love hear about your routine so I can improve this for the future. If you are a student, please keep this list on hand and be sure to print out and share with your parents. I know they will appreciate it!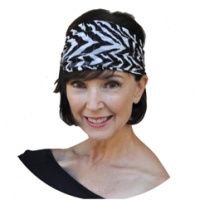 Sarah Arnold is a former professional ballet dancer and has been teaching ballet for 30+ years. She never thought she would enjoy teaching when she was a dancer. However when she quit dancing, teaching quickly became her newfound passion. Her ballet teacher blog is a place to share new and old finds about teaching! Sarah loves to share with any inspired student.
Kindly follow, like or share: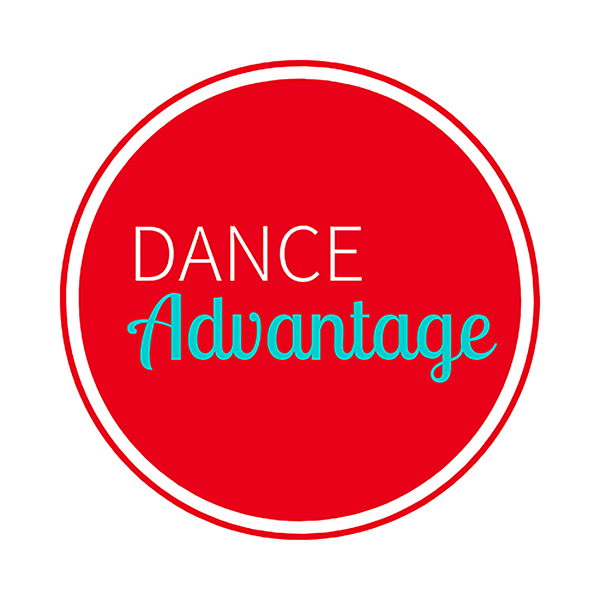 Dance Advantage welcomes guest posts from other dance teachers, students, parents, professionals, or those knowledgeable in related fields. If you are interested in having your article published at Dance Advantage, please see the following info on submitting a guest post. Read posts from guest contributors.