If I asked you to improvise for two minutes right now, could you do it?
Some dancers and dance students, unfortunately, are not given the opportunity or tools to improvise movement in dance until suddenly they are asked to do so in an audition. Not exactly the best moment for a first-timer to give it a whirl.
The thing is, dance improvisation is a skill that many choreographers value. It's not limited to the postmodern or contemporary dance scene anymore and, if you don't know what you're doing, you may lose out on important employment, educational, or summer intensive opportunities.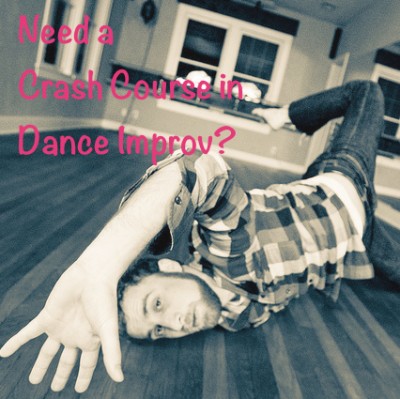 If you are being asked to improvise in a dance audition, the audition panel has their reasons. They may want to see how you move beyond the technical or given requirements. It's not that they don't want you to use your technique while you improvise, far from it. They will be looking for good technique within movements that are unique to you and created in the moment. Choreographers may want to see that you can express yourself with intent, creativity, and craft whether or not they will ever need to call on your skills. An audition panel may also want to know if you will give it your all or see what kinds of unique skills you have up your sleeve.
This last point is why you'll need to know a little bit about who is auditioning you. A Broadway director may appreciate seeing your best acrobatic tricks, while a contemporary dance company that places less value on this particular skill set, might not. Following our advice on preparing for dance auditions is essential.
The best course of action, if you have never improvised before is to start building your skills… like, yesterday.
But what if you are limited on time? Maybe your audition is in only a few weeks or (gulp) days. You can still successfully improvise movement when you've never done it before.
Crash Course in Dance Improv
No matter how much time you have before you get in front of a panel of auditioners, you should practice improvising, or making up movement on the spot, before you get to the audition.
You might practice privately in an empty studio, or with just a few dance pals. If you are up to trying a more public setting (hey, you won't be alone in the audition), why not look for improv jams or Gaga classes near you?
In your practice or in the moment, there are some things you can do to successfully make it through your initial improv experiences.
Respond to the Music
Try to match the mood, tempo, or emotion of the music. To show more versatility and creativity, you might also move in a way that is exactly opposite the accompaniment.
You might be lucky to be asked to dance to music that you love or that gives you an itch to move but, chances are, the music will be less familiar or even challenging.
I don't suggest completely ignoring the music unless it is really inhibiting your movement. But, if it is or if you are asked to move in silence, you could try to think of your movement itself as music, full of its own crescendos, punctuation, and dynamics.
Try to Contain Yourself
If you feel you're still getting stuck on certain types of movements, it could be time to impose a few rules. Containing your dancing within a set of limits actually helps you think and move outside the box.
Move only one body part at a time: one arm, your feet/ankles, your back, your head. You can eventually work up to the whole body but try to fully explore what that one body part can do before moving on to the next. Keep asking yourself "what else?" — "What else can my back do? How many ways can I move it? Where can it lead the rest of my body?"
Try out opposites. Can you move sharply, then smoothly? Fast, then slow? High, then low? Rigidly, then wildly?
Try out different movement qualities. Use descriptive action words like float, stab, or twist. If you have trouble coming up with these while you are dancing, come up with some ahead of time.
If you are really, really stuck…
Dance your name.
It's my favorite default improvisation tool. Write it with your head, an elbow, your toes. Write it slowly. Write it fast. Write it one letter at a time with a different body part for each letter. Write it lying down. Travel its pathway across the floor. Pass your body through the shapes of each letter. Dancing your name over and over can be our little secret. It's unlikely people will catch on to what you're doing.
Stay Open
Sometimes the audition panel will actually give you parameters to follow. These may be very task-oriented, like "Write your name in the air." Or, the instructions may instead be very abstract, like "Dance the way a rotten egg smells." You might alternatively be asked to solve a problem, like "Dance softly with one hand attached to the floor."
Stay open, even if it seems silly or you don't know what exactly to do with the instruction you are given. Relax. Focus on the basics of what you are being asked to do without worry of how creative or original it is.
Want some more advice? We have 10 great tips on improvising right here.
Stay Safe
If there is to be contact improvisation, the important thing is to be respectful to your own body and the bodies of others by making choices that will keep you and fellow dancers safe. You don't need to be timid or shy, but be mindful that there is risk involved any time dancers physically come together. Use your senses. Make plenty of eye contact and use your peripheral vision.
Contact improv is all about recognizing opportunity when it crosses your path, so be available to connections. Simple connections can be every bit as interesting as those that involve weight-sharing.
It is better to move slowly, with purpose, than put others or yourself at risk.
If you have never had any experience or instruction in proper lifting, partnering, or weight-sharing techniques, trying it for the first time in an audition could reflect poorly on you, or worse, injure someone. If you feel you can engage in some weight-sharing, communicate. Do not dump the weight of your body on others. Pour, or gradually give your weight to your partner.
If someone in the group is dancing recklessly, avoid him or her. If you cannot avoid this person, protect yourself. For example, you might move your movement conversation with this person to the floor to keep from engaging in dangerous lifts.
In the Meantime
Maybe your audition is not tomorrow or even on the calendar. One way to better prepare yourself for the day you will need to improvise (and you will) is to start expanding your movement horizons.
You see, dance improvisation is a little like painting.
If you've only ever studied ballet and that's the only movement vocabulary you have, your improvisational "color palette" may have only a few colors to choose from. The more broad your movement and dance experiences, whether it's additional dance forms like modern or jazz, or other physical activities like martial arts or sports, the more colors you'll have to choose from.
If you really want to develop your skills, investigate the improvisation classes, techniques rooted in improv, and dance jams of the world so that you can paint a creative and original picture.
Photo:
Dance at Guari
by 
Charlie Llewellin
 is licensed under
CC BY S-A 2.0
 and modified from its original version.
Kindly follow, like or share:
Nichelle Suzanne is a writer specializing in dance and online content. She is also a dance instructor with over 20 years experience teaching in dance studios, community programs, and colleges. She began Dance Advantage in 2008, equipped with a passion for movement education and an intuitive sense that a blog could bring dancers together. As a Houston-based dance writer, Nichelle covers dance performance for Dance Source Houston, Arts+Culture Texas, and other publications. She is a leader in social media within the dance community and has presented on blogging for dance organizations, including Dance/USA. Nichelle provides web consulting and writing services for dancers, dance schools and studios, and those beyond the dance world. Read Nichelle's posts.