While researching for an article I wrote on The Yoga Dance Connection for Bella Online's Yoga Site, I came across several fitness programs and DVDs that fused dance with other body practices. PIYOLET in particular caught my eye because… well, it has an interesting name and because the creator of the program lives in Houston. Many of you know that I, too call Houston home so I couldn't resist digging for a little more information!
What's in a name?
PI – for Pilates. YO – for Yoga. LET as in Ballet. PIYOLET is a low impact fitness regimen for all ages, designed to diversify and keep the mind, body and soul refreshed and fit.
Creator Roslyn Bazzelle has been dancing since she was a young child. She continued her studies at Hampton University while getting her bachelor's degree and then went on to study law here in Texas. She is a certified group fitness instructor with training and certifications in Yoga and Pilates. In addition to producing and directing her own fitness DVDs for the PIYOLET program she's developed, Roz is a singer, songwriter, and a practicing attorney in the areas of real estate, corporate, and entertainment law. Believe it or not, she had a moment free to talk to Dance Advantage about dance, fitness, and source of her tireless motivation.
Dance Advantage: You are a busy lady! Why has it been important to you (or what drives you) to pursue growth and development in so many different areas?
Roslyn Bazzelle: To someone else, they appear to be completely different and so far apart, but, for me ….. they are all connected and allow me to serve my purpose on this earth. Growing up I was always involved in different activities. My mother figured if she kept me busy, she would keep me out of trouble (smiles). Piano for 11 years. Dance for 13 years. Choir in church and school, for as long as I can remember. All while maintaining good grades. Mom was a teacher so I had to represent well in school! Initially, I had a one-track mind – law – once I got out of law school in 1999 but, after practicing a few years, I found that I needed to be more and do more to live the life God planned for me. As a lawyer, I assist businesses and individuals with their legal needs. As a fitness instructor, I help individuals create a stronger and healthier body. As a singer I hope to motivate others to get through whatever situation or issue they are dealing through the joy of song, and I just fell into the production side of the fitness business through my creation and development of PIYOLET.
DA: Tell us a bit about your experience with dance growing up and what discoveries you made in your transition to college with the study of modern dance.
RB: Dance was a wonderful and amazing outlet for me to grow and learn. It was not just about the routines and choreography. It was the people, the students, the environment, the recitals, the teachers, the discipline — the experience over-all was such a huge part of my life growing up. I wouldn't change a thing! I have to applaud my mom for selecting dance studios with directors and instructors who were kind, beautiful (inside & out) and who cared about ALL of the students. Transitioning to Modern was a little hard at first due to the structure I was used to, but, I found it invigorating and it really opened my eyes to the freedom you can have as a dancer.
DA: Why are Yoga and Pilates worthy, and perhaps essential, companions for dance technique?
RB: Yoga and Pilates, in my opinion, are absolutely essential in advancing a dancers technique and skills. The basic elements of Yoga allow you to grow mentally, spiritually, and the benefits to your body are phenomenal! Pilates is simply one of the quickest and easiest methods to strengthen your core which helps you with everything you do, whether you are sitting, walking or dancing, Pilates can take your body to the next level.
DA: Your DVD is for all ages, but what about skill level? Would even experienced dancers feel challenged by your DVD?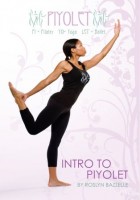 RB: The Original PIYOLET DVD was created for intermediate to advanced level dancers and fitness enthusiasts who were currently taking my Pilates and Yoga classes. I have received comments from personal trainers, dancers and fitness professionals who enjoy my workout and were absolutely challenged. After receiving many inquiries from those who had zero experience or training in Yoga, Pilates or Ballet, I decided to film the Intro to PIYOLET DVD a beginner level workout which is now available for purchase. The third addition to the PIYOLET DVD series is Body by PIYOLET which is the second level to the original PIYOLET DVD, and allows those who are experienced with PIYOLET to enhance their skills.
DA: How is PIYOLET different from other fitness fusion programs?
RB: PIYOLET is different because, it combines Pilates, Yoga & Ballet in a unique way which does not require a leotard, fancy footwear, a barre or any specific equipment. PIYOLET was created to allow people to experience and learn sequences and poses based on a combination of all three formats and gain the benefits, which include, core strength, improved posture & balance, flexibility, lean muscles and mind, body & spirit integration.
[youtube=http://www.youtube.com/watch?v=rMYYINzo-QE]
PIYOLET Giveaway!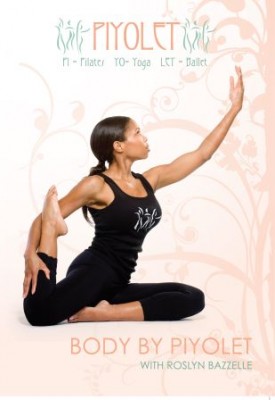 THREE Dance Advantage readers will win a PIYOLET workout DVD. Winners may choose one of the following to add to their workout library: Intro to PIYOLET (beginner level), Original PIYOLET (intermediate), or Body by PIYOLET (advanced).
This giveaway is now closed! Winners announced soon!
How to enter
If you are in the U.S. and 18 or older, place a comment on this post. That's it! The three winners will be randomly selected via random.org. Please make sure you use an email address at which I can contact you should you be a winner. The giveaway will close to new entrants at Midnight on Sunday, March 28. The winners will be drawn and will have 48 hours to respond and claim their prize. If you have questions, check our giveaway policy.
Wasn't that easy?
You can follow Roslyn on Twitter or become a fan of PIYOLET on Facebook. Doing so will not affect your entry in the contest, however, let's thank her for offering DA readers a chance to win!
Kindly follow, like or share:
Nichelle Suzanne is a writer specializing in dance and online content. She is also a dance instructor with over 20 years experience teaching in dance studios, community programs, and colleges. She began Dance Advantage in 2008, equipped with a passion for movement education and an intuitive sense that a blog could bring dancers together. As a Houston-based dance writer, Nichelle covers dance performance for Dance Source Houston, Arts+Culture Texas, and other publications. She is a leader in social media within the dance community and has presented on blogging for dance organizations, including Dance/USA. Nichelle provides web consulting and writing services for dancers, dance schools and studios, and those beyond the dance world. Read Nichelle's posts.