In my post my last post, Stretching Safely for Splits, I promised to go into more detail regarding my thoughts on oversplits. If you aren't familiar, these are splits that go beyond 180 degrees (above the hips) and are usually achieved by stretching in a split with the legs supported by pillows, blocks, or chairs. I'll reiterate that I don't feel that there is anything wrong with working to achieve oversplits. There are healthy ways to go about striving for or achieving this level of flexibility. There are also a few things that I think students should consider before beginning a regimen that will get them there.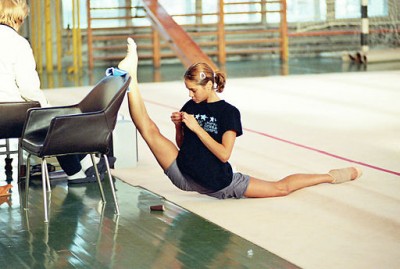 Are they necessary?
With all the emphasis on flexibility it may feel as though an oversplit is your only answer to achieving a beautiful grand jeté or pencheé. However, dance requires a moving, active flexibility. While oversplits (or splits in general) increase your range of motion, they do not improve strength and stability. Often when students are struggling to execute these moving splits, they may have sufficient flexibility but lack control. An oversplit is not much good to someone who is missing crucial pieces of the puzzle. Take even a portion of the time and energy directed toward stretching and flexibility and replace it with conscientious application of technique during class. Moving through your range of motion in practice is the best preparation for achieving the leaps and pencheé of your dreams. Without good placement, attention to line, stability, and power, all you've got with an oversplit is a parlor trick.
Are they worth it?
If anyone has conducted specific research on the joint/muscle health of gymnasts or others who specifically train and work oversplits, I'd love to hear your thoughts! Based on my understanding of joint health, there is greater potential for damage to joints, ligaments, and tendons when it comes to oversplits. This is especially true if you are "hanging" in the split from two raised surfaces – this is not a healthy way of achieving your goal and I cringe whenever I see it. It is extremely important that someone working toward oversplits spend equal (if not more) time on strengthening and stabilizing the hips and core of the body. If you ignore signals that you are pushing too hard or too far, you may be hindering or halting any current progress you've made in your flexibility. You may even be sacrificing joint stability and overall joint health, perhaps ending your career early or causing problems later in life… for a few measly degrees.
"Once a muscle has reached its absolute maximum length, attempting to stretch the muscle further only serves to stretch the ligaments and put undue stress upon the tendons (two things that you do not want to stretch). Ligaments will tear when stretched more than 6% of their normal length. Tendons are not even supposed to be able to lengthen. Even when stretched ligaments and tendons do not tear, loose joints and/or a decrease in the joint's stability can occur (thus vastly increasing your risk of injury)." – runtheplanet.com

"When muscles are stretched beyond natural voluntary ranges of motion, the muscles and tendons are stretched unnaturally. Excessive stretching damages tissues and promotes inflammation" – Yang, Im, & Wang, 2005
Are they desirable?
In many ways an oversplit could be considered an asset. Remember though that most dancers aspire to more than just moving through a series of static positions (at least I hope they do). They aim to convey and communicate as well as wow or inspire. Choreographers have this same aim when they create dances and in most cases would prefer a dancer who can offer more than just incredible flexibility. Even audiences want more from their dancers – after the initial "wow" wears off, especially. So, I'll repeat that an oversplit is not much good to someone who is missing crucial pieces of the puzzle like performance, strength, intelligence, artistry, technique. I'll also mention that there are those, particularly in classical ballet, that find overextended leaps, arabesques, etc. downright incongruous with the aesthetics of the art form and dislike seeing these slip into the choreography. While removing limitations in range of motion can free the body for expression, it is important to show restraint and mindfulness in displaying this kind of freedom.
What Do You Think?
Do you like to see dancers utilizing this skill onstage?
How do you feel about dancers (recreational, pre-professional, or otherwise) training for oversplits?
Some folks utilize the power of gravity for oversplits. I've shared my view on this. What do you think? Is there a "right" way and a "wrong" way to stretch for oversplits?
Kindly follow, like or share:
Nichelle Suzanne is a writer specializing in dance and online content. She is also a dance instructor with over 20 years experience teaching in dance studios, community programs, and colleges. She began Dance Advantage in 2008, equipped with a passion for movement education and an intuitive sense that a blog could bring dancers together. As a Houston-based dance writer, Nichelle covers dance performance for Dance Source Houston, Arts+Culture Texas, and other publications. She is a leader in social media within the dance community and has presented on blogging for dance organizations, including Dance/USA. Nichelle provides web consulting and writing services for dancers, dance schools and studios, and those beyond the dance world. Read Nichelle's posts.