Every dancer I know wants to be better and faster at remembering dance combinations and movement phrases. Some dancers are astonishingly good at it without really trying. – sigh – We all have our gifts.
If you aren't one of the dancers with this particular gift, learning new choreography in dance class or auditions can be a frustrating experience. Here are 16 of our best secrets for improving your accuracy when you've got to get the movement down and make it stick right away. The first 12 include tricks to try in the moment and the final four are strategies that will help you get better in time.
With some work (we won't pretend it's always easy), you'll look like one of the gifted… our present to you. 😉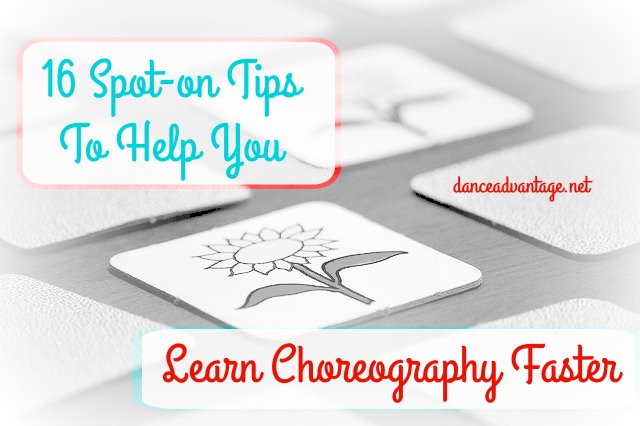 Focus first
If you know you are going to be learning new choreography, warm-up your brain for the mental workout. Like a physical warm-up, the needs are different for everyone and every situation but try centering yourself with some deep breathing to improve your performance. You might also try focusing techniques like counting backward without letting your mind wander, visualizing an object or movement with full concentration for several minutes, or repeating a positive or inspiring word over and over to yourself.
Don't bite off more than you can chew
We learn and memorize best when we "chunk" or break a long string of details (like a phone number or dance phrase) into sections. The choreography will probably be taught in chunks but if these seem more than you can handle, mentally break it into even smaller pieces for easier digestion.
Close enough, keep moving
Don't get sucked into the nitty-gritty vortex before you've got the overall picture. You've got to focus on the big broad strokes of the movement like pathway, facings, or patterns first. Then, move on, working toward perfecting the trouble spots and the specifics like head focus, hand positioning, and intricate footwork.
Stop, look, instant replay
Particularly if there are several direction changes, it's hard to watch and do at the same time. On the first demonstration, you can try simply watching only. Then, try the choreography on the next run-through. Or, if you keep missing something, stop for a second, watch the instructor very carefully and then see if you can replay it in your mind before running it again.
Slow down time
This one's a bit of a mental trick. Try picturing the movement you've been given in slow motion. Even as you watch in real-time, imagine that it's happening at a much slower speed – one that allows you to capture all of the details. Another option: If you can, take a few moments to yourself to slow down a step if it feels too fast and gradually work it back up to tempo.
Think simple
Even complex choreography can be mentally simplified. If the steps or weight transfers are a sticking point, talk yourself through it in simple terms like "right, left, right-and-left," or reduce the movement to basic body parts – "arm, leg, hip, hip, elbow."
Put it on a loop
Repetition is crucial but in addition to practicing full-out you can put the combination or your trouble spots on repeat in your head or by marking the movement when you're on the sidelines. If you want to learn the choreography quickly, you have no time for a mental nap. Don't miss an opportunity to practice by talking to your neighbor, getting distracted, or zoning out.
Go full out
Marking movement is helpful when you are waiting your turn or when you are focusing on watching to gather more information. At all other times, do the choreography full out. That's the only way it's really going to "stick".
Make a mental map
Every combination has its peaks, valleys, pathways, and landmarks. Mentally map these places in the choreography and then just keep traveling the same route from one destination to the next.
Say it to yourself
Connect your movements to words, labels or keywords, lyrics, rhythms, or sounds. The instructor has probably already been doing some of this as he/she teaches the combination but make your own connections, too. Even when the external prompting stops, keep cuing yourself using your internal voice. If you tend to be an auditory learner, it may even help if you do this out loud (but quietly, so you won't disturb others).
Use the power of touch
You are already relying a lot on your eyes, ears, and your kinesthetic/proprioceptive (body) senses when learning a combination but, for some people, touch can also be a powerful memory tool. Think about it – your teachers use touch all the time to direct and give you cues, and you remember this touch as you go forward on your own. Help yourself in the same way – before you start dancing, tap the leg you keep forgetting to step with or touch the shoulder you need to remember to turn toward.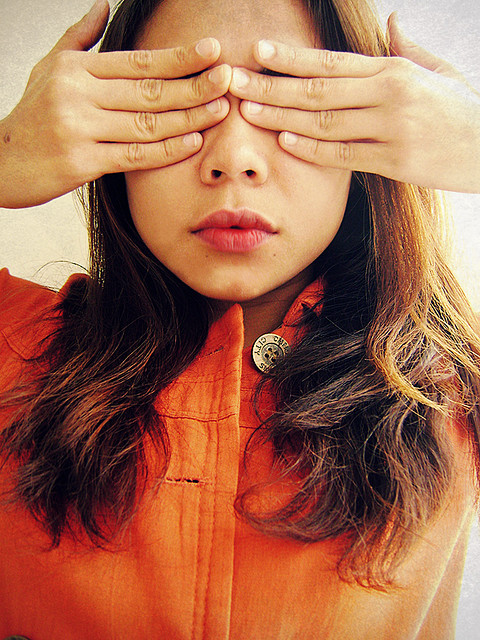 Tear your eyes away
This is probably the most important tip because it's essential but often overlooked by dancers, especially when their confidence is low (more on that in a second).
After you've been given the movement and absorbed as much detail as you can, EYES OFF! Take your eyes off the instructor and other dancers to break the brain-suck connection. In fact, wean yourself away from any visual cues and concentrate and rely instead on the internal ones you're developing – your thoughts, how something feels, which chunk follows that chunk, where you are on your mental map and not where you are in the room, etc.
All of the next steps are about developing your skill and confidence before you need to call upon them to learn a dance combination quickly.
Ditch "Negative Nelly" or "Negative Nelson"
Negative self-talk – letting fear and negativity rule, psyching yourself out, comparing yourself to others. If you've made a habit of these things in your daily life or dance classes, don't think you'll just be able to drop your pessimistic pal at the curb before your next class or audition. Keep inviting the negative along and it'll start to show up even when you don't want it, least expect it, or while you're trying to learn that darn dance choreography.
Expand your dance vocabulary
Often the trouble with learning new things is just that they're new. The more experience you have in a variety of dance forms, styles, teachers, choreographers, the less likely you'll be surprised by the unfamiliar. So take dance classes on vacation, go to intensives, conventions and workshops, practice improvisation, see more dance, and find other ways to activate your brain and body.
Use every opportunity
Don't waste the opportunity to regularly practice the skill of picking up combinations. It comes along every time you take class, whether memorizing a ballet exercise or taking on a new time step. It takes discipline. Challenge yourself to be faster and more accurate at learning the choreography than you were the last time.
Play memory games
The Add-On Game – This is the game where one dancer starts with a movement, then the next dancer builds onto that movement by adding another one. Each dancer in the circle or in the room quickly adds their own movements in turn. Everyone dances the sequence as it grows, forcing each dancer to try to remember what comes next.
Watch and Learn – Have your instructor or another dancer show you a new movement phrase in full, without stopping. Watch carefully (you can mini-mark the movement if you need to) and then see how much you can accurately recall and perform. It may not be much the first time. Then, have them repeat it the same way and make your attempt again. It's a challenge but great practice, and you can keep challenging yourself with longer or more difficult combinations.
YouTube Roulette – As we learned in How I Help Students Pick Up Combinations Faster, video is a great memory tool. Randomly select dance videos on YouTube and challenge yourself to learn the choreography without a ton of pausing and rewinding. Since the video is likely shot from the front you can challenge yourself to learn things on the correct side, or reverse it by mirroring. Either way, you'll get practice outside of class with this technique.
What's Next? – This game is similar to Watch and Learn except the new choreography is shown in full 3 times in a row. After seeing it repeated, the choreography is performed once more but the dancer pauses and asks, "what's next?" See if you remember it right. Some variations on this game: use dance videos to play this solitaire, or have the instructor give the combination using just dance terminology without demonstration (yikes!).
Do you have your own secrets and tricks to learn choreography faster? Share them in the comments!
"Sunflowers" by Rich Brooks is licensed CC BY 2.0. Text, graphics, and coloration added.
Kindly follow, like or share:
Nichelle Suzanne is a writer specializing in dance and online content. She is also a dance instructor with over 20 years experience teaching in dance studios, community programs, and colleges. She began Dance Advantage in 2008, equipped with a passion for movement education and an intuitive sense that a blog could bring dancers together. As a Houston-based dance writer, Nichelle covers dance performance for Dance Source Houston, Arts+Culture Texas, and other publications. She is a leader in social media within the dance community and has presented on blogging for dance organizations, including Dance/USA. Nichelle provides web consulting and writing services for dancers, dance schools and studios, and those beyond the dance world. Read Nichelle's posts.