Although recent wintery weather reports may indicate otherwise (shout out to the northeastern United States), summer will be here before we know it – which means summer intensives.
Whether you're an intensive veteran or a first-timer, it can be difficult to know where to start when looking for the right program, especially if you're searching for one that isn't ballet focused. So what is a dancer to do?
1. Know what you want.
If you know you want an intensive that isn't ballet based, figure out what you are looking for in your summer study experience. Numerous factors can contribute to this step:
What style are you looking for? Jazz? Modern and/or contemporary? Tap? Musical theater? Hip hop? Some programs offer class in a wide variety of styles; others concentrate on a few related genres. For example, Steps on Broadway holds an intensive that offers classes in everything from hip hop and jazz to Pilates and theater dance, in addition to a dose of ballet. The Rockette Summer Intensive, in contrast, focuses on the Rockette repertoire – jazz, tap and Rockette precision technique.

LehrerDance will teach their fusion of modern and jazz at their intensive in June. "LehrerDance in Vlad 2013″ by U.S. Consulate Vladivostok is licensed under CC BY-ND 2.0.
What do you want to learn? Think about your ultimate dance dream job. Is it in the spotlights of Broadway? Touring with a pop legend as a backup dancer? Look for the intensive that can bring you closer to that goal.
What kind of environment do you want? Dance companies host intensives, but so do universities, studios and dance schools. Some schools may offer a side of dance that could be completely new to you, giving you a chance to broaden your dance background. Northeastern Illinois University, for example, teaches Spanish dance through their Ensemble Español Spanish Dance Theater intensive. University of California Los Angeles' intensive offers classes in Polynesian dance, postmodern techniques and more.
What kind of experience level would you like? Intensives that require auditions are likely to be more rigorous and have higher expectations than those that do not.  That being said, programs that do not have auditions still hold a wealth of knowledge to benefit you. Think about how much experience you have and how that would correspond with the intensity of the program.
Other elements to consider…
Do you want to travel or stay local? Keep in mind that not all intensives provide housing and meals, so know what your needs will be if you have your sights set on out-of-town programs.
How much time do you have or want to focus on dance? Intensives can range anywhere from a week to the duration of the summer.
Do you want to perform, or just study?
2. Research intensives.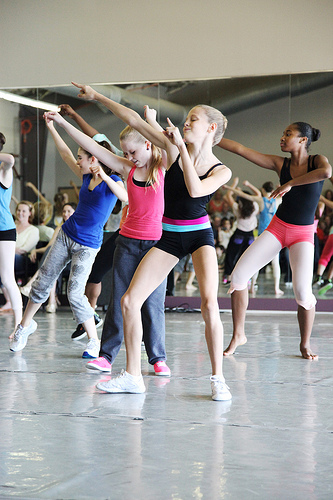 Now that you've considered what you want most in an intensive, it's time to seek out programs that meet those criteria.  So where do you find out about summer study, exactly?
Do a web search. Visit your favorite dance companies' websites or the websites of colleges you're considering and see if they offer summer study programs. Google makes search by location easy (check here for search tips). Remember to be specific and to try a variety of terms like summer dance program or workshop when searching.
Check the January issue of Dance Spirit or Dance Magazine, or use this summer intensive directory on dancemedia.com, to search intensives by state. Along with basics such as contact info and location, each of these resources note the program's classes, whether an audition is required, if video auditions are accepted, if scholarships are available, if there will be a performance opportunity and if housing is provided.
Ask around. Fellow dancers in your classes may have attended a program that would be just right for you – and can give you first hand insight on what it was like. Your dance teachers may be able to suggest some programs that would be a good fit for you. Teachers often have connections around the local dance scene, too, and may know about some programs close by that you may not know about otherwise.
3. Apply/audition/register!
Some intensives require that you pre-register for auditions. An audition fee may be charged in some situations as well. Carefully evaluate which auditions are right for you. Visit each program's website to make sure you've made all the necessary preparations for the big day.
4. Decision time…
You may find yourself trying to decide between more than one intensive, even after you've narrowed your focus and auditioned for just a few options. Don't despair – it's an honor whether you're accepted to one or 100 intensives, so don't look at it as a burden.
The big question is, what are your goals for this summer?
The right program for you is the one that most closely matches what you want to take away from this summer.
Find out what kind of extracurricular activities are available to make your moments outside the dance studio just as memorable.
Think about the location and facilities you like best.
Consider the backgrounds of the faculty members at each intensive and where each program's alumni are now. If filling the shoes of a particular alum or instructor one day sounds like absolute perfection, it's probably the program for you.
Ultimately, no matter which program you choose, you'll learn, make friends and spend the summer doing what you love: dancing!
What intensives have you attended that weren't ballet-focused?
Kindly follow, like or share:
Elizabeth is a dance minor and journalism major at Southern Illinois University – Edwardsville. A dance student since the age of six, she has danced in the studio and on dance team, as well as at Radio City Music Hall as part of the Rockette Summer Intensive. She currently teaches at a studio in her college town.