Dancers are busy people –
Flitting around between school, dance classes, rehearsals and performances…It can be difficult to find the time to fuel yourself properly to best perform your craft.
During my 15-year career as a professional ballet dancer, I found it pivotal to my performance to plan ahead and bring lots of healthy snacks that gave me tons of energy without ever causing me to feel too full to dance.
When searching for a healthy snack, a good rule of thumb is to find one that will give you a healthy protein, a healthy fat and a healthy complex carbohydrate. With this in mind, here are my top 10 favorite healthy snacks for busy dancers on the go!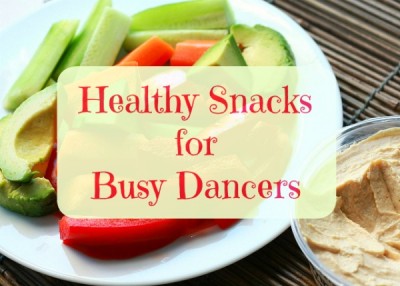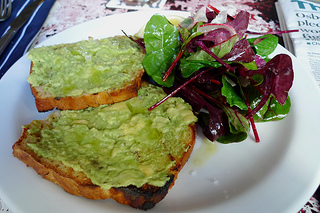 1. Avocado toast
Toast 1 piece of good-quality gluten free or whole wheat bread, smear with half an avocado, sprinkle with salt and pepper and enjoy!
2. Hard boiled eggs
Cover desired number of eggs with an inch of water in a pot with a lid. Bring to a boil on the stovetop on HIGH. Turn burner down to low and simmer for 7 minutes. Rinse in cold water. Peel, add a little salt and pepper and enjoy!
3. Hummus and carrots
Scrub carrots clean, dip in your favorite hummus and enjoy!
4. Banana/apples/celery with nut butter
Prepare your banana, apple slices or celery sticks, smear with 1-2 Tbsp. of your favorite nut butter (peanut, almond, cashew, sunflower, soy) and enjoy!
5. Popcorn with coconut oil
Heat 2 Tbsp. of organic coconut oil in a large pot on the stovetop over medium-high heat. When the oil is hot put a kernel or two of popcorn into pot and wait for them to pop. Add ½ cup popcorn kernels, cover with lid and gently shake over the burner until it all pops – about 5 seconds – and enjoy!
6. Avocado with salsa
Slice an avocado in half. Keep the pit in half of the avocado and store in a plastic bag/container in the refrigerator for later. Take the other avocado half and fill the "cup" with your favorite salsa. Eat with a spoon and enjoy! (For an easy and fresh salsa recipe check out my fresh salsa recipe.)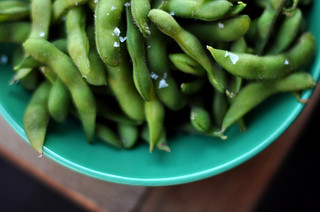 7. Edamame
Boil edamame in a large pot of boiling water on the stovetop according to the directions on the package. Drain, rinse with cold water, sprinkle with a little salt, and enjoy!
8. Nuts, dried fruit and dark chocolate chips
Mix together raw or roasted almonds, cashews, walnuts, pecans, sunflower seeds, pumpkin seeds, with dried cranberries, cherries, apricots, mango, pineapple…add a few dark chocolate chips and Voila! Your very own trail mix to enjoy!
9. Grains with olive oil, soy sauce, siracha
Make grains such as brown rice, quinoa or millet, ahead of time. Divide into small portable containers, toss with 1-2 Tbsp. good quality olive oil, a little soy sauce to taste and, if you like spice, try adding a little Siracha sauce (can be found in the Asian section of most supermarkets). Take a spoon with you and enjoy!
10. Protein/veggie "rolls"
Take thin sliced oven-roasted chicken/turkey breast and lay flat. Put 1 piece of good quality cheese in the center, along with a slice of avocado and a slice of cucumber…roll it up and enjoy!
"Veggies and Hummus" by Jennifer is licensed CC BY 2.0 (modified with text and overlay)
Kindly follow, like or share:
Kathi Martuza is a former professional ballet dancer who spent 15 years dancing with the San Francisco Ballet as a Corps de ballet dancer and with the Oregon Ballet Theatre as a Principal dancer. Kathi holds a BA in Performing Arts with an emphasis in dance, is a Certified PEAK Pilates instructor, Certified Health Coach, and licensed True Body Project teacher. She is the owner-operator of Empowered Health and Movement, LLC- dedicated to empowering girls and women to feel great IN and ABOUT their bodies through nutrition, movement and self love. Kathi helps her clients with weight loss/management, improving self-esteem and body image, and body conditioning. Kathi believes wholeheartedly in the innate power girls and women possess and she hopes to empower them towards becoming their happiest, healthiest and most-fulfilled selves. Find out more about Kathi and her work at www.empoweredhealthandmovement.com.