When I was in grad school and arriving for a rehearsal, I entered the studio with several dancers and a musician.  As soon as we walked through the door, the musician asked, "Does that happen every time you enter a studio?"
We all sort of looked at each other, wondering what she was talking about. She commented that our energy immediately calmed and she felt there was a palpable change in the group dynamic. She then asked why we thought that would happen. The answer seemed obvious to me.
"We know what to expect here. We know what is expected of us."
Even though this was a familiar but not commonly used space, and we were a new cast of varying relationships and histories, we found commonality based on our previous experiences, our relationships to dance, and our unified goals for the time we shared together.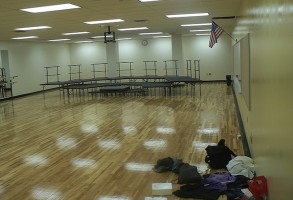 Introducing class procedure unifies the group and it builds a bridge for our communication.
As I've gained experience teaching in a public school setting, I realize introducing etiquette and procedures is critical in setting the tone for my class, my approach to classroom management, and daily function in a large space with many bodies and varying degrees of interest in dance.
I've since decided it is a great practice for private studio teaching, too.
Essentially, it allows students to see how I "teach" before much is expected of them in terms of participation.  They may still be intimidated by the thought of dancing in front of people, but at least they fully understand the logistics of how to take class before we really get started.
What I Do on Day One
So here is my first day of each semester.  It may seem remedial, but I want to emphasize how we cannot assume anything in the classroom. We must be prepared to start at ground zero and meet students where they are.
Door to Door Service:
Meet students at the door and invite them to wait in a specified location (if your space has many physical features, as mine does).
Once all students have gathered, welcome them to the class (name the class) and offer a very brief description of the content they'll explore over the course of the semester.
Lead them to the where the "dance academic" portion of your class will take place. I like to do this first since this tends to be the aspect new students least expect but is such an integral part of my courses. "This is dance class, why do we have to read and write?!" Sound familiar?
This may be the chalkboard and bulletin boards where they'll find valuable  information such as:
a list of daily activities, concepts/vocabulary,
writing prompts,
performance details, etc.
class calendar
a list of class procedures
a posted copy of the syllabus
And may also include the location of:
dance related reading materials that may be borrowed,
where their journals may be stored for quick class transitions
assignment submission/return trays
extra credit assignments
music request sheets
Tour the dressing rooms with an explanation of dress code and explanation of time limits allowed to change at the beginning and end of class.
Invite them to studio space and treat it as sacred ground.
At this point, we play a name game or other icebreaker that gets them moving and thinking about assembling movement.
Here we also discuss class structure, what I expect from them and what they can expect from me.
We also review the syllabus which contains:
My professional contact information as well as all of the details regarding attendance, grading, dress code, required supplies, performance dates, and other important information.
I have recently also started to include my policy on not "friending" students or parents on my personal Facebook account until after the student graduates.  I have created a page for our dance program where I post dance –related articles, links, performance information, and other appropriate information.
Set them up for success
Instead of getting frustrated when students don't behave appropriately in class or while watching a dance concert for the first time in their lives, this approach allows you to channel your energy in the right places.
In a few sentences, state what is expected of them and a very clear consequence if they choose not to meet those expectations.
Strive to be as consistent as possible.
When your students perform, begin the presentation by letting the viewers know a little of what they'll experience and how they can best support the dancers (applauding between dances instead of calling out names).
When you  invite a guest artist in to teach, make clear how this class may vary from your standard procedures and instruct students with how they need behave professionally in the face of change.
When you attend live performances, address the code of conduct expected from when you leave the school to when you return. Do all of this even if you think they may already know.
It is the fair thing to do. We can't hold them responsible if they've never been taught these things. And we are all more comfortable and open to possibilities when we know a little of what we can expect.
Check out these other Dance Advantage articles relating to expectations:
Little things lead to big things.
I teach in a large auditorium with 12 escape routes, lots of dark corners, and dressing rooms in a lower level. In my school, we have challenges; some of them monumental.
Students often skip class. Sometimes they skip a single period. Sometimes it is a day. Or, it is weeks at a time.  Some students refuse to participate in any subject, including dance. Some won't change their clothes into something they can move in. Some don't have much to change into. A few won't even stand up.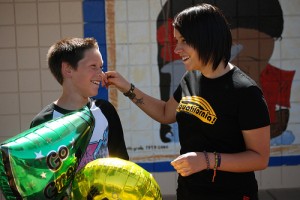 I often wake in the night worried about what else I can be doing to get them or keep them engaged. Phone calls home, letters, individual conferences with students, parents, etc….little seems to help if the realities of their lives get in the way or if they've decided to fail. But, I have found that tending to the small things can alleviate some of the initial discomfort and extends the duration of their success.
It can be the small things that have actually kept them coming to class, dressing, participating, and most importantly communicating.
Last fall, a student literally said "this class is the reason I come to school."  She came back on the last day of school before graduation to tell me that she'd made it and to give me a hug.
How do you tend to the small things?

Please feel free to share your best practices in how we can make the most of the time we share with our students.
Kindly follow, like or share:
Heather Vaughan-Southard MFA, is a choreographer, dance educator, and performer based in Michigan. She currently directs the dance program at the Everett High School Visual and Performing Arts Magnet in Lansing. With the philosophy of teaching dance as a liberal art, Ms. Vaughan-Southard collaborates with numerous arts and education organizations throughout the state. She has danced professionally in Chicago, Detroit, Los Angeles, and New York and has performed works by Mia Michaels, Lar Lubovitch, Donald McKayle, Billy Siegenfeld, Alexandra Beller, Debra Levasseur-Lottman, and Bob Fosse. As a choreographer, her work has been credited by the Los Angeles Times for "creating heat." She has recently choreographed for the dance programs at Michigan State University, Grand Valley State University, Lansing Community College and is the former dance professor at Albion College. She is a regular guest artist and blogger for Dance in the Annex, an innovative dance community in Grand Rapids. Heather received her MFA in Dance from the University of Michigan, BFA in Dance from Western Michigan University and K-12 certification in Dance from Wayne State University. Read Heather's posts.