Did you know, dear Reader, that in addition to Dance Advantage I write about dance happening in Houston? If you follow me on Twitter or perhaps Facebook, you may.

This Friday, October 14 Houston's Society for the Performing Arts will present Complexions Contemporary Ballet, the 17-year-old company founded by former Ailey dancers Desmond Richardson and Dwight Rhoden.

You may also know their work from So You Think You Can Dance:

I previewed the event for Dance Source Houston. The interview with Dwight Rhoden below… ahem, rocks! And I wanted to share it with you. Enjoy!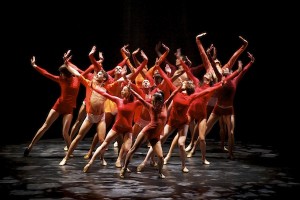 Complexions Contemporary Ballet Ready to Rock Houston
What does a dance company have in common with U2, one of rock music's biggest acts?
With a big smile on his face, Dwight Rhoden quips, "I think dancers are rockstars".
Rhoden's New York City company, Complexions Contemporary Ballet, is about to rock… and roll through Houston on October 14 with a program that includes musical accompaniment big and bold enough to blow off the Wortham's roof: The Rolling Stones, Roy Buchanan, "The Hallelujah Chorus," and, of course, U2. The evening will close with Rise, a work set entirely to tunes from the Irish rock band's catalog.
Rhoden gets no argument here about the exceptional qualities of dancers. However, as I see it, the troupe he founded with dancer Desmond Richardson in 1994 is like U2 in other ways, too. Both have accessibility and wide appeal, traits which some in their respective fields dismiss as if it were harder to be obscure. Both groups resist being bound by or excluded from the circles of commercial and "high" art. Both even have a frontman (in Complexions' case, Richardson) who can command a stage like few others.
Now in his 40's, Richardson is retiring as a touring dancer at the conclusion of this season. Still at the top of his game, he's been Dwight Rhoden's muse since their days in the Ailey company. On Saturday, Richardson will perform CLICK, a solo choreographed by Rhoden about a man at a crossroads just before everything "clicks" into place.
Below, Rhoden sets the stage for this new work, gives his spin on So You Think You Can Dance, and illustrates why Complexions exemplifies the times.
Dance Source Houston: Tell us about CLICK and its significance in light of this being Desmond's last year to tour.
Dwight Rhoden: Desmond is a dance legend and a national treasure. His artistry is on a continuous quest to find more. He has danced and I've created just about every type of work one can imagine for him. At this time in his journey I felt the dance icon, Desmond should play with the music icon, The Rolling Stones. The significance of CLICK for him is he's playing a character that is a bit of a clown and has many contrasting qualities. Like Desmond, it's all about fun now.
DSH: Rise looks like a lot of fun. Was there ever any doubt that movement could compete with the anthemic sounds, lyrics, and familiarity of U2's music?
DR: My inspiration for Rise was the anthemic qualities of the music. I never once had any reservations about creating to it. U2's music rocks and it dances to me. I had a visual movement vibe in my head every time I listened to their music.
DSH: You've choreographed over 80 ballets for Complexions, not to mention works set on other companies. You must occasionally stumble into familiar territory during your artistic process. What do you do when you find that you're repeating yourself?
DR: I have developed a signature style to my work over the years but I always try and look for new possibilities and a fresh take on things. However, when I feel I need to stretch more, I look to my dancers to help influence the work, as well as using basic tools of the craft of choreography and composition.
DSH: Your company dancers come from many different countries. How does this fusion of languages and diverse cultural backgrounds affect the rehearsal process?
DR: It's always fun to watch the dancers at first as they communicate and try to understand each other with various accents. Our Associate Artistic Director,
Jae Man Joo runs rehearsal with his thick Korean accent, meanwhile the dancers are speaking Spanish, Italian, Russian, French. That diversity lends itself to a very interesting creative process. Everyone has such a different back-story, as well as cultural differences that can only bring dimension to what is being created. I've been around the world but feel I've learned so much from my dancers.
DSH: The work you do is also a fusion. Though billed as a contemporary ballet company you blend many dance forms. Is this the future of dance?
DR: I think it has to be the future. We have to keep pushing the form and continue to make dance relevant to the time we live in. The classics will always be around. They are still beautiful, necessary and are a part of our history that is the basis for how we stretch the form.
Artists have always made work that reflects the world around them. Desmond and I feel we've taken it a step further with the creation of a company like Complexions. We celebrate the differences that make us individually interesting, putting them all together and thereby creating that hybrid that is like our world today.
DSH: Speaking of cultural relevance, you've choreographed and appeared on So You Think You Can Dance for three seasons. What will those familiar only with your work on that show find different about your work for Complexions?
DR: I think audiences will find a greater level of diversity in the choreography, music, as well as being able to see an idea be developed a lot further. There is a depth that can be developed with more time. On SYTYCD you usually have only 1-2 minutes. And choreographing for the camera is very different than creating for a live audience.
DSH: I imagine that you sometimes encounter those who know your work on the show but are surprised to learn you have a 17-year-old dance company. Critics of SYTYCD see a failure on the part of producers and guest artists to leverage the popularity of the show for support of dance elsewhere. How do you respond to the naysayers?
DR: In my opinion SYTYCD….
Kindly follow, like or share:
Nichelle Suzanne is a writer specializing in dance and online content. She is also a dance instructor with over 20 years experience teaching in dance studios, community programs, and colleges. She began Dance Advantage in 2008, equipped with a passion for movement education and an intuitive sense that a blog could bring dancers together. As a Houston-based dance writer, Nichelle covers dance performance for Dance Source Houston, Arts+Culture Texas, and other publications. She is a leader in social media within the dance community and has presented on blogging for dance organizations, including Dance/USA. Nichelle provides web consulting and writing services for dancers, dance schools and studios, and those beyond the dance world. Read Nichelle's posts.