The question of whether or not  to cross-train has been a controversial one among the dance community.  Ask five experts and you are likely to get five different answers.
My take on cross-training:   Do it!
Athletes of nearly every discipline from long-distance runners to gymnasts to curlers integrate cross-training as a part of their preparation.  Professional sports teams often employ Strength and Conditioning Coaches to prescribe and monitor cross-training activities that are specifically designed to enhance their performance.  Many dancers, too, belong to gyms to stay fit during layoffs and breaks, and as a diversion from the monotony of their regular dance schedule.
Types of cross-training (in a nutshell):
Yoga and Pilates are a typical choice for cross-training among dancers, however there are benefits to incorporating other types of activity such as running, swimming, and weight training.  Generally speaking, exercise can be broken into two main categories: aerobic/ low-intensity and anaerobic/high-intensity.  In the field of exercise science, there is increasing debate over these labels and how accurately they describe exercise, but for the purpose of this article we'll go for it.
Aerobic conditioning
Aerobic conditioning encompasses types of exercise that raise your heart rate to 60-80% of its maximum (see box below) for a consistent period of time. Aerobic exercise occurs at a lower intensity for long durations (20 minutes or more).   Examples include:
running
swimming
cycling/spinning
rowing
walking/treadmill
elliptical
stair stepper
Benefits of aerobic activity include:
Weight loss
Increased endurance
Improved immune system
Reduced risk of disease including obesity, heart disease, high blood pressure, type 2 diabetes, stroke, and certain types of cancer
Improved cardiovascular health (heart and circulatory function)
Note: all of the types of exercise listed above can be performed at a high-intensity, thus making them "anaerobic."  Many athletes undergo High-Intensity Interval Training (HIIT) to improve their performance in endurance sports such as running and cycling.  So, the distinction is less about the type of exercise and more about the intensity with which it is performed.
Calculating your target heart rate:

220 – your age= maximum heart rate (HRmax)

Your maximum heart rate: ________

Your resting heart rate (count pulse for 60 sec. first thing in the morning): ___________

(HRmax – RHR) x 0.60 + RHR=________(low)
(HRmax – RHR) x 0.80 + RHRr=________(high)

Your target heart zone (low-high): ___________

Working in this zone for at least 20 minutes ensure that you are training aerobically and is a way to improve your stamina.
Anaerobic Conditioning/Resistance Training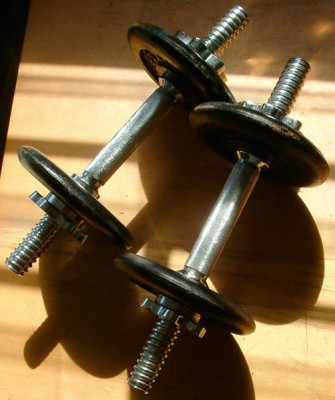 Training "anaerobically" includes types of activities that are performed at a high intensity, for a short period of time.  Anaerobic literally means "without oxygen".  This doesn't mean you stop breathing, or even that your body doesn't use oxygen.  It simply means your body is processing oxygen at a faster rate than it can take it in.  As a result, you begin to use other sources of energy.  This is how we access our fat stores and replace it with muscle (in a long-complicated process that I won't explain here).  Anaerobic training is characterized by short bursts of vigorous activity, such as:
Lifting weights
Playing sports such as tennis, volleyball, football
Pilates
Dance! think about how class is structured: a 30-sec, really hard petite allegro followed by rest and feedback from the instructor.
Resistance training (using weights, bands, or even water to place counteracting forces on your muscles) is really useful for dancers.  It builds lean muscle and strengthens bones.  For male dancers, strength training is especially important if you are going to be partnering.  Ballet and modern technique strengthen the small muscles of the shoulders, back and arms, but in order to have the strength to hoist a woman over your head, you're going to need to train the larger muscle groups as well.
Quite some years back…
I was dancing in college and took up running to lose weight and keep out of the kitchen in the evenings.  A teacher approached me and said
"You look great!  What are you doing?"
"I've taken up running, actually."
"Oh… Well be careful, you don't want to make your thighs big."
Cross-training will not make your thighs big…
A common myth about training (and why many dancers don't like to do it) is that it makes your muscles look bigger.  Lifting a few weights is not going to turn you into a body-builder; as I mentioned above, resistance training builds lean tissue, raises your metabolism, and trims fat.  The difference between strength training for dancers and weight lifting for body-builders is the ratio of weight to the number of repetitions.  An individual who is lifting weights to "get big" uses a large amount of weight for a small amount of repetitions.  A dancer who is trying to build lean mass and trim/tone should use a smaller amount of weight for more repetitions.
The Skinny on Cross-Training
Either way, if you're a dancer, you are likely spending more time in the studio than in the gym.  You're primary form of exercise is still dance, and your body can only benefit from introducing alternative forms of activity provided you aren't fatigued or over-training.  If you dance all day and then run twelve miles, well, that's a different story.  Working out when you're already fatigued is a recipe for injury, so dose your cross-training carefully based on what your dance schedule looks like.
For those of you who might have read my thoughts on training in the Bar Method, all of this may sound like a contradiction given my purporting that "everything I need I can get out of a ballet class".
To a certain extent, this statement is both true and false…
A ballet class is vastly diverse in the training that it provides to your body, and for the most part it will give you the tools you need to succeed in dance.
However, the desire to advance the field has pushed choreographers to create increasingly difficult and intricate movement that requires strength, endurance, and agility outside of what a typical ballet class can provide.
Additionally, cross-training can serve as a preventative measure from certain injuries, such as adductor strengthening to prevent knee injury.
When choosing a form of cross-training, ask yourself what you can get from this form of exercise that you can't otherwise get from dance.  If the answer is "not much", try something different.
Building a cross-training program is not dissimilar from eating a balanced diet.  For maximal health, you need a healthy balance of strength, endurance, and agility-based activities just like vegetables, grains, and proteins in the diet.  Ultimately, the type, frequency, intensity, and duration of additional exercise that you do is up to you, and might change from season to season depending on the rep/classes you are in, your personal goals, and your level of fatigue.
What type of cross-training has worked for you?
Kindly follow, like or share:
Lauren Warnecke is a freelance writer and editor, focused on dance and cultural criticism in Chicago and across the Midwest. Lauren is the dance critic for the Chicago Tribune, editor of See Chicago Dance, and founder/editor of Art Intercepts, with bylines in Chicago Magazine, Milwaukee Magazine, St. Louis Magazine and Dance Media publications, among others. Holding degrees in dance and kinesiology, Lauren is an instructor of dance and exercise science at Loyola University Chicago. Read Lauren's posts.