The Pressure is on for the Young Male Dancer
As the curtain rises on the brightly lit stage, the young male dancer is exposed to the audience. His head spins as he worries about the costume he is wearing, the big power-lift with his female counterpart and what the audience will say about his masculinity. These fears are not only a part of the young male dancer's performance experience– they are his reality each day in rehearsals. In fact, the male dancer faces similar fears outside of the dance studio. In essence, the young male dancer has a lot to worry about as he enters the world of dance.
Just as the discouraged young male is ready to quit dance and throw in the towel, he should remember that there is a light at the end of the tunnel. It is a light worth dancing towards. I know from personal experience that dancing towards the dream is easier said than done. The dream lies at the end of a tunnel filled with obstacles along the way. The struggles the young male dancer faces only makes him stronger if he can endure the not so easy early years of dance training.
Through my own personal account and the stories of 3 successful male dancers at different stages in their careers, I will describe the common struggles young male dancers face, tips for survival and why dancing towards the dream is well worth the fight!
My Introduction to Dance
Reflecting back on my pre-adolescent years, I can recall my first formal dance class. After spending some time on a hip-hop dance team that performed regularly for local news, I was no stranger to commercial dance. I grew up watching the greats—Michael Jackson and James Brown. I tuned in to Soul Train and was surrounded by dance music. It was only natural that I entered the world of dance. Once I was chosen for the hip-hop dance team, I was embraced with open arms by my fellow dancers! The young ladies on the team loved having a male around and would often ask me to assist them with the unfamiliar hip-hop vocabulary they were being taught. As a young male, I felt that I had it made. I was naive and believed that all dance environments would be as accepting of male dancers. Boy was I wrong!
Stories of Struggle
Early obstacles
When I finally took my first ballet class at a dance summer camp for ages 9-17, I was surprised that I was the only male in the class. The young ladies had a ball laughing, pointing out my flaws and lack of training. My masculinity was questioned, my dance ability was challenged, and my dreams of becoming a serious dance student were slowly diminishing.
A similar story comes from male dancer Ibn Snell, a junior at the Philadelphia High School for Creative and Performing Arts. This young male dancer felt the need to hide his passion for dance while in middle school. He admits, "I had troubles of people judging me in middle school. My mom would tell the principals about my dance competitions and saying vote for me and I didn't want my friends to know." Ibn's story has an unexpected outcome. However, you'll have to wait for the conclusion in the follow-up to this article.
Lost Potential
Ursinus College alum and UNC Graduate Student Nik Stasulli says, "There were definitely kids that would make fun of me when I was younger, but my real friends didn't care and encouraged me, especially the girls that I danced with that were my age." Nik encourages young male dancers to surround themselves with positive people who support their dream. He also encourages young dancers to follow their own heart's desires and not listen to the negativity around them. Nik remembers a potentially brilliant male dancer from his studio who gave into the pressure. "He got made fun of a lot for it and he eventually quit because of it and i always thought that was a shame. He had so much potential, but he let the negative people around him get to him too much and he quit." The moral of the story is to never let people destroy your dream.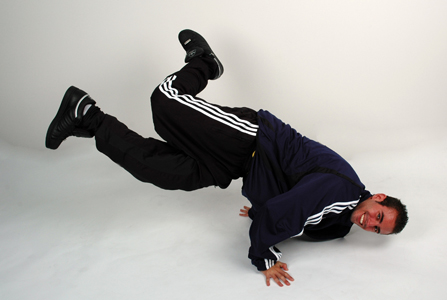 Fellow dancer, Micheal Meadows recalls his introduction to the world of dance. He says, "I started dancing at the age of 18 in high school and got asked by teachers to dance for our school's team." Michael was the captain of the snowboarding team and found difficulty in getting support from his fellow athletes. "If you feel like you are ready to quit take a deep breath and realize your potential."  A young male dancer with potential to become amazing at his craft, must hold on tight and look beyond the negative comments that are thrown his way… Remember that lost potential is something you cannot get back in life.
Strength, Courage, and Thick Skin
"Being a male dancer shows character and being able to stand above the rest. The industry is lacking strong male dancers, so there is a definite market for males in the dance industry," says Michael. Indeed, it is my experience that being a young male dancer takes strength and courage. It teaches you a lot of hard life lessons while thickening your skin and preparing you for the real world.
Catch Part II of Roger's article, Surviving and Thriving, tomorrow on the blog!
Are you a young man who dances? Have you had similar experiences?
Have you witnessed the taunting of boys in dance class?
Kindly follow, like or share:
Roger Lee is a professional dance writer, instructor, and studio consultant from Philadelphia, PA. His writing has been published nationally in Dance Magazine, Dance Magazine College Guide, Dance Studio Life Magazine, and The Dance Journal. Roger has taught hip-hop at The Rock School of Dance Education, Koresh School of Dance, Mid-Atlantic Ballet, Philadelphia Ballet School, and Drexel University Recreation Center. Roger also directs and choreographs Roger Lee Dance Company and provides dance studio marketing, communications, and publicity at www.rogerleedance.com