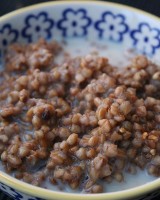 We all know that breakfast is the most important meal of the day.  It's not all that effective though when we are scarfing down a bowl of sugary or processed cereal before we run out the door.  Mix up your morning routine with a whole grain.  The complex carbohydrates will slowly feed your body energy and keep you fuller for longer.
Morning Kasha

Prep Time: 5 minutes

Yield: 1 serving

Ingredients:

1 cup cooked kasha
1 apple, diced
2 tablespoons almond or cashew butter
1 teaspoon cinnamon
maple syrup to taste

Directions:

Combine warm kasha and apple in a breakfast bowl.
In a separate bowl mix nut butter with 2 tablespoons of water.
Blend with fork until creamy like a sauce. If needed, add a bit more water, but mixture should not be too runny.
Pour over kasha and apples, sprinkle with cinnamon and drizzle with maple syrup.

Variations:  Make kasha the night before for a dinner dish and remove some to use for breakfast the next day. Kasha keeps well with a splash of olive oil in the refrigerator for 3-4 days
Kindly follow, like or share:
Joanie Johnson is a certified health coach (CHC) through the Institute for Integrated Nutrition. Joanie is board certified through the American Association of Drugless Practioners (AADP), holds a B.A. in dance from Slippery Rock University, is a certified Pilates instructor, TRX trainer, professional modern dancer with HT Chen and Dancers, a Julie Morgentstern trained organizer and an all-around busy, motivated woman in New York City. She founded Motivated Nutrition (www.motivatednutrition.net) to educate and motivate movers and food lovers of all ages through individual and group coaching, fitness classes, cooking demonstrations, creative movement based workshops, and educational seminars. Joanie believes in everyone's right to live an active, healthy lifestyle and enjoys sharing her passion of optimal wellness through movement, fun and delicious food!