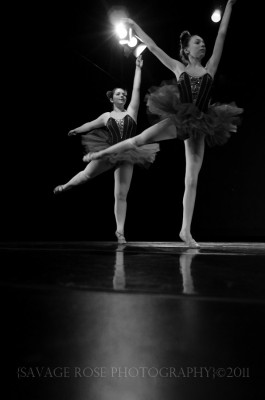 Balance is something that we dancers seek out on a daily basis.
Some days we are on; some days we are off, but at some point we have all felt that magical moment when you release your fingertips from the barre and are floating on a perfect balance.
The science of standing up
Our bodies are complex systems and while we largely submit to the laws of physics, many aspects of how we work are not yet fully understood.
Balance (a.k.a. postural orientation or postural equilibrium) is controlled by structures in the inner ear, eyesight, and automatic postural adjustments brought about by sensory reflexes (more on this below).  If any one of these functions is impaired–for example, someone who has lost his/her sight or hearing–the other two work harder to compensate for the loss of function.
Research has shown us that muscles help us to maintain posture and balance by generating automatic responses that preserve the vertical orientation of the trunk.
In other words, it's easier to balance standing up straight than bending at the waist.  In the case of trying to balance in a off-axis position (which happens frequently in modern dance), the position of the head is more important since the trunk cannot be placed in a stacked, vertical position.  This concept applies to both maintaining a static position, and also keeping balance when initiating a movement of the arms and legs.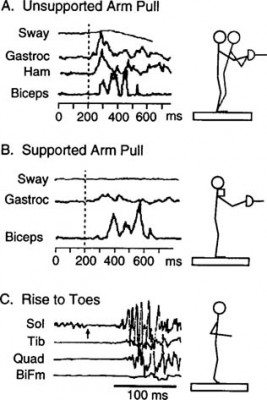 Think about this: When performing a fondu exercise at the barre, the standing leg is just as fatigued as the working leg at the end of the exercise.  The gluteal and hamstring muscles are activated to maintain posture while the working leg changes its position.
The figure on the right (parts A. and B.) shows muscular activity in the leg muscles (Gastrocnemius and Hamstrings) prior to activity in the biceps during an arm movement.  Part C. of the figure shows activity in the Soleus muscle well in advance of rising to relevé.
This concept is somewhat similar to the stretch reflex activated by perturbations discussed in my exposé on muscles.  While these automatic responses are more complex than the stretch reflex , they are both involuntary responses requiring no conscious thought on your part.
So, if these responses are involuntary, how do I get better balance?
Through the nature of their practice, dancers are better at balancing than ordinary people (Simmons, R.W., 2005).
By this logic, practice makes perfect; the best way to get better at balancing is to practice it.
While this may seem simplistic, these responses (regardless of whether or not they are consciously activated) are controlled by muscles.  There's no magic here: muscles become stronger and more accurate through practice, and the same rules apply with automatic responses.
When it comes down to it, balance is a delicate balance
…between the inner ear, eyesight, and muscular reflexes.
Think back again on my fondu example: When you come back from summer vacation, fondu exercises are hard.  But once you've reconditioned the muscles in your legs it becomes easier and requires less effort.
The same goes for balancing.  Once you've got that exercise down effortlessly, take your hands off the barre and practice it with no hands.  This is an excellent way to build better a better balance.
I often ask my students to balance with the eyes closed, to move their arms to a new position, to shake their heads, or to stand on a foam pad.  These tools can help us to "work out" the variety of mechanisms involved in balance.  Try these variations, and a standard sous-sus on solid ground will feel like a cakewalk!
For a few more suggestions, check out Nichelle's recent article on posture and balance.
What are your tips for improving balance??
—
Resources:
Enoka, R.M. (2002).  Neuromechanics of human movement, third edition.  Human Kinetics, 306-309.
Horak, F.B. & MacPherson, J.M. (1996).  Postural Orientation and Equilibrium.  Supplement 29: Handbook of Physiology, Exercise: Regulation and Integration of Multiple Systems
Simmons, R.W. (2005). Neuromuscular responses of trained ballet dancers to postural perturbations.  International Journal of Neuroscience 115, 1193-1203.
Kindly follow, like or share:
Lauren Warnecke is a freelance writer and editor, focused on dance and cultural criticism in Chicago and across the Midwest. Lauren is the dance critic for the Chicago Tribune, editor of See Chicago Dance, and founder/editor of Art Intercepts, with bylines in Chicago Magazine, Milwaukee Magazine, St. Louis Magazine and Dance Media publications, among others. Holding degrees in dance and kinesiology, Lauren is an instructor of dance and exercise science at Loyola University Chicago. Read Lauren's posts.