My body has been all about avocado lately.
I often experience intense cravings for them when I have a really busy schedule of classes, teaching, rehearsing and performing. When you crowd out junk food and learn to listen to your body's natural cravings, it will tell you exactly what nutrients it needs.  Right now mine needs some healthy fats to keep me fuller longer.
Avocados are a good source of mono and polyunsaturated fats.  Aka "good fats".  Yes there is such a thing and your active dancing body needs fat to survive.
You can turn avocados into guacamole, puree them into soups, chop them into salads and sandwiches, make them into parfaits or smoothies and team them up with pastas.   They are an amazingly diverse food.  Try out this smoothie recipe. I love it at the start of my day!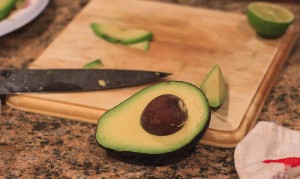 Amazing Avo Smoothie


Prep Time: 10 min

Yield: 1 large smoothie

Ingredients:

1 cup Greek-style plain nonfat yogurt
1 banana
1 ripe, sliced Avocado
1/2 cup cooked greens, cooled.  (Some to try: Spinach, Kale, Chard, Beet Greens)
2 Tbsp. natural sweetener  (agave, maple syrup )
ice cubes

Directions:

Place all ingredients in blender and process until desired texture is reached.  EASY!
Do you run away from "fats"? 
What healthy fats do you incorporate into your diet?
Kindly follow, like or share:
Joanie Johnson is a certified health coach (CHC) through the Institute for Integrated Nutrition. Joanie is board certified through the American Association of Drugless Practioners (AADP), holds a B.A. in dance from Slippery Rock University, is a certified Pilates instructor, TRX trainer, professional modern dancer with HT Chen and Dancers, a Julie Morgentstern trained organizer and an all-around busy, motivated woman in New York City. She founded Motivated Nutrition (www.motivatednutrition.net) to educate and motivate movers and food lovers of all ages through individual and group coaching, fitness classes, cooking demonstrations, creative movement based workshops, and educational seminars. Joanie believes in everyone's right to live an active, healthy lifestyle and enjoys sharing her passion of optimal wellness through movement, fun and delicious food!