Dance holistically integrates the many facets of our life in a beautiful way. Therefore, it is logical to think that the many facets of life would influence our dance, for better and for worse.
Cross training refers not only to developing strength and flexibility, but also developing our awareness and alignment. This is especially important for dancers who need to focus on both the physical and the emotional details of movement in class and performance.
Why Alexander Technique for Dancers?
Professional dancer, choreographer, educator and AmSAT (American Society for Alexander Technique) certified teacher, KC Chun-Manning explains "The Alexander Technique (AT) has affected EVERY aspect of my life and how I live in my body, allowing for increased skill, clarity, integration and better choice-making. Since it teaches a holistic and supportive approach to 'thinking in activity', it is with me all the time, and has been essential in how I experience, understand, observe and see the body's potential for movement."
What is Alexander Technique?
The Alexander Technique is based upon understanding and developing the natural alignment of the body and moving from that source (when dancing, walking, driving, typing, or doing any type of activity).
One of my Alexander Technique teachers compared the process of alignment and "stacking the bones" to the delicate practice of stacking rocks on top of each other. Both processes require practice, attention, awareness, mindfulness, and balance. Once achieved, both also create a sense of peace and harmony.
How does one practice Alexander Technique?
Initially, it is best to have the instruction of a certified teacher to guide you in the process. Instructors facilitate the underlying principles of the technique using both imagery and a helpful hands-on approach to gently guide the body out of poor postural habits and into more natural alignment patterns. Classes can be one-on-one or in a small-group.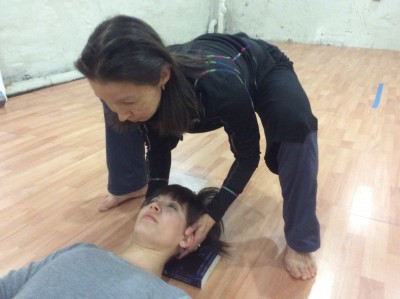 How has Alexander Technique aided KC as a dancer?
For dancers, this focus on proper alignment can assist in many genres. KC's initial training was as a gymnast which, for her, meant "I had this notion of myself as being super strong and relatively indestructible," a trait not uncommon in young dancers and teens.
Of her transition out of gymnastics and into pursuing dance in college, KC says, "I brought my habits of overuse, muscular tension, hyperextending my knees and swayback with me–which was a perfect recipe for injuries. Even with all my attention to alignment in dance class, I just could not avoid the constant knee injuries, which included swelling behind the knees, as well as lateral ligament and meniscus discomfort."
KC continued her re-training through the MFA program at the University of Illinois at Urbana-Champaign which had developed a relationship with the Urbana Center for the Alexander Technique.
"From my first lessons with master teachers Joan and Alex Murray and Luc Vanier, I felt that my whole nervous system, reflexes and spatial pathways were gently, but profoundly responding. With this methodology of postural re-education, I had a new experience of clarity and being in my body that informed every moment of my day."
"Simultaneously subtle, yet radical, I had begun the unraveling process of do more and work harder with do less, with increased clarity."
As dancers, sometimes we think that the harder we work, the more we will achieve. Alexander Technique teaches that how we work becomes just as important as the level of physicality at which we work.
"Re-training the body and un-doing old habits are a constant process of the dancer. Our bodies are always changing and growing. We need to learn how to adjust to these new developments or risk injury."
Alexander Technique helps the body adjust to stress in dance and in life
This 'how,' in addition to the execution of the steps, also refers to how we respond to stress in the moment and how we approach being fully present in the process of dancing. For example, do you perform better during rehearsals than during a performance? This might be because your body is responding to the extra stress of an audience.
If your director is watching class, are you more tense and therefore not as proficient at your technique and performance practice? Just as we rehearse and practice for the performance, Alexander Technique helps and prepares dancers (and other people) to acknowledge and adjust tension within their/ our bodies when in stressful situations.
KC refers to this stress as "excitement." Performance, class, and rehearsal certainly are exciting!
"Given that dancers are the ever perfectionists, it is quite common that dancers get over-excited and in their own way in this pursuit for perfection. This response pattern of prioritizing outcomes over means is what F.M. Alexander called 'end-gaining'. Through this method (AT) we can become better at learning how we respond to excitation, so we can make better choices and shift attention to those magical, intrinsic spaces in between."
Those spaces in between – the moments when you make eye contact with your audience, understand the non-verbal communication of your partner, or add your own emotional component to the combination in class – are true magic! (These are some of the reasons why we return to dance!)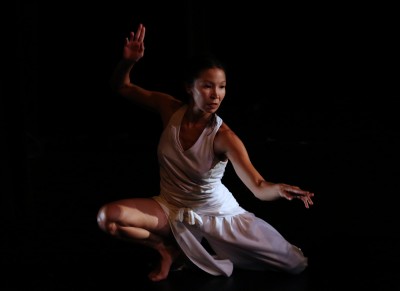 KC suggests that "The Alexander principles of sensory awareness and how we use ourselves in all activities can be awakened with simply a thought, so in effect, it can be practiced at any, and all, times. The more the dancer practices and applies the AT principles in their daily life, the easier it will be to embody its principles within the classroom, rehearsals, performance, [and daily life] with more consistency." (brackets my own)
One Body; Many Experiences
Personally, I appreciate Alexander Technique for its focus on the whole body. I believe that our Monday morning body isn't different from our Friday night body and that's connected to our Math class body and our Modern Dance body.
We have one body and through that we experience the world.
We bring those experiences to our dance. Practicing Alexander Technique allows us to understand how we carry our bodies and how our environment affects our physicality, and therefore, our dance.
For more information on KC Chun-Manning, please check out www.chun-manning.com. For more information on the Alexander Technique and where to find a teacher, please check out amsatonline.org.
Kindly follow, like or share:
Jessica C. Warchal-King is a Philly-based performer, choreographer, educator, and arts advocate. She is a member of Kun-Yang Lin/ Dancers and Nora Gibson Contemporary Ballet and has toured nationally and internationally. Jessica is co-founder and curator of the InHale Performance Series and she teaches at universities, studios, and arts centers.
Jessica earned her MFA in Dance from Temple and her BA in Dance and Anthropology from Muhlenberg College. She is a trained instructor in Dance for PD, a program developed by the Mark Morris Dance Group to bring dance to people with Parkinson's Disease, and a Power Pilates Mat I & II Certified Instructor. The Embodiment Project is Jessica's ongoing research project combining education, physical dance practice, and performance. Using dance as its medium, The Embodiment Project investigates the relationships between kinesthetic, somatic, and anatomical understanding, self-awareness, art-making, joy-creation, and social justice. www.jcwarchalking.blogspot.com