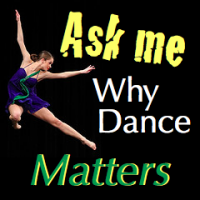 Throughout the Why Dance Matters event, fabulous submissions were received from people who wanted to share why dance matters to them. Below, I believe I've gathered most of the posts. However, if yours is not listed please feel free to add a link in the comments. As for the hundreds of tweets posted via the #whydancematters hashtag on Twitter, I can only say I am in absolute AWE of what can be said in 140 characters! Bravo.
If you'd like to continue the conversation, share and discuss Why Dance Matters on Facebook via its NEW page!
Why Dance Matters to YOU
Meg Mahoney, a full-time dance specialist in a public elementary school has been prolifically blogging concise thoughts in a series about Why Dance Matters. Below are the links but I suspect she has more to say on the topic so stay tuned to her blog.
Maria Hanley, in addition to her interview with 4 and 5 year olds, interviewed her parents and a students' mommy to find out Why Dance Matters to them!
The artists of Indigenous Pitch Dance Collective, through the art of dance, assist and nurture children affected by natural and/or socioeconomic disasters, fulfilling this mission with performances, residencies and workshops throughout the United States and abroad. Here are their reasons…
More participants provide their reasons in written form…
And video…
See Why Dance Matters to Leslea's students too: Uptown Dance: Why Dance Matters
Reaching onward and outward…
Thanks for taking the time to participate and affirm why dance matters.
YOU made Why Dance Matters special!
Kindly follow, like or share:
Nichelle Suzanne is a writer specializing in dance and online content. She is also a dance instructor with over 20 years experience teaching in dance studios, community programs, and colleges. She began Dance Advantage in 2008, equipped with a passion for movement education and an intuitive sense that a blog could bring dancers together. As a Houston-based dance writer, Nichelle covers dance performance for Dance Source Houston, Arts+Culture Texas, and other publications. She is a leader in social media within the dance community and has presented on blogging for dance organizations, including Dance/USA. Nichelle provides web consulting and writing services for dancers, dance schools and studios, and those beyond the dance world. Read Nichelle's posts.