Alexandra Langstaff has been teaching creative movement and modern dance in Vermont for over 20 years. She spends the majority of her time in pre-schools, elementary schools and day care centers. Her background in early childhood and elementary education and modern dance inspires an innovative dance program (Hullaballoo Danceshop) for students of all ages and abilities. Her students are encouraged to constructively channel physical energy through games, and developmentally appropriate dance and yoga activities. Physical intelligence, social development, technique, flexibility, focus, strength and creativity evolve through imaginative use of movement, music and materials.
Alexandra says, "My Top 3 Props make the list because they have saved me when the electricity went out, the iPod quit and the cute speaker system wasn't loud enough — thankfully not all on the same day!"
1. Polka Dot Placemats
I cut circles out of plastic placemats. The material is very similar to that used for shelf lining under glassware. They are useful for marking places to stand and sit that don't slide. More importantly they become planets to land on, trees for squirrels to jump to, and hats to wear!
Caps for Sale is a classic tale of a peddler and his many hats. He falls asleep and they get snatched by many monkeys in a tree. As he tries to get the caps back the monkeys just copy his movements. "'Give me back my caps' said the peddler (the teacher) as she made a gigantic stretched shape." He finally outsmarts the monkeys but you will have to go to your local library or bookstore to see how he managed! [Caps for Sale Board Book: A Tale of a Peddler, Some Monkeys and Their Monkey Business
is also available at Amazon]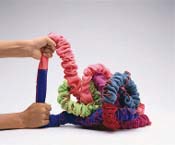 2. The Stretchy Circle
I bought this 12 foot circle of elastic cord covered in fleece years ago from an educational supplies store. I am sure they are still available and also sure that someday I will make one! Students sit holding the circle of fabric that gets more taut as they move back. I use it at the end of class to quiet the group while singing "Row, Row, Row Your Boat". Rocking the boat and tipping the boat are very popular variations. In addition the cord can be used as a fence for leaping lions and as a pond for diving ducks.
3. The Trusty Hand Drum
I have had many variations of this indispensable instrument. My latest is a good one. (Meaning I spent more than $20 but not too much more!) It is ideal for starting class by passing it around and letting the students say their names as they "wake up the drum".
No music? No problem.
"Walk for 8, Freeze for 8."
Explore tempo. "Does the drum sound like a herd of elephants or like elves on a trampoline?".
Explore quality of movement. "Line up on the dots and then run and jump and hit the drum".
Explore focus – what if the drum moves? Explore energy? How high can you reach?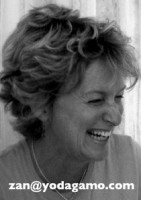 Our thanks to Alexandra for sharing her Top Three Props! She can be found online at hullabaloodanceshop.com or you can contact her via the e-mail shown at left.
What are YOUR Top Three Props? We'd love to hear about them in the comments!
Kindly follow, like or share:
Nichelle Suzanne is a writer specializing in dance and online content. She is also a dance instructor with over 20 years experience teaching in dance studios, community programs, and colleges. She began Dance Advantage in 2008, equipped with a passion for movement education and an intuitive sense that a blog could bring dancers together. As a Houston-based dance writer, Nichelle covers dance performance for Dance Source Houston, Arts+Culture Texas, and other publications. She is a leader in social media within the dance community and has presented on blogging for dance organizations, including Dance/USA. Nichelle provides web consulting and writing services for dancers, dance schools and studios, and those beyond the dance world. Read Nichelle's posts.