Maybe you've seen this elegant animation as it's made its rounds of the Internet. I was sent the link by my friend, Trish (thanks!). Watch Thought of You and then learn a little bit more about this short film by Ryan Woodward.
Thought of You from Ryan J Woodward on Vimeo.

Info on the full exhibition of art that includes animation and figurative works visit: www.conteanimated.com
Behind the scenes here: http://vimeo.com/16330140
"World Spins Madly On" by The Weepies – Courtesy of Nettwerk Music Group
Ryan Woodward has been an animator and storyboard artist since 1995, working on such Hollywood projects as
Space Jam, Spider-Man, Where the Wild Things Are, Ironman 2,
and
Cowboys and Aliens
. As an assistant professor of the Animation program at Brigham Young University he teaches storyboarding, figure drawing, visual development and animation. Having worked primarily in the commercial industry for years, Woodward says his latest personal project,
Conte Animated
, "has allowed me to stretch beyond my former understanding of art."
Conte Animated combines several art forms into one exhibition to explore the drawing of the human figure and communication through gesture in a variety of creative approaches, including 2D animation and contemporary dance. "Although I am not a dancer, I appreciate the talent and dedication that goes into a beautifully choreographed piece. A graceful moving human form can communicate more emotion that any length of dialogue."
To begin the project Ryan approached BYU colleague and dance instructor, Kori Wakamatsu, to choreograph movement for the animated piece. The collaboration is documented in the following behind-the-scenes documentary, filmed and cut by Cambell Christensen.
Thought of You – Behind the Scenes Preview – ROUGH CUT from Cambell Christensen on Vimeo.
Dancer,
The Winger
founder, and writer, Kristin Sloan, in a Huffington Post article, relates to Woodward's exploration of gesture and human communication, bringing it back to the powerful messages dancers can convey through movement.
"While studying at the School of American Ballet, we had teachers who would devote so much time and energy to show us how a simple movement or gesture (like the offering of a hand, the presentation of a foot, the turn of a head) can be so rich with emotion and intention if approached a certain way."
Click here to read the whole article.
What fascinates me about Woodward's work on Thought of You is the way he interprets the base choreography. He stays true to the movement while embellishing and taking it just a step forward, creating situations and moments that could only occur in this world of animation he has created.
I also appreciate the eloquence with which he presents a concise story of elusive love. Notice that the female dancer slips away from the male dancer repeatedly throughout the work. What happens at the end as her figure becomes more realistic, more solid, and seemingly more ready for love?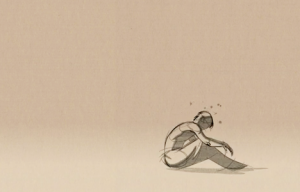 Watch more of Ryan Woodward's short films at his website, ryanwoodwardart.com.
Kindly follow, like or share:
Nichelle Suzanne is a writer specializing in dance and online content. She is also a dance instructor with over 20 years experience teaching in dance studios, community programs, and colleges. She began Dance Advantage in 2008, equipped with a passion for movement education and an intuitive sense that a blog could bring dancers together. As a Houston-based dance writer, Nichelle covers dance performance for Dance Source Houston, Arts+Culture Texas, and other publications. She is a leader in social media within the dance community and has presented on blogging for dance organizations, including Dance/USA. Nichelle provides web consulting and writing services for dancers, dance schools and studios, and those beyond the dance world. Read Nichelle's posts.