Balletband is a heavy-duty, latex resistive stretching band specifically designed for dancers offering a hands-free alternative to traditional stretching techniques.
Professional ballet dancer, Todd Fox created Balletband in 1998 when he witnessed a fellow professional dancer stretching in a similar fashion using a plain bicycle inner tube. The product initially sold under the name 'Stretcherz' but was officially changed to 'Balletband' in 2005. Made of natural rubber and latex compounds, no resistance/exercise band on the market is more durable or offers a more convenient form of resistive stretching specifically designed for dancers. These heavy duty bands allow dancers the ability to stretch hands-free, in fundamental balletic positions.
Dancers love this product and Todd says he's currently researching the development of a latex-free Balletband. Multicolored bands are also on the horizon!
The Giveaway
Todd would like to give away ONE Balletband to THREE Dance Advantage readers.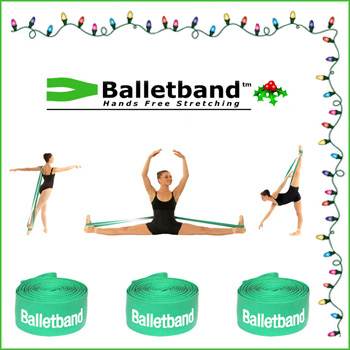 Instructions for use are sent with each product. Looping Balletband (retail $14.95) around one foot and the opposite shoulder, dancers can stretch and strengthen their extension in arabesque, à la seconde, or croisé. The band's resistance also effectively works the legs and turnout in a seated straddle position
This giveaway is open to readers in the Continental U.S. and will close Saturday, December 8 at Midnight CST.

Contests must be restricted to those 18 and up. If you are under 18 and would like to win, please have an adult enter and comment for you.

Winners will be drawn and contacted one week from today. I hope you'll be one of our lucky winners!

Once contacted via the email used to comment, winners have only 48 hours to respond and claim their prize. Each giveaway is treated as a separate contest.  PLEASE READ our giveaway policy before entering.
How To Enter:
ONE: Sign-in to the form below.

TWO: Leave a comment responding to the following:
When is your favorite time to stretch and how do you stay motivated to do it regularly?
Commenting is the only mandatory task for entering!
THREE: Go back to the form and click that you Did It!
That's it! Easy as 1-2-3!
Optional: Earn more entries
The form above includes several more tasks you can complete to earn additional entries in the giveaway, including being (or becoming) a Subscriber PLUS member.
Do any or all of them to increase your chances of being a randomly drawn winner.
See Our Other Giveaways!

Kindly follow, like or share:
Nichelle Suzanne is a writer specializing in dance and online content. She is also a dance instructor with over 20 years experience teaching in dance studios, community programs, and colleges. She began Dance Advantage in 2008, equipped with a passion for movement education and an intuitive sense that a blog could bring dancers together. As a Houston-based dance writer, Nichelle covers dance performance for Dance Source Houston, Arts+Culture Texas, and other publications. She is a leader in social media within the dance community and has presented on blogging for dance organizations, including Dance/USA. Nichelle provides web consulting and writing services for dancers, dance schools and studios, and those beyond the dance world. Read Nichelle's posts.