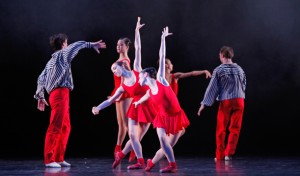 Houston Ballet unveiled Ben Stevenson's production of The Nutcracker over 20 years ago. Since then it has become an audience favorite in Houston and beyond. Scores of ballerinas have made their Act II appearance as the Sugar Plum Fairy. This year, corps de ballet member Elise Judson will have her opportunity to shine in the role.
A native of Sacramento, California, Elise joined Houston Ballet in November of 2007. The 20-year-old has been featured in Stanton Welch's Falling, the first pas de deux in Antony Tudor's The Leaves are Fading, and recently performed as a member Twyla Tharp's "bomb squad," the red-pointe-shoe clad dancers from In The Upper Room. She took a moment to chat with me about her upcoming performance in The Nutcracker.
Dance Advantage: Elise, you've danced the role of Clara with Houston Ballet but this is your first turn as the Sugar Plum Fairy. What do you find most exciting about dancing this role?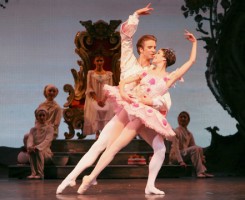 Elise Judson: It is every little girl's dream as a dancer to perform as the Sugar Plum Fairy and I am so excited to take on this role. I love the technical challenge that it poses for me as a dancer. This will also be the first full length, classical pas de deux that I have performed on stage, which is another milestone for me in my career. There are so many new and exciting things to look forward to performing this role. I can't wait!
DA: Like most ballet dancers, I'm sure your training provided many opportunities to perform The Nutcracker. Do you remember your first time dancing in this holiday staple?
EJ: The Nutcracker is the first ballet that I remember watching as a child, which makes it a meaningful ballet to me. It was also the first production I performed in as a child with a professional company. My first role was one of Mother Ginger's Children in Act II at age seven with the Sacramento Ballet. Later in my training, I also got the chance to perform the Lead Flower Pas de Deux and the Snow Pas de Deux in my first two summer intensive programs here at Houston Ballet.
DA: Were those experiences influential in your pursuit of dance?
EJ: Performing at such a young age in a huge theater with professional dancers helped to start my love of performing, as well as making me more comfortable on stage early on in my training. Also, it was after participating in those two summer programs in Houston that I realized I wanted to pursue dance professionally.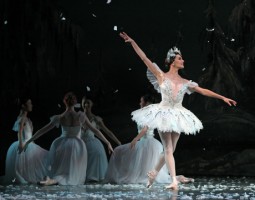 DA: How does it feel, knowing that your performance could inspire the next generation of dancers?
EJ: Incredible and surreal! I never dreamed that I would get the opportunity to perform the role of the Sugar Plum Fairy so early in my career. I know how much The Nutcracker inspired me to pursue dancing, so to know that I could have the same effect on children in the audience is truly incredible.
DA: The are so many renderings of the holiday classic. Each company puts its own spin on the tale. What is special about this version of the ballet?
EJ: In this production, there is something magical and joyous for every age. Magic tricks, flying cooks, and snow fill the stage with excitement and wonder. There is also the beautiful music played by the Houston Ballet Orchestra, as well as the incredible sets that bring the show to life. Not to mention beautiful dancing in a wide range of styles by the members of the company. It is an incredible show.
DA: Your older sister Carolyn is a dancer with Texas Ballet Theater (the North Texas ballet company helmed by Ben Stevenson). Both companies perform this particular Nutcracker, have you both danced in this production?
EJ: Yes, we've actually performed most of the same roles! My sister trained at Houston Ballet's academy as a teenager and performed in Houston Ballet's Nutcracker, as well as now performing the same production at Texas Ballet Theater. It would be fun to get to dance in it together!
DA: Houston Ballet is celebrating its 40th birthday this year but you are celebrating an anniversary as well. You joined the company two years ago. Which experiences have inspired the most growth for you personally during this time?
EJ: It is amazing that it has already been two years since I joined the company. I have been very lucky to perform so much already in my career with Houston Ballet. I think I have grown the most when I've been involved with the creation of a new work. Being in this company, I am lucky to get to perform in several world premieres each season. Our artistic director Stanton Welch is great about letting the dancers develop our own characters and have input when he is creating new works. I think that it is this creative process that has helped me to know who I am as a dancer as well as push myself to find new styles and personalities in my dancing.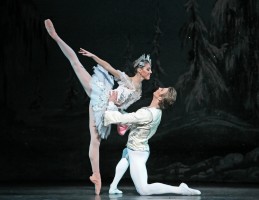 DA: What are you most looking forward to in 2010?
EJ: I am most looking forward to working on and performing Stanton Welch's new production of La Bayadere. Performing in new works is one of my favorite parts of being a dancer at Houston Ballet. La Bayadere is also a new production for me, in that I have never performed in the full length version of it. It is an extremely challenging production and I can't wait to work on it.
DA: I'm sure you dreamed of dancing in a professional company long before it happened. If you could offer one piece of advice to young students with visions of Sugar Plum Fairies dancing in their heads, what would it be?
EJ: Love every minute of it. Ballet is a difficult, but very rewarding art form. Years of classes and rehearsals can be tedious and strenuous, but when you get the opportunity to take your bow on stage in front of an audience and hear their applause for you, there is nothing more rewarding. It is all worth it!
---
Houston Ballet will give 35 performances of The Nutcracker in the Brown Theater at Wortham Theater Center in downtown Houston. Tickets may be purchased by calling 713-227-2787 or logging on to www.houstonballet.org.
Kindly follow, like or share:
Nichelle Suzanne is a writer specializing in dance and online content. She is also a dance instructor with over 20 years experience teaching in dance studios, community programs, and colleges. She began Dance Advantage in 2008, equipped with a passion for movement education and an intuitive sense that a blog could bring dancers together. As a Houston-based dance writer, Nichelle covers dance performance for Dance Source Houston, Arts+Culture Texas, and other publications. She is a leader in social media within the dance community and has presented on blogging for dance organizations, including Dance/USA. Nichelle provides web consulting and writing services for dancers, dance schools and studios, and those beyond the dance world. Read Nichelle's posts.