Today, ballroom dancer and Boston area instructor, Leon Turetsky is our guest. A former Dancesport competitor, Leon has placed in the top 3 in all major IDSF competitions and appeared in the movie, Take The Lead with Antonio Banderas. Now an independent dance instructor, his students regularly compete all over America, placing 1st in some of the most prestigious events.

Leon knows all about burnout but has been able to stay inspired to dance all these years and wants to share what he's discovered with you.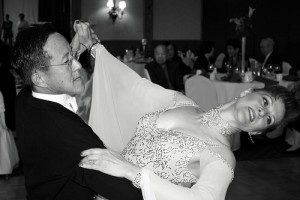 Most of the time you enjoy the music, the movement and the freedom you feel when dancing.
However, there are times when you just do not feel like dancing. For one reason or another, you are mentally and physically drained.
For me personally, this used to happen after dance competitions when I did not place as well as I had wanted. I felt frustrated that all of my hard work did not bring me good results. There were times when I even questioned my dancing ability and whether I should continue dancing at all…
This pattern kept repeating itself until one day I realized that these feelings occurred because I CARED about my dancing. Not because I needed to quit.
After a while, I figured out that what I really needed was a boost of inspiration to get back my "dancing groove".
I came up with the following 5 ways to re-energize myself and help me look forward to new possibilities. I hope they will help you as much as they helped me.
1. Review your dancing goals
To stay motivated most of us need to have a goal to work towards. It is not important what the goal is, as long as you have one.
It can be a performance or a competition that you are looking forward to, or it could simply be to lose 10 pounds in the next 6 months. The more specific the goal is, the better!
I do about 8 dance competitions every year and my goals really keep me going.
2. Read books, articles and studies about dancing
Reading about dancing is a great way to re-energize yourself.
You can read biographies of famous dancers that you look up to.
You can browse blogs like "Dance Advantage" for hundreds of tips on how to improve your dance technique.
You can read and interact with other dancers at online dance forums and social networks.
3. Watch dance videos online
There are literally thousands of video performances, dance lessons and lectures available online.
Do you have a favorite dancer that every time you watch makes you want to put on your dance shoes? I know I do!
Check out Youtube dance videos and other video blogs on a regular basis to stay motivated.
For Latin and Ballroom dance videos check out my online dance lessons blog.
4. Take classes from teachers who inspire you
Find teachers that you enjoy taking classes with.
Not every teacher is the right teacher for you so take the time to find out how your teacher makes you feel about your dancing.
Does he/she motivate you? Is he/she too hard on you? Or is he/she too soft on you? Look inside and see if you are working with the right people.
I once switched to a teacher who was a better fit for my personality and it has made all the difference! Surround yourself with teachers who make you want to dance and who are aligned with your goals.
5. Take a week off to rest
Sometimes the best thing you can do for your dancing is just to take a little break.
Take care of all the other things that may be on your mind so when you get back to dancing, you are free of mental distractions.
Also, let your body rest and get rid of any discomforts that you feel so you can get back to dancing and push your body to new limits.
I especially recommend meditation and yoga, as they do wonders for me.
Do all of these consistently and I promise that you will be inspired to dance all the time.
What do you do to inspire yourself for dancing? Please share in the comments area.
Leon Turetsky is a professional Ballroom dance instructor in the Boston, MA area. Check out his dance studio here. You can also learn to dance online with his instructional videos.
Kindly follow, like or share:
Nichelle Suzanne is a writer specializing in dance and online content. She is also a dance instructor with over 20 years experience teaching in dance studios, community programs, and colleges. She began Dance Advantage in 2008, equipped with a passion for movement education and an intuitive sense that a blog could bring dancers together. As a Houston-based dance writer, Nichelle covers dance performance for Dance Source Houston, Arts+Culture Texas, and other publications. She is a leader in social media within the dance community and has presented on blogging for dance organizations, including Dance/USA. Nichelle provides web consulting and writing services for dancers, dance schools and studios, and those beyond the dance world. Read Nichelle's posts.