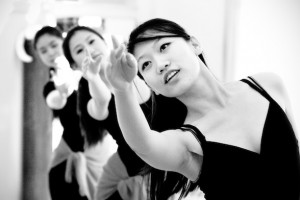 Dancers right (foreground) to left: Annie Zheng, Shayna Ding, and Cornelia Le.
This photo was taken during one of the Calgary Youth Performing Arts Association (CYPAA) volunteer visits to a senior centre in Calgary. The group consists of talented individuals working together to promote the performing arts among youth in Calgary. The dance is called "You Raise Me Up" based on the song of the same name and is a personal favorite of the photographer, Daniel Liu.
Daniel explains how he came to capture this striking image and passionately describes how he was raised up, in more than one way, by the experience. "I had only been pursuing photography for a few months when I met the talented individuals from Oriental Music and Dance School. I recall myself shamelessly asking them if I could go observe and take photos at their classes. They said yes. The setting was always a challenge, bad lighting and quick movements make for very difficult focusing but, when you get it right it's just feels so rewarding, and sure enough it made me a better photographer. The individuals themselves were an inspiration to me, everyone in that class were extraordinary talents, intelligent, high minded, and always with the good of the community in mind. These people have inspired me to challenge myself and to be more than I can be."
About the Photographer: Daniel f. Liu is a 21 year old photographer currently based in Calgary, Alberta. Liu started photography a year ago when he moved to Calgary. Having received a diploma in Culinary Management, cooking remained Liu's full time job while photography was a developing passion for when he had the free time. Through a series of chances Liu became acquainted with the talented individuals at Oriental Music and Dance School (OMDS) and became their regular photographer. Soon after, Liu joined The New Mabuhay Calgary, a Filipino newspaper based in Calgary for its grand relaunch. The same photo "You Raise Me Up" has been featured in its May issue. You can view more of Daniel's work on his Facebook page.
Kindly follow, like or share:
Nichelle Suzanne is a writer specializing in dance and online content. She is also a dance instructor with over 20 years experience teaching in dance studios, community programs, and colleges. She began Dance Advantage in 2008, equipped with a passion for movement education and an intuitive sense that a blog could bring dancers together. As a Houston-based dance writer, Nichelle covers dance performance for Dance Source Houston, Arts+Culture Texas, and other publications. She is a leader in social media within the dance community and has presented on blogging for dance organizations, including Dance/USA. Nichelle provides web consulting and writing services for dancers, dance schools and studios, and those beyond the dance world. Read Nichelle's posts.