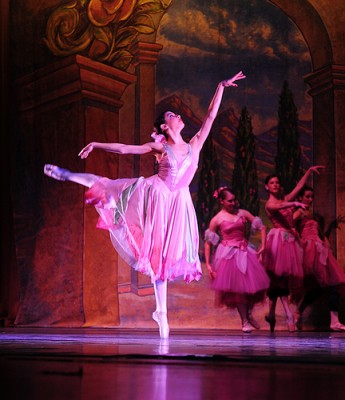 About the photograph: Peninsula Ballet Theatre performs in venues throughout the California Bay Area including East Bay. In addition to performances, they educate both pre-professional and recreational students of dance via the PBT Conservatory of Dance. This photo is from PBT's 2008 Nutcracker. The dancer, playing The Rose in The Waltz of the Flowers, is a company apprentice.
About the photographer: Lance Huntley is a biochemist by degree, an actor by profession and a photographer by inclination. He picked up a Nikon point and shoot about seven years ago, got his first DSLR body about five years ago and that D70 is now converted to infra red. Some of his favorite work is travel photography. His D200 has traveled all over Asia (with Lance behind the lens of course).
Lance says, "My acting led me to performing in the Peninsula Ballet Theatre's "Nutcracker" and I immediately took advantage of being present and started shooting. Available light performance dance photography is a cruel mistress and at first my good shot/bad/shot ratio was awful, but over the last five years I've made some decent progress. My high ISO D700 is the tool of choice for this kind of photography."
More of Lance's work can be viewed at his flicker site: www.flickr.com/photos/lance36. Check out the Performers collection for more dance photos. His most recent photos can also be found at www.PeninsulaBallet.org
Get your photo featured! Add your flickr photo to the Dance Advantage Sunday Snapshot pool.
Professional and amateur photographs welcome.
Kindly follow, like or share:
Nichelle Suzanne is a writer specializing in dance and online content. She is also a dance instructor with over 20 years experience teaching in dance studios, community programs, and colleges. She began Dance Advantage in 2008, equipped with a passion for movement education and an intuitive sense that a blog could bring dancers together. As a Houston-based dance writer, Nichelle covers dance performance for Dance Source Houston, Arts+Culture Texas, and other publications. She is a leader in social media within the dance community and has presented on blogging for dance organizations, including Dance/USA. Nichelle provides web consulting and writing services for dancers, dance schools and studios, and those beyond the dance world. Read Nichelle's posts.