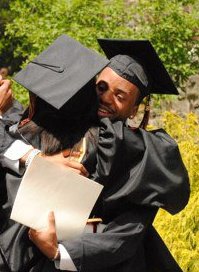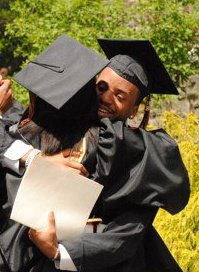 Years ago the words "Graduate School" and "Dancer" were rarely uttered in the same breath. Nowadays it is becoming more common to associate higher education and advanced degrees with the life cycle of a dancer. Dancers are rarely able to support themselves on pure talent alone– most have to make a living through alternative means. While performance gigs and steady jobs can be taken away in the blink of an eye, an education lasts a lifetime. That is why I decided to take the plunge and continue my dance training while going back to school for my Master's degree in Arts Administration.  Here are some helpful hints for dancers interested in applying for a creative Master's degree program:
Think creatively about your Graduate course of study
Research various Graduate Programs
Gain valuable experience
Prepare your resume
Fine-tune your interviewing skills
Think creatively about your Graduate course of study:
The beauty of Graduate School is that the programs tend to be much more individualized and focused. In many undergraduate programs, the creativity majors tend to be traditional Studio Art, Dance, Theater, etc. There are many graduate programs that take traditional art areas and tailor them to specific career goals and interests. For instance, there are programs in Dance Education, Dance Performance, Acting, Directing, Television Studio Management, Music Production and Arts Administration. Think creatively when deciding what to get your Master's degree in. There are endless creative possibilities waiting for you!
Research various Graduate Programs:
Like with any new product, graduate programs deserve careful research and consideration. Think of it as a new car. You would not purchase one without first comparing models, makes, years, and of course prices. Once you have decided on your area of focus, research a wide array of schools that offer your desired program. Some schools have an online and on-campus division, so take the time to research what program best suits your needs. If you are working 9 to 5 and have a family, perhaps an online program would best suit your lifestyle. If you are fresh off of the campus life and can't wait to return, perhaps an on-campus program is just what you need. Research your graduate program like you would a house or a car because in reality, the program will be a second home to you for the next two years or more.
Gain valuable experience:
Experience is a big part of the graduate school experience. It is most likely what led you to a specific program or area of focus. Your experience shapes who you are as an individual student and will help grant you acceptance into top-notch programs. If you even have the slightest idea that you may one day go back to school for you Masters, start gaining valuable and related experience. While work and internships can help in this area, think outside of the box! If you are an undergraduate student, join a club. Take on an executive board position or start an organization for your campus. This shows initiative while building interpersonal skills, managerial experience and a true entrepreneur spirit. If you are currently out of school, perhaps taking a steady roster of dance classes, joining a local choir or teaching dance to young children is a great way to stay current and learn while working. In essence, the more experience you have, the more desirable you will be to graduate school admissions officers. You will also have a greater understanding of why you selected a particular program and how it can help shape your future career goals. Experience is priceless because it can help put your future into perspective and add a bit more clarity to your life.
Prepare your resume:
Now that you have gained some experience, documenting it all is the next step. This can at first be difficult and time consuming, but the payoff is well worth it! All of the experience in the world will not necessarily translate to a graduate admissions officer if it is not well documented. Hence, the resume comes into play! You can categorize it by order of relevance or using a chronological method. There is much room for creativity in format, layout, font, color and the overall presentation of your resume. Think of it as your life experience on paper. You want to cherish it and show yourself in the best light possible. So take the time to carefully write, edit and format your resume. In some creative programs such as Arts Administration, the resume is a major component of the competitive admissions process.
Fine-tune your interviewing skills:
Interviews are a huge part of admission into any school or work environment. With all of the credentials, experience and education in the world, a terrible interview could still cost you big time! So how do you ace the essential interview? Well, start by practicing interviewing yourself. I know it sounds a bit odd, but really go back to your childhood days of having an imaginary friend. Now let that friend be the mirror and let yourself do all of the talking. Practicing in the mirror gives you a small glimpse of how you are being perceived by your future employer or graduate school program director. The mirror does not lie. It will tell you if you look too nervous, are slurring your speech, pausing too long between sentences or excelling in each area. Once you become comfortable in the mirror, perhaps asking a friend for advice would take your interviewing skills to the next level. Have your friend pretend to be the interviewer and you remain the interviewee. Answer sample interview questions (that are readily available online) and find out how you did. You can also practice with family, employers and former teachers. Chances are that every opinion is valid and you can learn a thing or two about how to enhance your interviewing skills. By the time the real admissions interview rolls around, you will be confident, prepared and ready for any question that arises.
Final Thoughts:
Jobs are not forever, dance is not forever, but an education is. Continue dancing, performing and teaching. It is our passion and calling. However, do not sell yourself short! Challenge yourself to research a few creative graduate school programs and see what is out there. There is no harm or obligation in looking. You may surprise yourself and end up finding a perfect fit to compliment your work, family and dance schedule. Remember that an education lasts forever and more creative programs are being created for the creative mind to excel in. You have the power to shape your own educational destiny.
Dance Advantage would like to congratulate Roger on his acceptance to graduate school. Join us in wishing him well as he pursues his degree in Arts Administration!
What other tips would you place on this to-do list?
What are your top concerns regarding the application process for a dance or creative arts master's program?
Kindly follow, like or share:
Roger Lee is a professional dance writer, instructor, and studio consultant from Philadelphia, PA. His writing has been published nationally in Dance Magazine, Dance Magazine College Guide, Dance Studio Life Magazine, and The Dance Journal. Roger has taught hip-hop at The Rock School of Dance Education, Koresh School of Dance, Mid-Atlantic Ballet, Philadelphia Ballet School, and Drexel University Recreation Center. Roger also directs and choreographs Roger Lee Dance Company and provides dance studio marketing, communications, and publicity at www.rogerleedance.com