"'Tis the season to be jolly," "It's the most wonderful time of the year," and "Santa Claus is coming to town!"
But Santa isn't the only one traveling this month. The Nutracker ballet has jetéd its way to major theater venues across the country. The 220-year-old holiday classic has captivated generations of audiences while inspiring adaptations around the globe.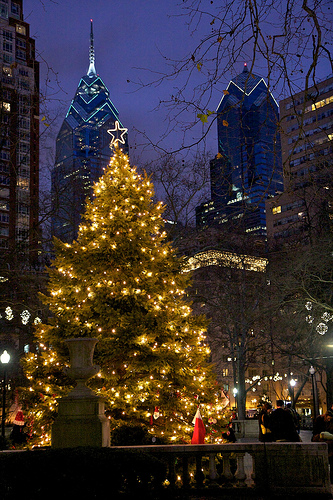 Professional dance companies all over have put their own spin on the season by developing alternatives to the popular holiday ballet. Some are creative reflections of their region and its inhabitants.
In the city of Philadelphia, two dance companies have created original, urban holiday productions that are filled with hip-hop, jazz, and modern dance, rapping, and live gospel singing. These productions are also filled with fun for the whole family, inspiring performers, and exciting storylines that keep audiences at the edge of their seats.
If you are traveling to the Philadelphia area this holiday season and would like an alternative to The Nutcracker, you may want to check out these two holiday classics. If you're not, we'd love to hear about your city's Nutcracker alternatives in our comments.
Eleone Dance Theatre's Carols in Color
"This is a refreshing dance and music holiday production that audiences crave. It is an alternative to the traditional Nutcracker, A Christmas Carol and other ballets that have become synonymous with the holiday season." — Steven Weisz, The Dance Journal
When E. Leon Evans, II, founder and former artistic director of Eleone Dance Theatre, became tired of seeing the traditional Nutcracker each holiday season, he decided to develop an artistic alternative within his hometown of Philadelphia, PA. In 1992, Evans produced his modernized, African American- driven adaptation titled Carols in Color. It was a dance musical interpretation of the Gospel written by St. Matthew.
While producing the first show at the Painted Bride Art Center, Evans wrote scripts, arranged music, created choreography, and recruited 20 talented dancers and vocalists from the Philadelphia area. According to Shawn-Lamere Williams, current artistic director of Eleone Dance Theatre, "Mr. Evans sowed the seed and we watered it."
After Evan's passing in 1998, Williams expanded the cast and added new choreography to modernize Carols in Color. "We always stay true to Mr. Evans' vision, keeping it as the foundation and source of inspiration for our work each year," says Williams.
As artistic director of Carols in Color, he works to maintain a delicate balance between tradition and innovation. Williams makes additions to the concert each year by bringing in established vocalists and guest dance artists from popular, neighboring companies, such as Philadanco. His additions coupled with Evans' vision has turned Carols in Color into a renowned, 20-year old holiday tradition that is performed in 600-seat theater venues by approximately 90 performers. Local media, such as the Philadelphia Inquirer, have deemed Carols in Color a spirited, regional holiday tradition.
Eleone Dance Theatre presents Carols in Color: A Holiday Dance Musical Celebration
ContempraDance Theatre's Philly Nutt Crak-Up
"Plenty of ballet performers cite an early experience seeing The Nutcracker as a reason they got interested in dance. A whole new generation of youngsters may feel the same after watching ContempraDance Theatre's Philly Nut Crak-Up, a creative spoof that puts a comically timely twist on the holiday fave." –Deni Kasrel, City Paper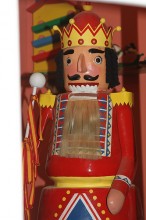 ContempraDance Theatre's Philly Nutt Crak-Up is being presented at the prestigious Keswick Theatre as part of their 2012-2013 season. According to the Keswick Theatre's website, "The hilarious holiday dance spoof the whole family will enjoy, including your dad! A story filled with superheroes, kung-fu fighting, a rappin' Sugar Plum Fairy and making friends at the Kingdom of Prussia, the "Philly Nutt Crak-Up" combines comedy, hip-hop, jazz, ballet and modern dance. The story is filled with fun references to local Philadelphia places, foods and personalities."
Based on an original rap written by the Sugar Plum Fairy, the production features the rappin' Sugar Plum Fairy herself, surrounded by Hip Hoppin' Rats, City Hall Dolls, Captain Philadelphia, and Liberty Belle-Anne.
This popular Nutcracker alternative is choreographed and directed by Gail Vartanian and has been featured in media including Dance Magazine, Philadelphia Magazine, City Paper, 6 ABC's Prime Time Weekly Show and NBC's 10 Show.
Tell us about the Nutcracker alternatives in your region!
Do you appreciate experimentation with The Nutcracker or should it be left alone?
Kindly follow, like or share:
Roger Lee is a professional dance writer, instructor, and studio consultant from Philadelphia, PA. His writing has been published nationally in Dance Magazine, Dance Magazine College Guide, Dance Studio Life Magazine, and The Dance Journal. Roger has taught hip-hop at The Rock School of Dance Education, Koresh School of Dance, Mid-Atlantic Ballet, Philadelphia Ballet School, and Drexel University Recreation Center. Roger also directs and choreographs Roger Lee Dance Company and provides dance studio marketing, communications, and publicity at www.rogerleedance.com