Space, time, and money are limited in my dancing world. Yours too?
I've discovered some dance "hacks" that have helped me be more efficient in my self-care, performance, and spending. Here are my must-haves when I pack my dance bag for training and performances.
Oral Anesthetic Gel
Blisters, bruised toenails, skin splits, and other foot injuries happen, despite all of the precautions one takes to ensure a properly fitting pointe shoe, well-developed callouses, and efficient technique.
Once tech rehearsals for a performance begin, you're typically repeating choreography over and over, sometimes several times a day, in full performance mode. Pain is usually an indicator that something isn't right, but you can't usually adjust choreography on the day of the performances.
Oral anesthetics like Anbesol®, a topical treatment usually used for tooth and gum pain, work as a temporary numbing agent. I've used it to dull the pain from minor injuries during performance week when scrapes and bruises have less time to rest and recover. Use a small amount of the gel or liquid (pain-relieving sprays
may also work) on or around the wound shortly before a performance. Cover and tape the area to protect the wound and prevent the liquid from getting on the floor or costumes.
Test this out, though, before you use it as a last-minute performance save. And remember, this is a TEMPORARY fix to get through some of aches and pains until the performance is over. Take time to rest and heal after the performance so you can fully attack your classes and rehearsals when they start up again.
Dental Floss

When you're in performance mode, dental floss is, of course, perfect for its intended use on teeth and gums – a post-snack clean-up, a pre-performance beauty/hygiene check, inconvenient food fragments from leftover salad or other meals.
It's also ideal for industrial-, or dancer-strength sewing. I've used dental floss to sew all of my dance shoes – pointe, ballet flats, fix jazz shoes, and most of my costumes. I don't want anything coming undone when I'm on stage. Most dental floss is white, so fold the fabric to cover the stitching when you're fixing a costume. Avoid using wax-covered or flavored dental floss to prevent residue on shoes and fabrics.
Heating Pad
In addition to easing sore and tense muscles, heating pads are especially helpful during cold winter months or in super chilled, air-conditioned studios during the summer. Slip your toes or your shoes under the heating pad for an extra snuggly warm up and avoid the challenge of warming up your feet before you warm up your feet (you know what I mean).
The heating also eases the stressful cycle of warming up, dancing, cooling down, breaking, and warming up again on long rehearsal and performance days. During a recent performance, I used my heating pad during intermission because I felt my back tensing up. The time and heat allowed me to feel more comfortable in my body for the second half of the performance and helped me to stay present and mindful during the intermission.
Purchase a heating pad at a local pharmacy, drug store, or dollar store, or make your own! There are do-it-yourself heating pad tutorials on Youtube and Pinterest but we have a simple tutorial for DIY hot-cold packs here.
I like the electric ones because I don't need to be around a microwave to use them (but I do need a power outlet).
Tennis Balls
It's so important that we take care of our bodies but sometimes, because of money or time, you can't afford professional body work. Tennis balls are a perfectly portable tool for dancers to provide self-care, massage sore muscles, and release tight fascia. Experiment with releasing different parts of your body and using the tennis ball in different positions. For example, if your hamstrings are extra tight or sore, begin sitting in a pike position. Ease the tennis ball under your hamstring. Breathe. Allow the weight of your leg to release around the tennis ball. (Imagine your muscles melting around the ball). Gently use your hands to support your pelvis and roll the ball under your leg as needed.
I've placed a ball between my back and the seat of a car or airplane when I was on a long trip to ease the tensions in my upper and lower back.
Tennis balls are especially great because they are inexpensive and they come in packs of threes. The extra balls allow you to share with friends, stash them in every bag and purse you have, or use them to make a DIY double roller. When you're not using them, you can play catch with a friend or a puppy.
Tennis balls come in different sizes and densities but you can experiment with other types of balls, too. My friend uses a gold ball for more targeted pressure. I found an inflatable rubber ball about the size of a basketball that travels with me and deflates to save space. You can usually find a variety of balls in the children's section of most department stores (to fit every body need, budget, and personality).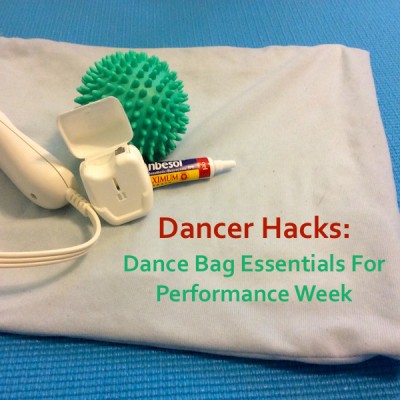 Try these and discover some of your own!
What are your dance "hacks" for performance week?
Kindly follow, like or share:
Jessica C. Warchal-King is a Philly-based performer, choreographer, educator, and arts advocate. She is a member of Kun-Yang Lin/ Dancers and Nora Gibson Contemporary Ballet and has toured nationally and internationally. Jessica is co-founder and curator of the InHale Performance Series and she teaches at universities, studios, and arts centers.
Jessica earned her MFA in Dance from Temple and her BA in Dance and Anthropology from Muhlenberg College. She is a trained instructor in Dance for PD, a program developed by the Mark Morris Dance Group to bring dance to people with Parkinson's Disease, and a Power Pilates Mat I & II Certified Instructor. The Embodiment Project is Jessica's ongoing research project combining education, physical dance practice, and performance. Using dance as its medium, The Embodiment Project investigates the relationships between kinesthetic, somatic, and anatomical understanding, self-awareness, art-making, joy-creation, and social justice. www.jcwarchalking.blogspot.com