Perhaps you didn't know, but I can be a crafty lady every now and then!
Even though I started seeing trees and menorahs mixed in with the Halloween costumes a few weeks ago, it's still early enough in the shopping season that you can plan ahead with some handmade gifts for the dancers and dance teachers in your life.
So, I took a break from grading papers, finishing three articles, and ironing pants to have a little fun with a craft project…
DIY Hot/Cold Packs
A surplus of hot/cold packs is a must-have for any young dancer, professional dancer, dance teacher, studio owner… the list goes on.  I use them constantly for reducing swelling in tired feet and legs, acute injuries, and even to keep my lunch cold.
With a sewing machine, some scrap fabric, and plain white rice, you can easily create a hot/cold pack that is customized, cute, and chemical-free!
Here's how to make them:
Cut doubled fabric into 6″ x 6″ squares (So, you need two squares for each compress).
Using a 5/8″ seam, sew a border around your squares with the right sides out (this is unusual if you've sewed before…).  Start your border midway through one side and leave a gap so that the two pieces of fabric aren't completely sewn together.  Remember, you're making a pouch and need to fill it!
Place a funnel through the opening and fill with 1-1/2 to 2 cups of white rice.
Sew the pouch closed.
Using pinking shears, trim the seams to make a cute, finished edge.
Voila!
It's really that simple.  Really what you should do is cut about 45 squares and make tons of these, but for demonstration purposes, I made three…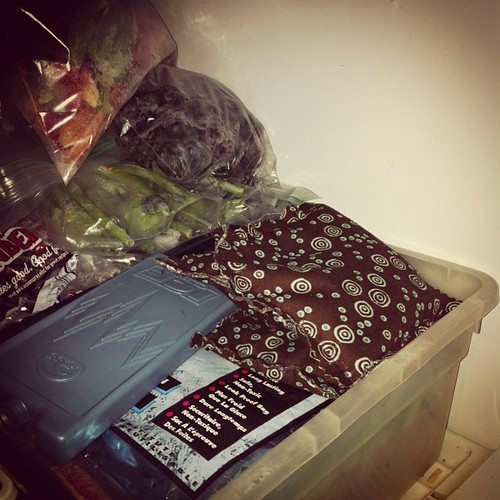 There they are hanging out in the freezer next to the bell peppers and the green beans.  The rice will maintain the cold temperature just as well as that blue, gooey, chemical stuff.  For a hot pack, place in the microwave for about a minute, and there you have it! Action photos taken by Julie Ballard.
What other ideas do you have for easy, DIY gifts for dancers?
Kindly follow, like or share:
Lauren Warnecke is a freelance writer and editor, focused on dance and cultural criticism in Chicago and across the Midwest. Lauren is the dance critic for the Chicago Tribune, editor of See Chicago Dance, and founder/editor of Art Intercepts, with bylines in Chicago Magazine, Milwaukee Magazine, St. Louis Magazine and Dance Media publications, among others. Holding degrees in dance and kinesiology, Lauren is an instructor of dance and exercise science at Loyola University Chicago. Read Lauren's posts.